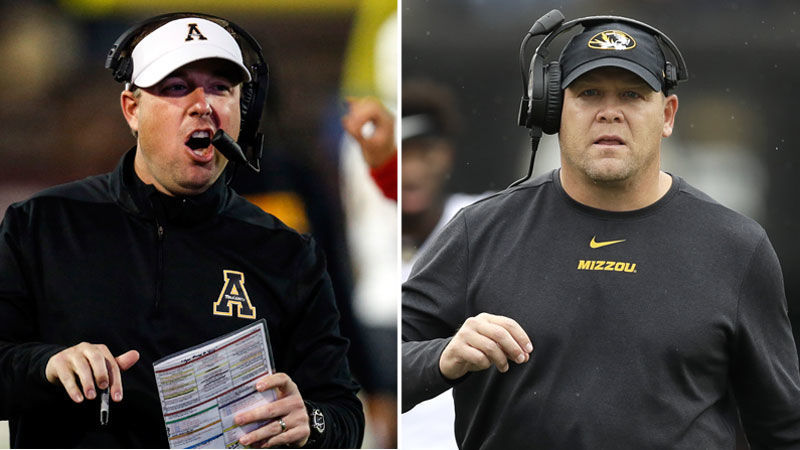 Rounding up the hot topics from Mizzou beat writer Dave Matter's weekly chat on STLtoday.com:
RATING THE DRINKWITZ HIRE
QUESTION: Dave, do you think this was a good, great, or bad hire for Mizzou?
MATTER: Ask me in two years. It's a bold hire. It's all about upside. It's taking a calculated risk on a guy, betting that you're caching a young superstar on his way up. I like taking a risk on the hire. You don't join the SEC to attempt bunt singles. You swing for the fences. I don't think you can sell your fans on a 55-year-old retread. Sorry, sounds harsh. I know ADs in the major conferences have a lot of respect for Skip Holtz - but those same ADs ain't hiring him.
For all the same reasons I loved the Kiffin hire at Ole Miss. That program needs some juice. You can't go safe in the SEC West. When you swing big sometimes you miss big. But Ole Miss will not be boring. Fans will come watch either a fireworks show or a five-alarm dumpster fire.
DAMAGE DONE TO STERK?
QUESTION: After having his coaching candidates rejected, do you think the relationship between Jim Sterk and the Missouri brass is irreparable? Do you think Missouri might have a new AD in the not-too-distant future? Could Sterk start looking elsewhere?
MATTER: University leadership wasn't happy with Sterk's initial list of prime targets a week ago, but they went out of their way to gush praise on Sterk on Tuesday and in conversations I've had with some of the major players since then. They're very pleased with the final result of the process.
At times Tuesday's show was completely over the top. If you didn't know better you might have thought the day was more about Sterk than Drinkwitz. From the carefully worded quotes from the president/chancellor/BOC on the initial press release to the parade of speakers at the press conference. One observer Tuesday - who knows a thing or two about major press conferences - had two words to describe the show: "Damage control." I even had people in college athletics at other schools who watched the press conference reach out to me and comment on how over the top the praise was.
It is highly unusual to fly three Curators to North Carolina the day after the interview to assure the new coach that the situation is stable and united. But that's what the leadership believed they had to do. And it clearly worked. The support and commitment impressed Drinkwitz.
University leaders like Sterk. They really like this search's end game. They just didn't like his initial list.
WHY PUBLISH THE CANDIDATE LIST?
QUESTION: Don't you think not running a fake story about the names being brought to the Curators would have been better than running it? Even if the names were legit which they weren't because coaching deals don't come together with cold calls and 48 hours. 
MATTER: I don't work for the university or have any incentive to withhold information that I believe is accurate based on the people who are sharing that information. That was absolutely true in this case. I know some readers don't like the concept of unnamed sources - unless their info makes them feel happy - but that's how coaching searches are covered. Nobody wants anything attributed by name, but people involved are usually willing to talk. There are plenty of media outlets that sit around and wait for the press release to announce the new coach, but I'm committed to covering the hiring process as accurately as possible. During this search I probably published 5 percent of what I was told by various sources because not everything is reliable enough for my standards/my company's standards. You have to trust your sources and your instincts with these stories.
As for this search happening fast, Drinkwitz literally said he never heard from Missouri or about Missouri until Saturday. Sterk said Drinkwitz was on his initial list of 30 candidates but gave zero indication that he was high on the list early in the process.
DRINKWITZ ON ODOM?
QUESTION: I didn't notice coach Drink mentioning Odom at all but actually kind of indirectly criticizing him by saying that they need to being back passion to the program? Do you think that was intentional?
MATTER: One of my major takeaways from his press conference was his choice of language when it came to the program he was inheriting. If you watched that press conference on TV and knew nothing about Mizzou's last four years you would have thought he was taking over at Rutgers. He talked like MU was 2-10 and drawing 5,000 fans a game. That seemed very intentional to paint a bleak view of the state of the program. He used the phrase "restore pride in the program" three times in his 9-minute opening speech. I know it was a long, ugly second half of the season, and the bandwagon was losing fans by season's end ... but Mizzou did have its first sellout in five years this season. The program isn't nearly as broken as some of his phrasing would indicate. He talked like the team was coming off 2015.
I get it. The worse you project the situation you're stepping into, the greater the achievement you pull off if you eventually win ... but I don't think some of that tone reflected reality. As one person from the 2019 team mentioned to me after the press conference, "Man, if we just beat Vanderbilt maybe none of this happens."
When he was asked about Odom after the formal part of the press conference, here's what he said: "I've met Barry several times. I think Barry's a great man, and have nothing negative to say about the program or what the state of the program is. I just know that this is a business and sometimes things change and there are opportunities. I don't know what was done in the past. I don't know if it was right or wrong, I just know what we're gonna do is what we're gonna do. It's going to be different. And I'm excited about that. And I appreciate Coach Odom's leadership, former alumni here, and I appreciate Coach Pinkel. And my hope is to build off what they've done. That's my goal."
He wasn't gushing with praise, obviously, but that was respectful and appropriate. 
PINKEL ON BOARD WITH DRINKWITZ?
QUESTION: I thought it was notable that Gary Pinkel was very visible at the press conference and vocal in his support for Drink. Guess I assumed he might have felt more kinship with Odom given their history. Do you get the sense that Pinkel had lost faith in Odom? Or was he just there yesterday to help put a good face on things?
MATTER: Gary cares deeply about the program. That's why he was there. He wants to see Drinkwitz have success just like he wanted to see Odom have success.
Now, did he and Odom have a falling out? That's too strong of a statement. I know Odom reached out to Pinkel right after he was fired and gave him the news. They do keep in touch. Did Odom do or say some things in the last four years that got under Pinkel's skin? There was a lot of rebuilding talk from Odom in 2016-17. Odom changed a lot within a program that was well-established, which is not uncommon for a new coach who wants to make his own mark.
I think it would be smart for Drinkwitz to lean on Pinkel for some things, not in an official capacity, but ...
2. He knows Missouri's program and its potential.
3. He knows all the campus politics.
Why wouldn't a 36-year-old newcomer not look to that kind of resource?
MORE BLAME FOR ALDEN?
QUESTION: Why does Mike Alden receive so little blame among the fanbase for leaving both football and basketball in terrible shape? I can't blame Kim Anderson or Barry Odom for taking a lot of money to coach their alma mater; it's ultimately Alden's poor judgment that landed us in these situations. Not that I think Sterk has proved much yet either, but if I were the Mizzou administration I would never let Alden come within a mile of our sports teams again.
MATTER: What did Alden do to hurt the football program? Mizzou was coming off back-to-back SEC East titles when he stepped down. He was putting together plans for a new football facility that Mack Rhoades scrapped when he arrived. Rhoades hired Odom; not Alden.
I get the criticism about the Anderson hire, but Alden left the football program in excellent shape.
As for hoops, I've reported this for years: Alden faced a tough situation when Haith left. Campus leadership told him that Kim Anderson had to be the fallback if he couldn't land Gregg Marshall. MU went after Marshall with a full-court press, but obviously didn't land him. Just like everyone else who's tried to hire Marshall for a long time. From there, Alden would have gone elsewhere with the hire, but leadership wanted Kim. It's no coincidence that Alden stepped down not long after that.
Did he have some missteps during his time at Mizzou? Of course. He was in charge for 16 years. Nobody's going to have a clean record over that length of time. But anyone who knows the history would agree he did far more good than harm. 
DOES MIZZOU GO BOWLING IN 2020?
QUESTION: How does Drinkwitz do in year 1? 5-7, 6-6?
MATTER: 5-7 with that schedule? That would be very unimpressive. Anything less than 7-5 should be disappointing.
MU will be decided underdogs vs. Georgia and Florida and possibly at Tennessee. Otherwise, there's a tough game at BYU. There's the game in Kansas City against Arkansas, the worst team in the SEC right now. Vandy and Kentucky visit Columbia. Missouri has to go to South Carolina. Then the other three noncon games should be wins - though Louisiana-Lafayette might not be a layup.
If Drinkwitz can build an above-average offense and the defense builds on this past season, why can't Missouri win seven games?