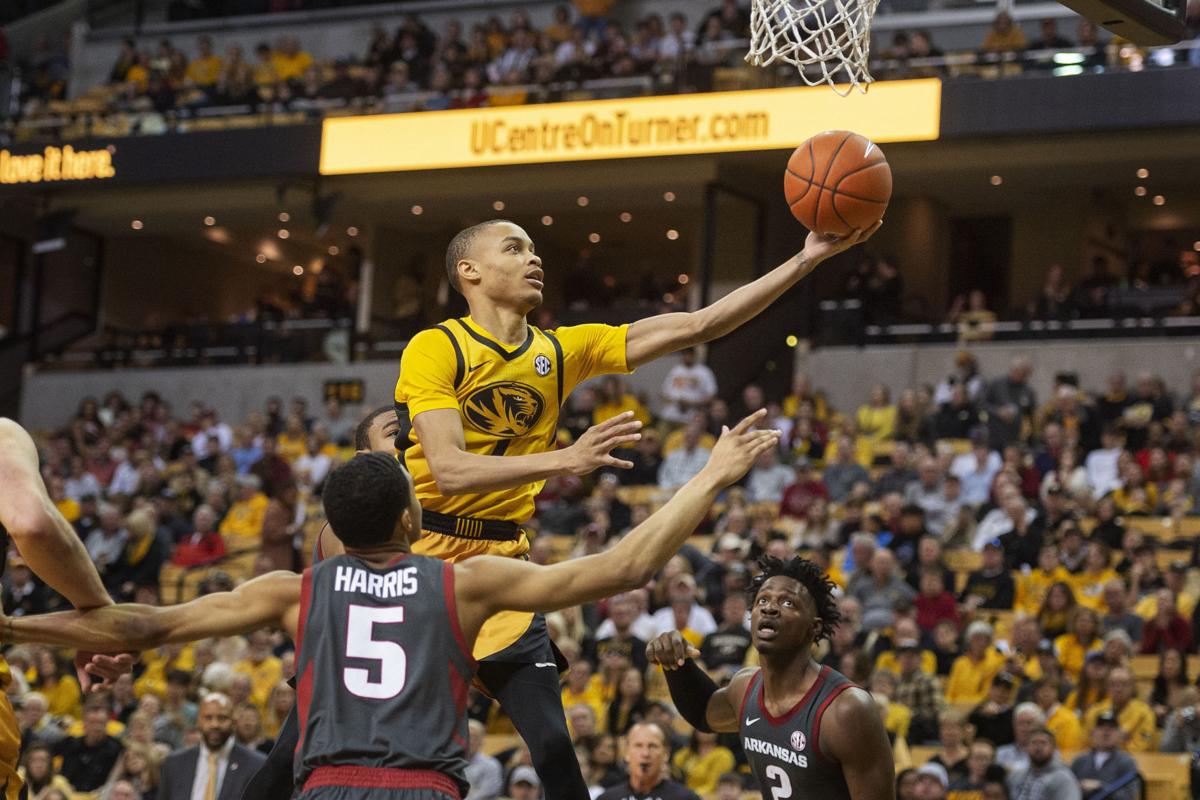 COLUMBIA, Mo. — Maybe Missouri should rally for Rhyan more than once a year.
Back home Saturday but still shorthanded, the Tigers' basketball team improved to 5-0 in the annual Rally for Rhyan charity game, this time needing overtime to hold off Arkansas 83-79 at Mizzou Arena.
With fouls depleting two already thin lineups, the Tigers outlasted the Razorbacks with an effort inspired by the charity's namesake. Cuonzo Martin had two pivotal players back on the bench, but other Tigers found ways to produce, from Xavier Pinson at the point, Reed Nikko in the paint, Javon Pickett at the rim and Mitchell Smith doing a little bit of everything.
Add it up and Mizzou (11-12, 3-7 Southeastern Conference) snapped a two-game losing streak and started the second half of SEC play with a complete performance on a day when its lineup was anything but.
"Quite honestly," Arkansas guard and Columbia native Jimmy Whitt said, "they played harder than us all game. I feel like they were more connected."
Pinson powered Mizzou with a career-high 24 points, taking advantage of the officials' whistle orchestra with 11 free throws on 13 attempts. With Pickett's 14 points, the Tigers moved to 7-0 when the sophomore from Belleville reaches double figures. He also helped smother the SEC's hottest scorer, Razorbacks guard Mason Jones, who scored 17 points, less than half his average the last three games. Smith made the defensive play of the game, drawing the fifth and final foul from Jones in overtime. And early on, Nikko asserted himself against the smaller Razorbacks and finished with his first career double-double with 11 points and 11 rebounds.
Against the undersized Hogs, the Tigers resisted the urge to feast on 3-pointers and instead attacked inside.
"If you look at Arkansas statistically they're one of the better defensive teams that defends the 3," Martin said. "When you defend the 3, you have extend out. So you have to drive the ball to take advantage. Don't settle for 3s. It was probably a blessing for us."
Rebounding was essential in this one, too. After West Virginia and Texas A&M manhandled the Tigers on the glass by margins of 20 and 19 the last two weeks, Martin challenged his team to clean the boards against the Razorbacks. Before the game, Martin sent a text message to every player, Nikko shared. The text read, "Who's joining Mitch in the 10-rebound club tonight?"
"I told Mitch before the game," Nikko said, "'I'm joining you.'"
In a performance inspired by the day's namesake, Nikko embraced that challenge.
Nikko was chosen to carry on the tradition of wearing Rhyan Loos' name on the back of  his warm-up T-shirt, an honor given to a Mizzou player each year on this special day. The 9-year-old Loos was diagnosed with neuroblastoma in 2015 and fought through years of surgeries and treatments to emerge cancer free. Mizzou established the charity game in 2016 to raise money for pediatric cancer research, an initiative spearheaded by her parents, Jen and Brad Loos, a former MU assistant coach who now works in the athletics department's fundraising office.
Loos was the coach who recruited Nikko to Mizzou from Minnesota, and when Nikko saw Rhyan's name on his shirt when he got to arena, he understood his responsibility.
"I knew I couldn't I couldn't go out and play flat, play a poor game," he said. "That just means so much more than the game itself. I had to have a special effort."
That went for everyone considering MU's short bench. Guard Mark Smith (lower back) was available to play but never left the bench, while center Jeremiah Tilmon (foot stress fracture) was back in street clothes for a game he was expected to play not 24 hours earlier. Tilmon had missed nine straight games before playing 12 minutes Tuesday at Texas A&M.
In front of a crowd of 11,439, Mizzou led for most of regulation until Arkansas made a late push. With 5:44 left, a couple Whitt free throws gave Arkansas its first lead since the opening minutes, but the Tigers stormed back, this time behind freshman Tray Jackson. The seldom used forward got a clean block on Reggie Chaney at the rim, then put Mizzou back in front 59-58 with a vicious follow-dunk. Pinson pushed the lead to three with a 3-pointer on MU's next possession.
Otherwise, Pinson did most of his damage in the paint and the foul line as the Tigers consistently preyed on Arkansas' vulnerable spots on the floor.
"It's just what we do, to be honest," Pinson said. "Keep driving. We saw guys in foul trouble. Whitt, (Desi) Sills, too. I wouldn't say they did a bad job, but they were struggling when we drove to the basket most of the time. Sometimes we didn't get the call, but we stayed aggressive."
Arkansas came right back with Sills' game-tying layup with 34 seconds left, but he missed the free throw that would have put the Hogs ahead.
MU called timeout with 21 seconds left to draw up a play for the win. Pinson nearly dribbled out the length of the shot clock, found Jackson in the corner but the freshman passed on a jumper as the shot clock expired.
"Honestly, I should have shot it," Pinson said. "But I kind of lost track of time. Plays like that you just got to shake it off and learn from it."
With 3.5 seconds left to get the win, Arkansas missed at the buzzer, sending the game to overtime.
In the extra period, Mitchell Smith sent Jones to the bench for good, stepping in front of the SEC's top scorer on the perimeter to draw foul No. 5. Jones was one of four Razorbacks to foul out in a game that featured 59 fouls and 83 free throws.
"They were going to him and I felt like I had to sit down and get a stop right there," Smith said. "He came off the screen and pushed off a little bit. I got the charge and once we saw him go out the game we knew we were right there and we had to win the game."
With Pickett glued to his side most of the night, Jones shot just 3 of 14 from the field, missed all six of his 3-pointers and had four turnovers.
"(Pickett) stepped up and played tremendous defense, just denying him and sitting down to play in front of him the whole game," Smith said. "He didn't give him any easy looks and had him really frustrated in the first half. … He's a good player, but we shut him down today."
"We did a great job of making his catches tough," Martin said, "making his shots tough, making him put the ball on the floor, especially from a scouting report standpoint, and making him make the extra play and go over the top of you. Javon is physical enough to do that."
In overtime, Arkansas got back within two on Sills' 3-pointer with 32 seconds left, but Pinson connected with Jackson for an alley-oop dunk to stretch the lead back to four. Pinson sank two more free throws to clinch the victory and hand the Hogs (16-7, 4-6) their fifth loss in seven games.
Days earlier, Martin questioned Mizzou's toughness after Tuesday's loss at Texas A&M and challenged his players to respond against Arkansas. They did.
Martin, also a cancer survivor, had one more challenge in him Saturday.
By game's end, MU fans had raised another $80,000 for the Rally for Rhyan Foundation as the Tigers fed off their largest home crowd of the season. It was the kind of atmosphere Martin wants to see every time the Tigers tip off at home. He challenged the fans to make that kind of environment a regular occurrence.
"I think the fans jump onboard because of the (charity) game," he said. "But I think for our fans it has to be a way of life. This is Mizzou basketball. It's a great tradition. Great history. You're in the Show-Me State. I think our fans need to show more pride just to be a part of the game. Now you create an atmosphere like this every night."