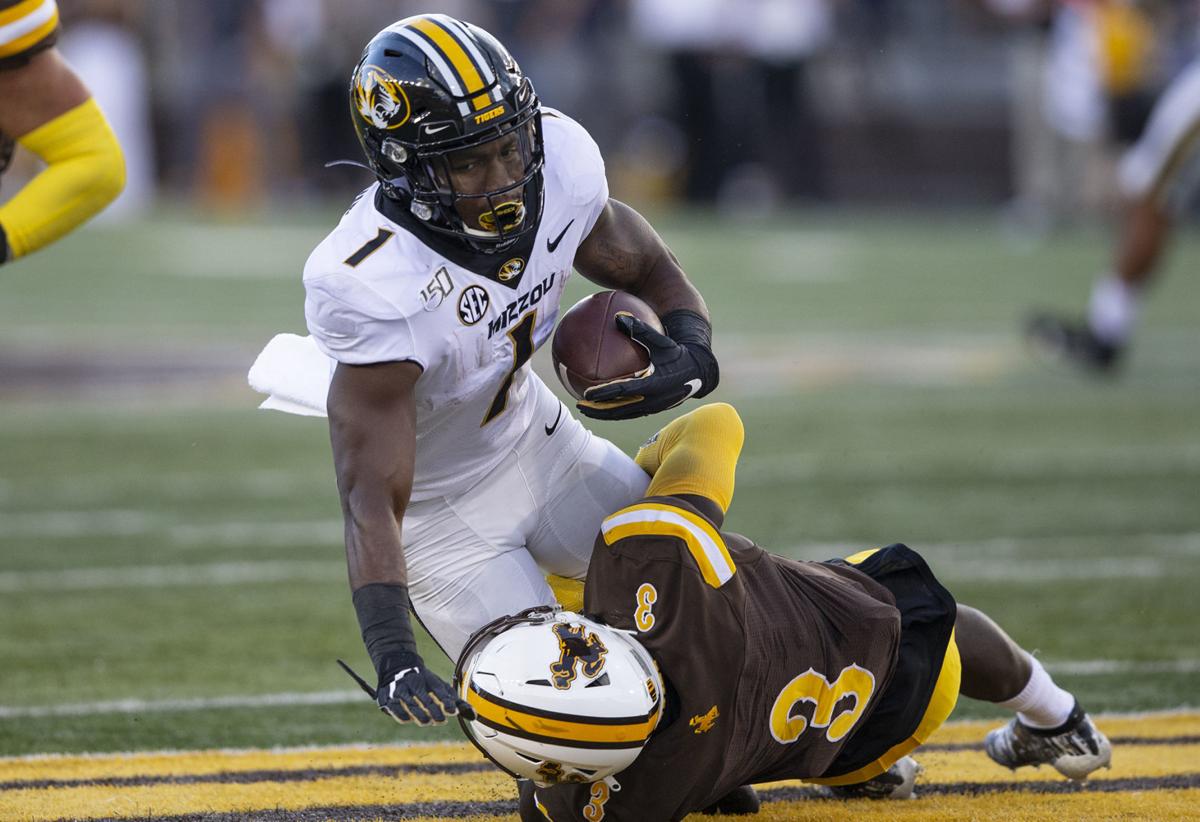 COLUMBIA, Mo. — Missouri's running game picked up Saturday night right where it left off in 2018. The Tigers controlled the line of scrimmage at Wyoming and vaulted their running backs into clear patches of grass.
After thundering through the Cowboys for 53 yards on the opening touchdown drive, Missouri's rushing attack went where no offense wants to go — soft. The Tigers' offensive line couldn't capitalize on its size advantage in the trenches and struggled to create running lanes. After the opening possession, the backs didn't run with the same burst or power the rest of the game. Larry Rountree, the team's returning 1,200-yard rusher, had a costly fumble at the end of the first half and watched the rest of the game from the sideline.
It added up to one of several puzzling developments in the 37-31 loss and was far from the expected debut for a rushing attack that finished 2018 as one of the team's strengths.
"It certainly didn't meet the standard that we want," offensive coordinator Derek Dooley said Tuesday.
Missouri's goal every game is to average 4.5 yards per carry, but Rountree and backup Tyler Badie ran the ball 31 times for a combined 94 yards — just 3.0 per carry. Throw in quarterback Kelly Bryant's output — he ran 11 times for 20 yards, though two of those attempts were sacks on pass attempts — and the Tigers averaged just 2.7 yards on the ground. Only four times in the past three seasons have the Tigers been less productive per carry: against Georgia in 2016 and 2017, Alabama in 2018 and Kentucky in 2018.
After the opening series, Rountree and Badie combined for just 61 yards on 25 carries. Sixteen of their 31 attempts failed to get more than 2 yards.
"So, then you gotta say, 'Well, what was it?'" Dooley said. "We all got to play better fundamentally, every position, quarterback, O-line, tight end, receiver, running back. And then sometimes it takes just a little more strain and a little more push. It certainly wasn't where it needed to be. And we're going to work hard and get it to where we want it."
Wyoming crowded the line of scrimmage with its linebackers, sometimes right over center Trystan Colon-Castillo and routinely tried to outnumber Mizzou's blockers with an extra defender. That's how the Cowboys made up for what was supposed to be a mismatch along the line of scrimmage. Mizzou's offensive line features three third-year starters and averages 324 pounds from tackle to tackle, while Wyoming was replacing its top five defensive linemen from last year and averaged just 255 pounds across its front four.
But as the game unfolded, Missouri players could measure those matchups other ways.
"They had more energy than us," Colon-Castillo said. "They wanted to win more than we did. They played harder than us. … As an offensive line, you hate to say it, but we didn't play hard enough. We had guys falling off (blocks) late. We had guys missing assignments and (blocking) the wrong people."
After blowing a 14-0 lead, the Tigers were a few feet away from tying the game on the final play of the first half, but Rountree lost the ball on the goal line before a defender touched him. Wyoming recaptured all the momentum when it recovered the fumble and turned it into a field goal.
Rountree, the Southeastern Conference's second-leading rusher among returning players, carried the ball just one more time the rest of the game and watched Badie become the primary running back. Badie led the team with 53 yards on 16 carries and caught a career-high seven passes for 49 yards. It was the most receptions by a Missouri running back since 2009.
After the game, Barry Odom indicated the staff played Badie over Rountree because he was a better fit for what the Tigers were doing passing the ball, but that stance changed slightly Tuesday.
Badie "was playing better," said Odom, who added that Rountree's fumble and Badie's superior pass-blocking were reasons the starter didn't see the field as much in the second half.
"I don't think Larry played his best," Dooley added. "But he's going to be fine. We're going to depend on both of those guys. There's certain plays that we want Larry over Tyler or certain plays we like putting Badie in over Larry. But as far as a fit offensively, they both fit great."
Running backs coach Cornell Ford decides how the backs rotate during games, and after watching the first half, Badie was his back of choice.
"Larry's a great football player, a great running back for us," Ford said Tuesday. "So is Badie. If one's playing better than the other at the end of the game then that's who we're going to go with. I felt like at that particular point in the game, at the end of the game, Badie was the best back. … I thought overall he was our most physical back. He made some stuff happen when he was out there."
Rountree, voted a captain by his teammates last week, didn't talk to reporters after Saturday's game or during the team's media availability after Tuesday's practice. As the Tigers (0-1) prepare for Saturday's home opener against West Virginia (1-0), Odom isn't worried about the junior running back.
"I've got a lot of concerns. That's not one of them right now," Odom said. "I know what we got with Rountree. He's going to be hungry to get back out and be himself."
Dave Matter brings you the latest updates from the Mizzou sports scene.