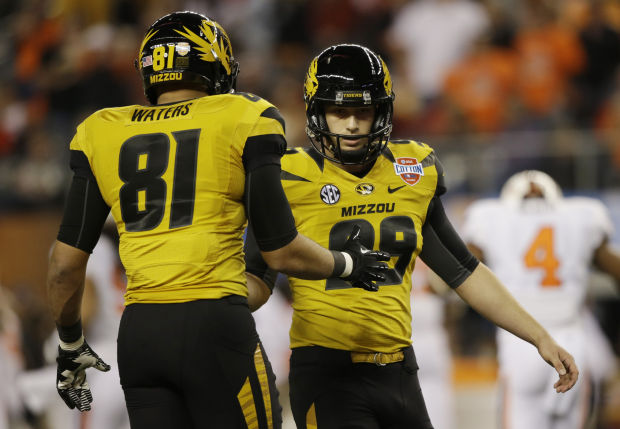 COLUMBIA, Mo. • "This attempt from only 24 yards out to send us to a third overtime. Oh no!"
That was the call from ESPN's Joe Tessitore on Oct. 26, 2013, when Andrew Baggett's chip-shot field goal smacked the left upright in double overtime. Missouri had led South Carolina 17-0 in the fourth quarter — and lost 27-24 when Baggett's game-tying attempt missed.
So much went wrong for the Tigers that night after so much had gone right. Missouri quarterback Maty Mauk completed only four passes after halftime. South Carolina quarterback Connor Shaw came off the bench and led five consecutive scoring drives. The Mizzou defense couldn't cover a fourth-and-goal from the 15. The offense couldn't score a touchdown after earning first-and-goal from the 8.
Missouri's offense, defense and special teams were on Faurot Field for 187 plays that night, but one will forever live in infamy.
"It is off the post and it is off the rails for the dream season for Mizzou. Baggett off the goalpost in a dramatic comeback for South Carolina. They trailed 17-zip and roared back for the upset."
Tessitore's presence should have signaled that something wild was going to unfold in Mizzou's homecoming game. His ESPN assignments always seem to end with a memorable play, usually in overtime. He called Missouri's 2011 loss at Arizona State, when Gary Pinkel infamously called timeout as Grant Ressel lined up for the game-winning kick at the end of regulation. Ressel missed. Mizzou lost in overtime.
During the 2010 season, Tessitore and his broadcast crew began a weekly ritual, he told SI.com two years ago. Just when one team is about to pull away during a game, Tessitore waits for a commercial break, turns to the in-booth camera and sprinkles imaginary pixie dust on the field below.
"I don't care who wins," Tessitore, now the host of the on-campus SEC Network pregame show "SEC Nation," told SI.com. "The only thing I want to see is the craziest, closest, most outlandish finish we can — with an emphasis on overtime."
He got his wish last Oct. 26.
A season later, Baggett insists the missed field goal doesn't haunt his thoughts. The junior kicker was a popular interview subject on Monday as Missouri (3-1) prepared for Saturday's game at No. 13 South Carolina (3-1, 2-1 SEC). And he understood why.
"I don't think about it at all. I only think about it when I have five dudes standing in front of me asking about it," he said, motioning to a scrum of reporters. "Eight, 10 months, however long ago it was, it has nothing to do with anything we're doing now, so I don't think about it at all."
Missouri overcame Baggett's miss and the crushing loss by winning the next four games to clinch the SEC Eastern Division title. Baggett missed a 29-yard field goal try the next week against Tennessee but finished the season strong, converting five of his final six chances, including a late 46-yarder in the Cotton Bowl win over Oklahoma State.
After the South Carolina game, some fans lashed out at Baggett on Twitter, though two days later he stood before a crowd of reporters, shrugged off the social media venom and refused to offer excuses for the miss. On the kick, holder Braylon Webb failed to spin the ball's laces away from Baggett's foot — kickers prefer the laces out so they get clean contact with the leather — but Baggett pardoned his teammate for the mistake.
"I think you learn from those things," Missouri coach Gary Pinkel said. "He came back and made two big kicks in the Cotton Bowl. He learned from those things. Look what he did here in a pressure packed game last week and under that pressure made that big play. This is not a game of perfect. You're going to make your mistakes. The most important thing is you learn from them."
When Missouri's offense stalled in the red zone late Saturday against Indiana, Baggett kicked the go-ahead 40-yard field goal with 2:20 left, pushing Mizzou in front 27-24. The Hoosiers regained the lead with a touchdown drive and won 31-27, the Tigers' first regular-season loss since last year's South Carolina game. Baggett took no solace in almost being the hero.
"I'd rather walk away with a win," he said. "I'm not going to turn around and pat myself on the back (and say), 'Well, I did my job. That's all that matters.' No, it's all about the team."
"It doesn't define him as a football player," senior left tackle Mitch Morse said of last year's miss. "He was able to get past that. Like he said after that game, 'The worst that could ever happen happened to me.'"
After missing a 34-yard attempt in Mizzou's opener — plus a 55-yarder Pinkel later regretted trying — Baggett has made four consecutive field goals heading into Saturday's game. He's climbed to sixth place on Mizzou's all-time scoring list and could finish second to former kicker Jeff Wolfert with a strong showing in league play. He's again among the country's best kickoff specialists. MU ranks 13th nationally in touchback percentage (64.3), ahead of last year's pace (62.0), which ranked ninth.
Under Pinkel, Missouri coaches and players have embraced the athletic department's sports psychology staff and its teachings to help athletes overcome setbacks — like last year's loss to South Carolina. Baggett has bought into the staff's philosophies.
"I didn't walk out Saturday for the 40-yarder freaking out that it might be like South Carolina," he said. "I walked out there saying, 'All right, let's make this.'"
(And for the record, ESPN's Brad Nessler is calling Saturday's game. Tessitore will be far away in Athens, Ga.)