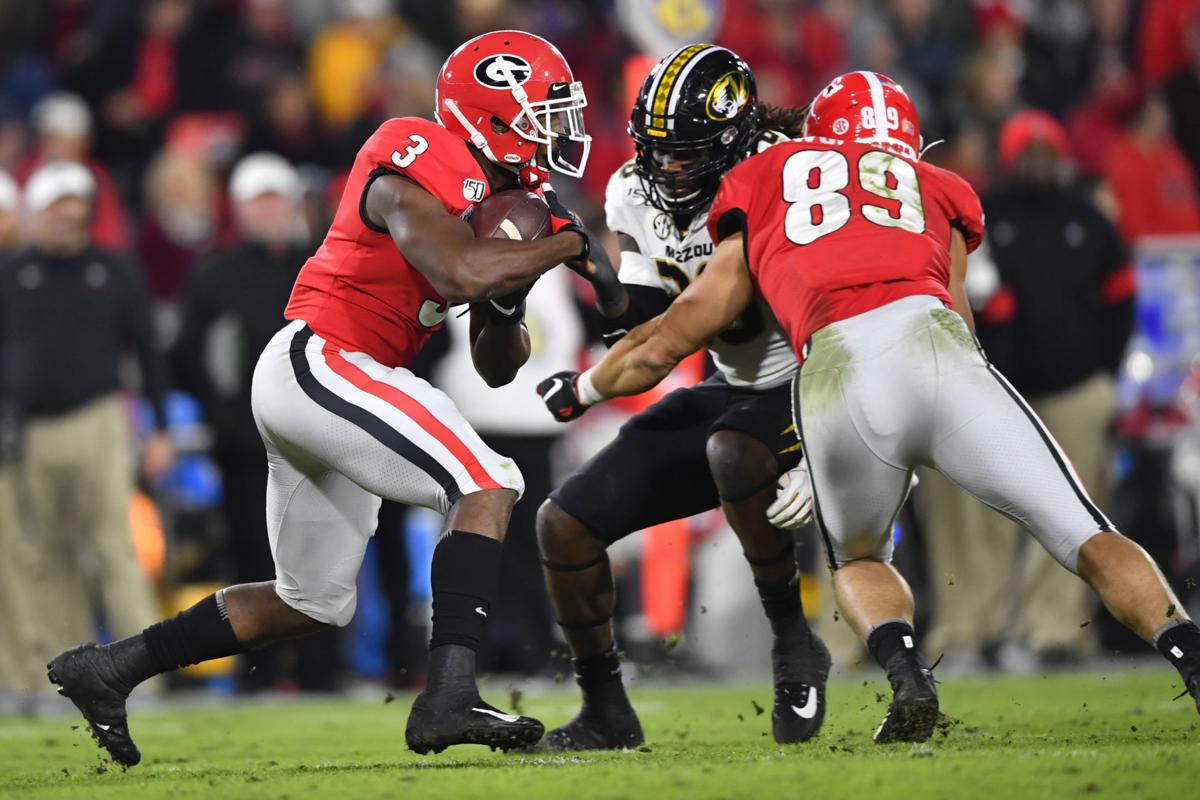 COLUMBIA, Mo. — For the first time in five weeks, the Missouri football team plays a home game Saturday, after the Tigers wrecked their season on the road with three straight losses. A survey of the damage finds the offense demolished, perhaps beyond repair.
But a few spare parts survived on defense. Thrived, actually.
After wobbly performances at Vanderbilt and Kentucky, coach Barry Odom's defense saved some face in last Saturday's 27-0 loss at Georgia. The final score looked worse than the damage Mizzou's defense absorbed. If there's something to keep fans watching as the Tigers (5-4, 2-3 Southeastern Conference) enter their final quarter of the regular season, the core of an emerging defense offers promise and hope.
Mizzou still misses senior middle linebacker Cale Garrett, lost for the season because of a torn pectoral tendon on Oct. 5, but his understudy has emerged as one of the SEC's best. In the secondary, Mizzou's prayers for a dynamic safety finally have been answered.
If the Tigers can salvage this season with any sense of dignity, starting with an upset Saturday against No. 11 Florida (8-2, 5-2), their best chance starts with Nick Bolton and Tyree Gillespie. Buried under the rubble of last week's loss, Mizzou's first scoreless game in five years, those two playmakers continued to stand out.
"It's hard to look at positives when you don't win a ballgame, but you turn on the tape and there were a lot of good things," Missouri defensive coordinator Ryan Walters said. "I thought we responded well to certain situations. We kept fighting. I think that's who we are as a team and a defense."
Bolton, a sophomore and first-year starter at weakside linebacker, comes into Saturday's game leading the SEC with 82 tackles and ranks fifth with nine tackles for loss. He's become the All-SEC candidate the Tigers lost when Garrett suffered his injury and the latest undervalued recruit to become a star for the Tigers.
Missouri coaches raved about Bolton during his freshman season but couldn't have expected this kind of production as a sophomore.
"You didn't know because you just didn't have a high catalog of film," Walters said. "Just from what he was doing in practice to what he did in high school, just the way he kind of goes about his business, you thought there was potential for this type of play. You just didn't know."
"He's only a sophomore," he added. "So we're happy he's here but not surprised. It's just kind of confirming what we thought through the recruiting process and what we thought coming out of spring ball."
Gillespie has followed a similar track, but the junior took another year to emerge as one of the SEC's best secondary playmakers. He worked himself into the starting lineup midway through last season and finished as the team's third-leading tackler. After a shaky season debut, against Wyoming, he's formed the backbone of an improved defense that ranks No. 4 nationally in passing yards allowed per game (147.7) and opponent passer rating (101.0). After ranking No. 112 in pass defense last year, the Tigers are on pace to allow their fewest passing yards since 1982.
Walters, who also coaches the safeties, deserves some credit, too, and this week was named one of 24 nominees for the Broyles Award given to the nation's top assistant coach. Only six other SEC assistants made the cut.
Gillespie, the team's highest-graded defender by Pro Football Focus at 92.0 percent for the season, is a major reason for the improvement. He's again third on the team with 39 tackles and second with five pass breakups. Gillespie saved a touchdown at Georgia when he chased down tight end Eli Wolf in the end zone and knocked the ball away on third down.
For a player who grew up in Ocala, Fla., about 40 miles south of Florida's campus in Gainesville, Saturday's game is another major stage for the Tigers' best playmaking safety since MU's peak Big 12 years, back when William Moore and Pig Brown patrolled the secondary.
"Just obviously from a physical standpoint, he can do everything that you want out of that position," Walters said. "And now he's going through these experiences and coming into his own as a player and understanding what offenses are trying to do and understanding his role within this scheme. You're starting to see sort of what we've been talking about in terms of his potential and whether or not he was going to reach it. He's started to but still has got a long ways to go, which is scary."
Gillespie's value was obvious in the first half at Kentucky three weeks ago when the Wildcats stormed to a 22-0 lead — with Gillespie in the locker room. He was serving a one-half suspension for his targeting penalty the previous week at Vanderbilt. With Gillespie back for the second half, the Tigers held the Wildcats scoreless on five of six possessions. In just a half, Gillespie had five tackles, two for losses, forced a fumble and knocked down a pass.
"It was noticeable when Tyree wasn't in the game," Odom said.
Vanderbilt's Mo Hasan paid a bigger price. The quarterback was diagnosed with a concussion for the hit Gillespie delivered with the crown of his helmet to the side of Hasan's head as he was sliding to the turf. Hasan hasn't played since the collision.
Gillespie "felt bad. He felt really bad," Walters said. "He was like, 'Coach, the guy was running around all game. I didn't expect him to slide.' It looked really, really bad on film. He was in tears in the locker room and obviously felt bad for the quarterback and felt bad for our team because he had sit out that first half" at Kentucky.
With Gillespie back entrenched in the secondary and Bolton flying through traffic at linebacker, the Tigers are equipped with a defense to handle the final stretch of the season — and two young stars to return for 2020.