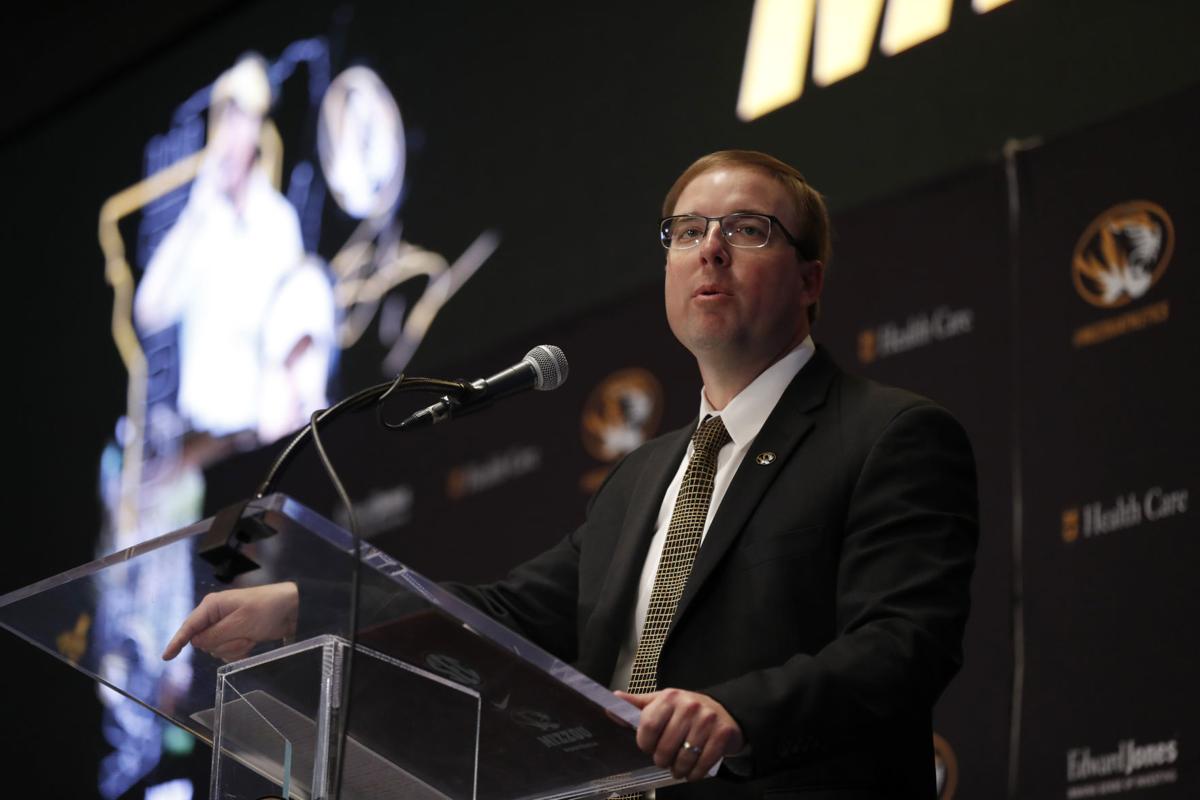 It's still early in the summer, but as COVID-19 positive tests mount for college athletics departments across the country, the University of Missouri's first announced results were relatively promising.
Five people within the athletics department have tested positive for the virus, including four Mizzou athletes, the school announced Thursday. Mizzou athletics has tested 308 people since June 8, including 211 athletes, a department spokesman confirmed. Others tested include coaches and staff. Four of those five positive cases were asymptomatic when tested.
Mizzou did not release any further details. It's uncertain in which sports the athletes who tested positive participate. MU football and men's and women's basketball teams were allowed to return to campus for voluntary workouts on June 8. Since then, the cross country, women's soccer and women's volleyball teams were allowed to return to workouts June 15, followed by the return of gymnastics, swimming and wrestling teams this past Monday. All athletes were required to be tested for COVID-19 upon returning to campus for workouts. They undergo daily screening for temperature and other symptoms. On July 6, MU will bring back athletes from baseball, softball, track and field, golf and women's tennis.
MU initially planned to not publicly disclose any information regarding athletes' COVID-19 test results. Earlier this week, the Post-Dispatch submitted to the university an open records request asking for the number of athletes who were tested for the virus and the number of positive and negative results. As of Thursday, that request had not been answered by the university system custodian of records.
In recent weeks, athletics director Jim Sterk and football coach Eliah Drinkwitz discussed steps in place for testing and managing any positive cases for athletes within the program.
"We're going to quarantine," Drinkwitz said earlier this month. "We're going to contact their families. We're going to make sure they're safe. We've got a protocol in place to check on them every single day to make sure they're fed to make sure that they're isolated but not alone. Then we're going to make sure that we do contact tracing wherever it might be whatever the (Center for Disease Control) says. But we feel strongly that the ways we're repopulating the building and working out the contact tracing will be minimal in our building, meaning that because of the way we're going about our workouts, going about our time in the locker room, our time in the training room, our time when they can pick up meals that there should be a reduced risk exposure to our football team."
In the MU weight room, workout groups for the football team are limited to 20 players. From there, players must abide by social distancing standards.
"The way we enter our building, the way we operate in our building is 6 feet of separation and no closer than 6 feet for more than 15 minutes," Drinkwitz said last week. "If you do you have to (be closer than 6 feet) have a mask on."
Once summer workouts began, Mizzou asked athletes to sign a seven-step pledge, a copy of which was obtained by the Post-Dispatch through an open records request. The athletes were asked to pledge that they self-monitor and report any symptoms, practice good hygiene, participate in daily COVID-19 risk assessment and temperature screening, practice proper physical social distancing, wear a mask during in-person meetings if physical distancing is not possible, participate in enhanced sanitation/disinfection at home and within the facilities and inform team staff of any potential issues that may affect the wellness of teammates.
Mizzou's number of positive tests are low compared to some other schools around the country that have confirmed much higher numbers. Earlier this month, Clemson reported 28 positive tests from its athletics department, the bulk coming from the football team. The University of Texas announced that 13 football players had tested positive with another 10 in self-quarantine. The University of Houston suspended voluntary workouts after six symptomatic athletes tested positive. Louisiana State quarantined as many as 30 football players for positive cases or exposure to people with the virus, Sports Illustrated first reported.
Multiple reports have connected positive cases to college athletes frequenting bars and nightclubs in large group settings. In a Zoom news conference with reporters on Wednesday, Mizzou junior tight end Daniel Parker Jr. said players are taking the precautions seriously.
"As a junior and senior you know this is coming down to your last opportunity to make it to the next level," he said. "So you don't want to risk sitting out at all. From a junior and senior aspect we take accountability in all that and hold ourselves accountable to show the younger kids a good example. From a respect aspect, as a freshman or sophomore you kook at the older guys and you see this may be their last chance, so why would I be selfish and go to a bar and now I may give (the virus) to a few teammates and the whole team has to sit out."
Dave Matter brings you the latest updates from the Mizzou sports scene.