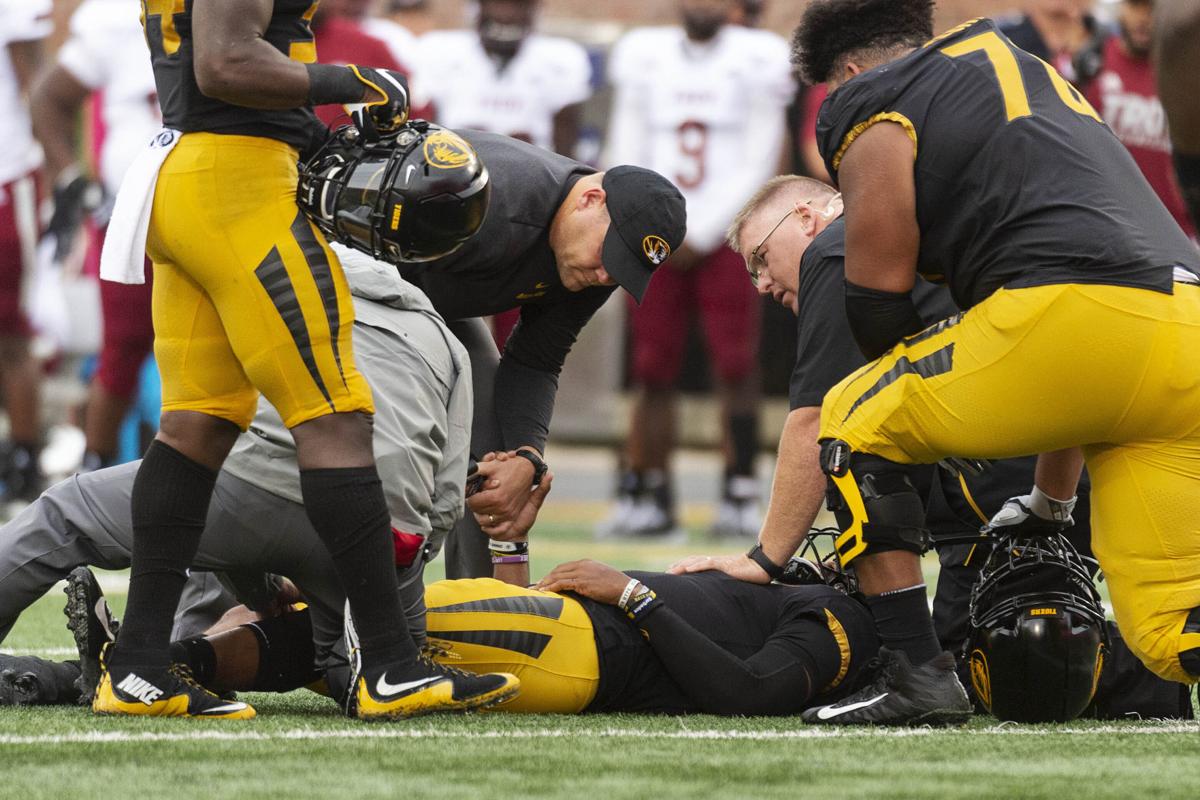 Missouri's injury report in the wake of its victory Saturday over Troy is a mix of good news and bad news.
The good news: Quarterback Kelly Bryant suffered a knee sprain but is expected to have full activity this week, a team spokesman told the Post-Dispatch Sunday night.
Now, the bad news: Linebacker Cale Garrett, in the midst of an All-American season, suffered a torn pectoral tendon and will undergo surgery that will sideline him indefinitely. MU would not confirm if Garrett's injury will end his season, but with seven regular-season games left a comeback this fall might be difficult for the senior co-captain.
Through five games, Garrett leads the Southeastern Conference in tackles per game (8.4) and is tied for the league lead with three interceptions. He has scored three defensive touchdowns this season, one in each of the Tigers' last three games. He picked off two passes in Saturday's 42-10 win over Troy, returning the second one for a touchdown. He didn't play in the second half and was not made available for interviews after the game, which seemed unusual considering his first-half production. Garrett was named the SEC defensive player of the week after MU's win over South Carolina and will likely win the award again Monday. He added five tackles, two for losses, in Saturday's win.
"He's playing really, really well," Tigers coach Barry Odom said after the game. "Hit the record button on what I said two weeks ago. . . . His instinctual feeling of how to go play is off the charts. He's the heart and soul of our team."
Garrett's top backup has been junior Jamal Brooks, who could make his first start in Saturday's homecoming game against Ole Miss. Cam Wilkins, a sophomore, is MU's other backup inside linebacker behind starter Nick Bolton.
The prognosis for Bryant seems more promising. On Mizzou's final play of the first half, a Troy defensive lineman tackled him low, grabbing his lower left leg until Bryant toppled over backward after he'd thrown a touchdown pass to Jalen Knox. Bryant was able to walk to the sideline and into the locker room but didn't return for the second half. After the game teammates seemed encouraged that he wasn't seriously injured.
Through five games, Bryant is fourth in the SEC in passing yards (249.2 per game) and third in touchdown passes (11).
The Tigers (4-1, 1-0 SEC), two spots out of the latest AP Top 25, host Ole Miss (3-3, 2-1 SEC) for homecoming on Saturday at 6 p.m.
Also on the injury front, senior punt returner Richaud Floyd is doubtful this week because of a hamstring injury suffered in the first quarter Saturday. Floyd, a backup cornerback, was hurt early in the game and watched the second half from the sideline on crutches. Floyd is third in the SEC in punt return yardage (16.6 per game) and returned a punt for a touchdown against Southeast Missouri.
Dan Caesar • 314-340-8175
@caesardan on Twitter