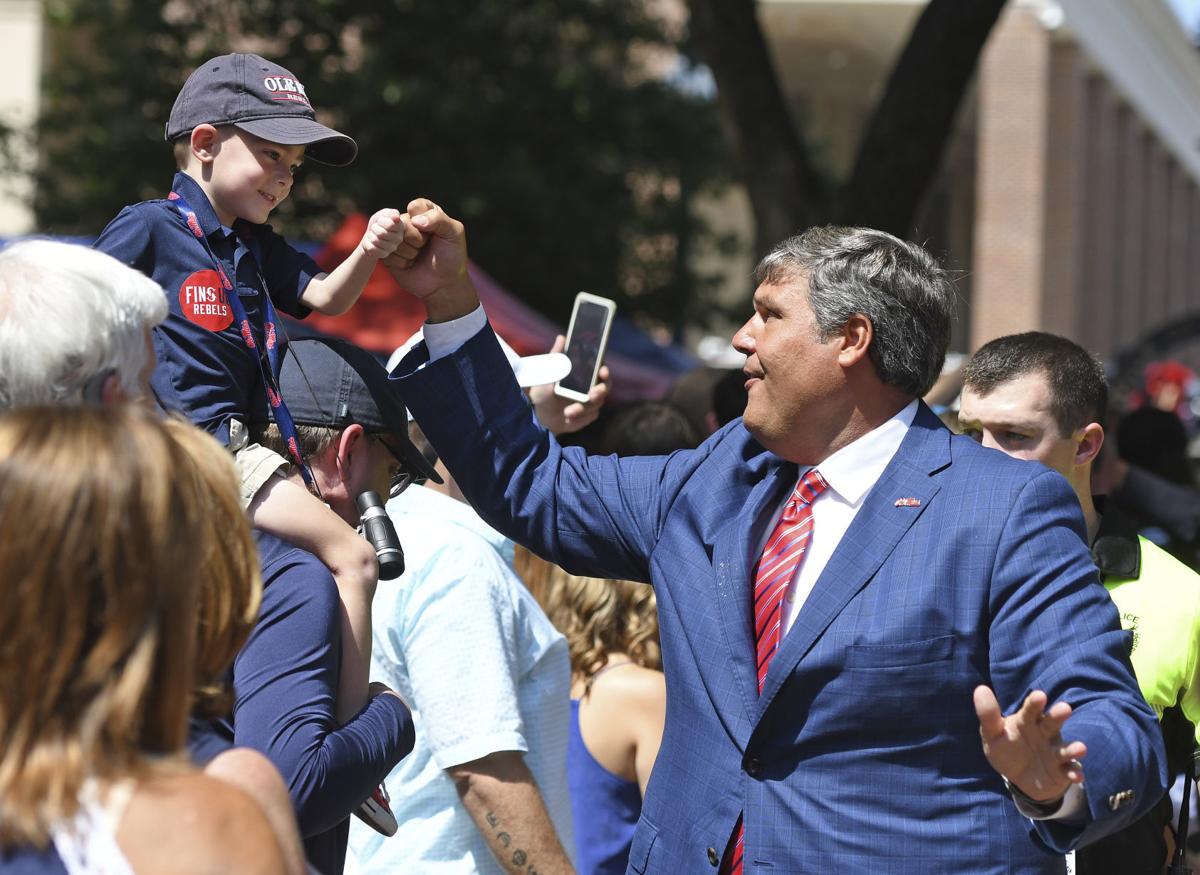 COLUMBIA, Mo. — After his junior season at Missouri, then-linebacker Barry Odom was chosen to represent his school at an NCAA youth football clinic in Phoenix as part of the Fiesta Bowl's week-long festivities. Mississippi also sent a player to the desert, offensive lineman Matt Luke.
They got to talking and struck up a friendship that's lasted more than 20 years.
"We go way back," Odom said Wednesday. "We've kept in touch over the years, more in the last couple years. We've shared a lot of ideas over the years."
They shared one common ambition back in 1998: They wanted to get into coaching. Luke, four weeks older than Odom, had just finished his playing career and immediately joined Ole Miss' staff as a graduate assistant. Odom had one more season at Mizzou and after three years coaching at the high school level returned to his alma mater for the first of many roles on Gary Pinkel's Missouri staff.
These days, Luke and Odom share even more in common. For the first time as head coaches they'll stand across from each other when Luke's Rebels (3-3, 2-1 Southeastern Conference) visit the Tigers (4-1, 1-0) for Saturday's homecoming game, a cross-division meeting with plenty at stake for both programs.
"We both knew we were getting into coaching, but we were never naive enough to think he'd be at his alma mater and I'd be at mine here," Odom said. "You never know. The coaching fraternity is really small."
Like Odom's, Luke's career path led back to the school at which he played. He rejoined Ole Miss' staff in 2002 under David Cutcliffe to coach the offensive line, left four years later with Cutcliffe for stints at Tennessee and Duke and returned in 2012 as Hugh Freeze's co-offensive coordinator and line coach.
When Freeze was forced to resign shortly before the 2017 season, Ole Miss promoted Luke to interim head coach and hoped a popular assistant with homegrown roots would stabilize the program. The school took off the interim title for 2018. Both seasons, though, Luke's program had to absorb NCAA sanctions, including a two-year postseason ban.
For the Rebels, a program that averaged nine wins from 2013-15, this year is about one directive. Luke said this week that he'd define a successful season as "week to week getting better." That's not all.
"And obviously the elephant in the room is going to a bowl game," he added. "I think getting this program back to the postseason is a huge goal."
Odom can relate, but it'll take different measures for that to happen, not only the minimum six wins but a batch of good news from the NCAA Infraction Appeals Committee. In January, just as Luke's Rebels were coming out of their bowl ban, the NCAA hit MU with a one-year ban for academic misconduct violations, pending the university's appeal. Ole Miss went 6-6 and 5-7 in two seasons under Luke's watch during the ban. The 2019 season is the program's reboot period.
"That feeling of normalcy is like a weight being lifted and the cloud being removed from the program," Luke said Wednesday. "It helps with recruiting. The players have something to play for, something to shoot for. For us, it's a big deal."
Luke's recruiting classes haven't captured the national attention of Freeze's suspicion-raising fifth-ranked 2016 class — then again, recruiting violations led to those NCAA sanctions — but Luke has started to rebuild the program's core with classes ranked No. 32 and 22 by 247Sports.com the last two years. Ole Miss has 23 commitments for 2020.
For now the cloud over Oxford has passed, but for the Rebels to make a bowl for the first time since 2015 some freshmen will have to grow up fast. Luke's depth chart features 13 freshmen on offense and six on defense.
Luke started the year with redshirt freshman Matt Corral as his starting quarterback, but bruised ribs kept him on the sidelines the last two weeks. That sent the job to freshman John Rhys Plumlee, who ran for 165 yards in Saturday's 31-6 win over Vanderbilt. Freshmen have accounted for more of Ole Miss' yards than at any other team in the country, 83.3 percent.
"It's a challenge, but it's also fun coaching guys this young because they grow every week and they just enjoy playing the game," Luke said. "It bodes well for the future. I've enjoyed it. You wish you could start the season over sometimes and replay it just because we made some freshman mistakes. But I love the way they're competing and growing and getting better."
Like Mizzou, Ole Miss stumbled the first week of the season with a road loss to a team outside of the Power 5 conferences — in the Rebels' case, a 15-10 loss at Memphis — but have recovered with a couple SEC wins over lowly Arkansas and Vanderbilt. Ole Miss has a winnable nonconference game left against New Mexico State, but to make a bowl game the Rebels have to win at least two more conference games. They still face Missouri, Texas A&M, Auburn, Louisiana State and rival Mississippi State.
A program on the mend comes to Columbia on Saturday where two old friends will reunite.
"I've got a lot of respect for the way he coaches and runs his program," Odom said. "His mark is showing up on the way they play … toughness and a lot of things he played with as a student-athlete. You see that in the way his team is playing."
Dave Matter brings you the latest updates from the Mizzou sports scene.