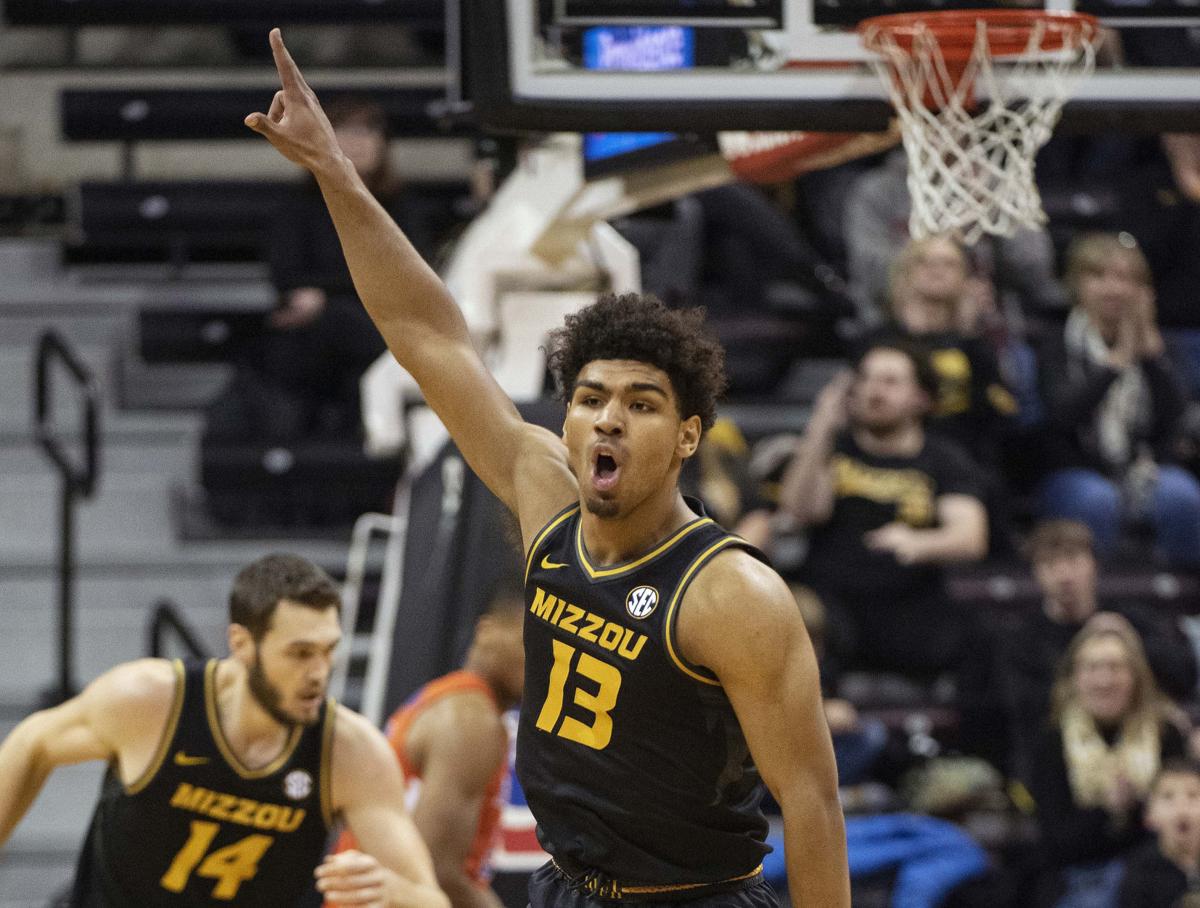 COLUMBIA, Mo. — The Missouri basketball team that opened 2020 with losses to Kentucky and Tennessee must have taken a snow day Saturday.
As the white powder accumulated across Boone County, the Tigers and their Ambien offense that put fans to sleep last week with two 59-point snoozers never showed up at Mizzou Arena.
Instead, with Florida in town for a prime-time tip-off, the team Cuonzo Martin put on Norm Stewart Court pounced from the opening tip. These Tigers treated the shot clock like a bad rumor and assaulted the rim like it stole their scholarships.
In a 91-75 victory that rarely seemed that close, the Tigers broke out of their offensive slog with an attack-the-basket approach rarely seen in these parts under Martin's watch.
"We all know we can push the tempo," point guard Xavier Pinson said. "Nobody's going to score a lot just sitting there and letting the defense get set. We came together and knew we had to do a better job of pushing the ball and keeping defenders on their heels."
The results reflected that approach. Mizzou (9-6, 1-2 Southeastern Conference) shot a season-high 61.5 percent from the field and made 12 of 19 3-pointers for 63.2 percent, the team's best mark from deep in Martin's three seasons as coach and the program's best since 2013.
Point guard Dru Smith avoided foul trouble and anchored the attack, leading the Tigers with 22 points on just 12 shots. Just as important, Smith helped hold Florida point guard Andrew Nembhard to just eight points in 30 minutes. It was the newcomer's most complete game since joining the program as a transfer from Evansville. He led the Tigers with six assists and five steals. The last player to record 22 points, six assists and five steals in a game for Mizzou? Anthony Peeler. 
"I thought Dru Smith was fantastic," said Florida coach Mike White after his team fell to 10-5 and 2-1 in SEC play. "One of the better performances of anyone that we played against this year. I thought he played like an all-league guard. I thought he dominated both ends. He's got tremendous toughness."
Javon Pickett and Mark Smith both added 14 points for the Tigers, who were again without center Jeremiah Tilmon, still out with a foot stress fracture. The backcourt rotation was down another ball-handler as Martin suspended freshman Mario McKinney indefinitely for unspecified reasons. But the depleted depth didn't shake MU's production. The Tigers got pivotal baskets early from Reed Nikko and Kobe Brown and late splashes from Mitchell Smith and Torrence Watson. Only eight players attempted shots, but seven made at least half their tries.
"The second half we played hope-they-miss defense," White said. "And they didn't. We've been much better than that defensively, but I'm not sure it would have mattered if we were hanging all over them because they really moved it, really spaced it and they've got multiple guys that can make shots."
Outside of 6-10 graduate transfer Kerry Blackshear Jr. (22 points), the Gators were no match inside as Missouri outscored Florida in the paint 40-14. Dru Smith hit two 3-pointers but his other six field goals were layups on aggressive drives.
"Coach is always telling us, 'Just drive the ball, just get into the gaps and get in the paint and good things will happen as long as you jump stop, and you're under control,'" Smith said. "I think we did a good job of that."
Coming off Tuesday's late-game meltdown to Tennessee, Mizzou burst out of a cannon after the first media timeout with Pinson lighting the fuse. The backup point guard poked the ball loose from a crowd of Gators then soared for a vicious dunk past 6-10 Florida forward Omar Payne before giving the Gator a cold, hard stare.
Pinson rated the jam the best of his season but not the best of his life.
"Top five," the Chicago native said. "I had some pretty good dunks in high school."
It was just the start of a barrage that looked nothing like the lifeless stuck-in-molasses offense that's tortured Missouri fans for most of the season. When the guards weren't slicing through the Gator defense, they were reading screens and finding teammates for assists. Pinson attacked again, knocking in a floater off the glass for a three-point play. Then it was Brown's turn as the freshman resisted the urge to jack 3-pointers and instead barreled through the lane for baskets.
On a Florida turnover or a missed shot — and there were plenty of those — the Tigers looked to push the ball down the court with urgency. Dru Smith put the Tigers ahead 40-23 late in the half with a steal and coast-to-coast layup. Mark Smith followed with a baseline dunk in traffic. Mizzou ended the first half outscoring Florida 20-6 in the paint and made its final five 3s to shoot 8 off 11 from deep for the half.
The Gators, meanwhile, might as well have been playing in the snow that covered Columbia's streets. UF missed its first seven shots from the field and didn't see its first field goal slip through the net until Blackshear's jumper nearly four minutes into the game.
Mizzou opened the game with 6-10 Mitchell Smith guarding Blackshear, but when Martin shifted Smith to center as part of a smaller lineup, 6-7 Brown found himself matched against the SEC preseason player of the year. Blackshear connected on only three shots inside the 3-point arc in 30 minutes and had nearly as many turnovers (three) as rebounds (four).
Mitchell Smith made an impact on the offensive end, too, and opened the second half with a corner 3-pointer on MU's first possession, prompting a quick timeout from White just 40 seconds into the half.
But nothing he tried worked well enough to erase Mizzou's lead. Back-to-back 3-pointers by Pickett and Watson pushed the lead to 75-58 at the eight-minute mark. Watson continued the Tigers' offensive revolution with a rare drive to the basket and an even more rare layup and free throw for the three-point play. By then the Tigers had secured complete control, en route to securing their first win of 2020.
"As a staff we felt helpless," White said. "Couldn't find a way to get stops. It wasn't our best effort. But I think Mizzou had a lot to do with that."