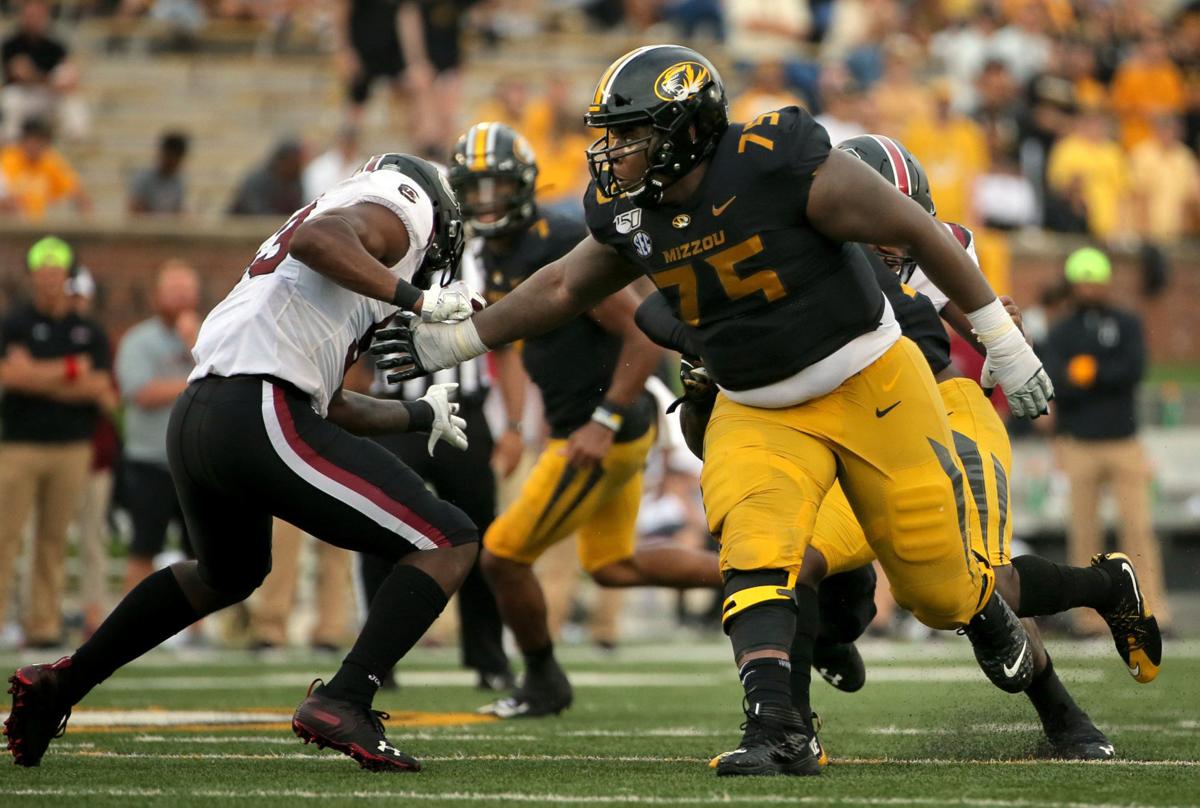 COLUMBIA, Mo. — A week before visiting Music City, Missouri's game of musical chairs along the offensive line came to a halt last Saturday against Mississippi. Whatever coach Barry Odom's staff wanted to see from its five behemoths on the line of scrimmage seemed to occur in the Tigers' 38-27 victory over the Rebels.
In the four previous games, Mizzou started four different combinations from tackle to tackle, flipping some linemen from right to left and another from guard to tackle. There were mid-game rotations at multiple positions as the coaches continued to tinker, looking for the best blocking concoctions.
Then, against a much-improved Ole Miss defensive front, the music stopped: The Tigers started the same five linemen at the same five positions for all 78 snaps in the victory, their fifth straight.
Is the O-line puzzle finally solved?
"Yeah, I think we're getting a little closer," said Odom, whose No. 22 Tigers (5-1, 2-0 Southeastern Conference) take their winning streak on the road Saturday to face Vanderbilt (1-5, 0-3). "For the lineup we had last week, we played our best ball with that group so far this year. . . . But also we're a snap away from not being those five."
Offensive line play has been a consistent strength for the Tigers since Odom took over the program in 2016. The Tigers typically have identified a starting five each season and, barring injuries, stuck with those five through the season. This year has been an exception.
The lineup "could always change. Nobody's spot is solidified," left tackle Yasir Durant said. "One week I probably won't be out there. You never know. But I feel like we found our core, six or seven guys, and now we can go out there and still won't miss a beat."
"I wouldn't say (the shuffling) was good or bad or hard or anything," guard Case Cook said. "I think our coaches were trying to do the right thing and get the best group of five out there, which is what they said they were going to do."
At the start of the offseason, Mizzou returned three starters in Durant, center Trystan Colon-Castillo and right guard Tre'Vour Wallace-Simms and began preseason camp with Larry Borom (left guard) and Hyrin White (right tackle) in place as new starters. By the third week, the fiddling began.
Against Southeast Missouri State, Cook replaced Borom while Bobby Lawrence stepped in for White. In that game, Durant had to leave because of neck spasms, forcing more changes the following week when the team's medical staff ruled him out against South Carolina. That moved Borom back into the lineup at left tackle.
A week later, against Troy, Borom was on the move again, moving to right tackle. The Tigers swapped their guards, too, moving Cook to the right side and Wallace-Simms to the left. Wallace-Simms, a preseason All-SEC choice and All-America candidate, had started 30 consecutive games on the left side before the change.
The changes, Durant said, came down to chemistry.
Wallace-Simms "being on our side gives me some advantages, gives him some advantages," Durant said. "Case and Larry, they work well together."
Last week was proof. An offensive line in flux for weeks asserted itself against Ole Miss, especially in high-leverage situations in the second half. 
"We got into a rhythm and we got into situations where we can look next to each other and say, 'I got you,' and keep on going from there," Durant said. "So, you know, it paid off good for us."
The Tigers rushed for 233 yards and averaged 5.5 yards per carry against a Rebels defense that went into the game holding four of six opponents to fewer than 70 yards on the ground. Mizzou muscled up and converted multiple short-yardage plays in the second half, including two third-and-1 sneaks by quarterback Kelly Bryant and a fourth-and-2 run by Larry Rountree to clinch the victory in the final minutes.
"You want to be able to extend drives in the entire game, but in those crucial moments . . . I didn't want to give them the ball back," Odom said. "To be able to convert those, it's big. It's something that the offense has worked really hard on, being good at third downs and especially third and short. Take a snap under center, you got a fullback behind you. Those are things that I think can be in our favor."
For the season, the Tigers are averaging 3.9 yards on third-down snaps when they need 3 yards or less to convert, and they've moved the chains on 13 of those 22 attempts.
Odom has been especially impressed with Cook, a redshirt sophomore from Carrollton, Ga., who struggled with penalties in a few cameos last season. Last week, a back injury sidelined him for long stretches in practice, but he managed to gut through every snap in the win.
"Yeah, man, I had to do a lot of treatment and rehab, but at the end of the day, I wasn't going to let anybody down," Cook said. "I needed to play for the guys next to me and the guys in the backfield, the receivers and everybody."
Even though Cook didn't win a starting job coming out of preseason camp, Odom singled him out more than any other offensive lineman in August. He can play both guard positions and serves as Colon-Castillo's primary backup at center.
"Just another year in the program, another year in workouts and another year of maturing," Odom said. "He is as tough a competitor as I've ever been around. He was limited a little bit during the week of practice, but he is a fierce competitor. . . . He's playing at a high level."