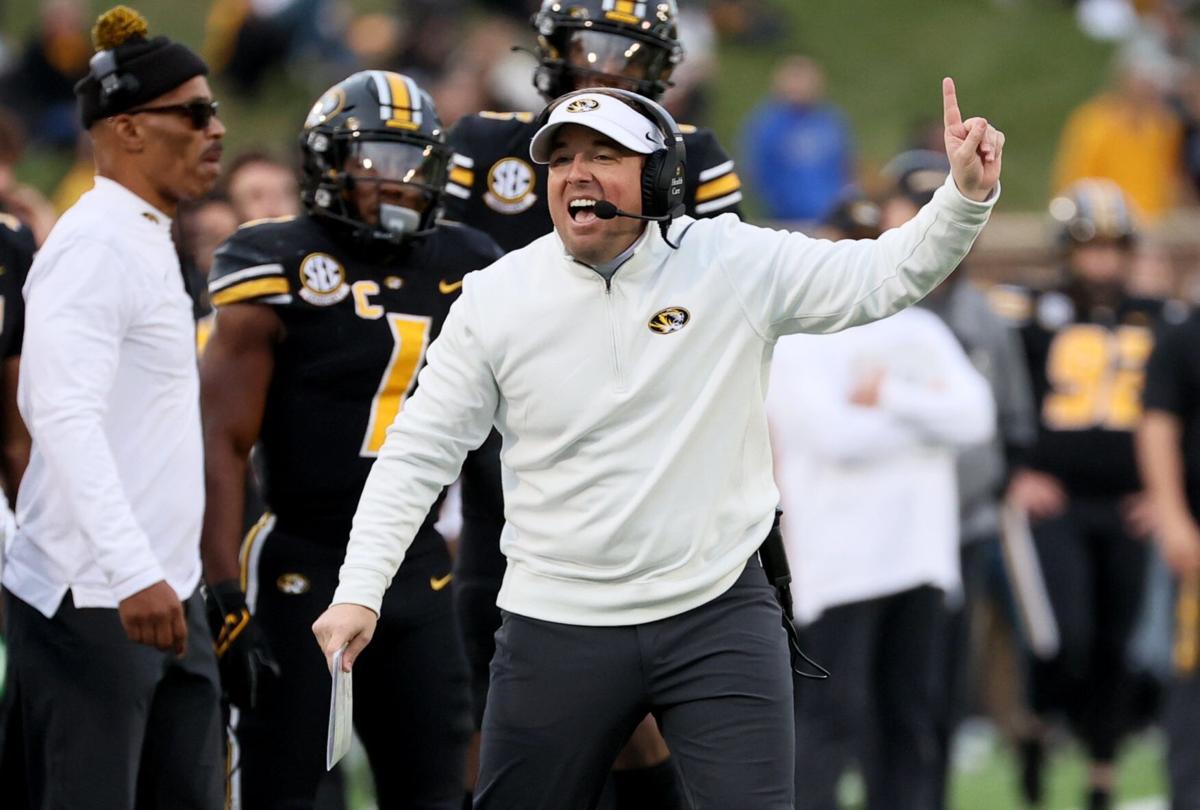 Coming off a wild overtime win over Florida, Eli Drinkwitz's resurgent Tigers head to Arkansas for Friday's Battle Line Rivalry Game. (Apologi…
COLUMBIA, Mo. — College football's overgrown bowl system becomes an easy target for criticism this time of year for its bloated inventory of games and ever-changing catalog of corporate sponsor titles.
This year's postseason consists of 42 bowls — 42! — and includes such classics as the Jimmy Kimmel LA Bowl Presented by Stifel, the Tropical Smoothie Cafe Frisco Bowl and the Wasabi Fenway Bowl. Because what goes together better than sushi condiments, college football and the Boston Red Sox?
All cynicism aside, Eli Drinkwitz and his Missouri Tigers won't apologize for embracing the chance to play in one of those 42 bowls. Now in his third year as a college head coach, Drinkwitz has never taken his own team to a bowl game. He hasn't coached in a bowl in four years. Most of his players have never played a down in a bowl.
They'll get that chance in a few weeks.
Saturday's 24-23 overtime victory over Florida assured that Missouri will play in a bowl this postseason, though the when, where and against whom are still in the works. The Tigers (6-5, 3-4 Southeastern Conference) wrap up their regular season Friday at No. 25 Arkansas (7-4, 3-4), a 2:30 p.m. kickoff on CBS. Both teams can enhance their bowl appeal with a victory.
In 2019, as a first-time head coach at Appalachian State, Drinkwitz left for Mizzou before his team played in the New Orleans Bowl. His last bowl appearance came as North Carolina State's offensive coordinator in the 2017 Sun Bowl against Arizona State. The following year, N.C. State played in the Gator Bowl, but he had already left for the head-coaching job at App State.
Mizzou's last bowl appearance came in the 2018 Liberty Bowl loss to Oklahoma State. Only 11 current players appeared in that game. Only four current players took part in the 2017 Texas Bowl loss to Texas. The Tigers haven't won a bowl game since the Citrus Bowl victory over Minnesota after the 2014 season.
Now, a month after a dismal 3-4 start, Mizzou savors the opportunity that lies ahead.
"I was just talking to my dad about this, but I've been eligible for a bowl the last two years and haven't been to one yet," Mizzou safety and team captain Martez Manuel said after Monday's practice. "So it's just really cool to be able to experience that. ... Also, it's something that a lot of people would have called a reach early in the season. To be able to just stay close with each other and fight through that adversity and get to something that we really were working for, it's a huge accomplishment and truly a blessing because there's a lot of teams that don't have that opportunity."
In 2019, the Tigers won the minimum six games to secure bowl eligibility, but the NCAA upheld its postseason ban for academic fraud violations that occurred years earlier, denying the Tigers a place in the postseason.
Last year, the NCAA deemed all FBS teams eligible for bowls during the pandemic-altered season and while Mizzou accepted an invitation to the Music City Bowl to play Iowa, the Tigers' spike in COVID cases forced the team to pull out of the game three days before kickoff.
A year later, the Tigers will learn their bowl destination on Dec. 5 and soon after begin practices. Drinkwitz said those practices will be geared toward younger players whose roles will expand in 2022 and beyond.
"You get to continue to let your younger guys and players get more comfortable, see reps, see different plays, communicate with each other and then you create a sense of competition, knowing that the guys here are going to be the guys that are playing next year," he said Monday. "Some of your older vets may not get nearly as many reps, but our young quarterbacks are going to get multiple reps and multiple opportunities. Obviously, we're goin got have to replace a running back (senior Tyler Badie), so you're going ot give those guys opportunities to carry the football and get more of a feel and reps.
"Football's a game of reps and repetition. So getting those practices and getting those opportunities will be big for our program."
Defensive coordinator Steve Wilks, who last coached in a bowl at Notre Dame in the 2004 Insight Bowl against Oregon State, mentioned freshman cornerback D.J. Jackson as the kind of player who will benefit most from bowl practices. He made his first start against Florida and played all but three of MU's 71 defensive snaps.
"Now you got an extra whole month to be able to practice and continue to hone in on his skill set," Wilks said. "It's very beneficial."
As for Mizzou's bowl location and opponent, the possibilities will come into focus after this week's games. Eleven of the SEC's 14 teams are already eligible, with Florida and LSU both at 5-6 and needing one more win.
At least one SEC team is going to make the College Football Playoff and maybe two if Alabama beats Georgia in the SEC championship game and both teams make the four-team field. From there, the playoff selection committee uses its final rankings to set pairings for the other four bowls from the New Year's Six. This year, the Cotton and Orange will host the playoff semifinals. That leaves eight spots for the Fiesta, Peach, Rose and Sugar. For now, Ole Miss and Texas A&M are SEC contenders for the New Year's Six bowls.
Next up, the Citrus Bowl (Jan. 1, Orlando) has first choice of the remaining SEC teams. After that, the SEC will assign teams to its pool of six bowls in consultation with the schools and bowl officials. There's no set hierarchy for those six bowls, but the league office gives some consideration to each school's preference. The pool of six consists of the Liberty (Dec. 28, Memphis), Music City (Dec. 30, Nashville), Duke's Mayo (Dec. 30, Charlotte), Gator (Dec. 31, Jacksonville), Outback (Jan. 1, Tampa) and Texas (Jan. 4, Houston). Finally, the SEC has two more bowls for remaining teams: Gasparilla (Dec. 23, Tampa) and Birmingham (Dec. 28, Birmingham).
Media projections have Mizzou all over the place. ESPN.com has Mizzou in the Gasparilla Bowl against Appalachian State, Drinkwitz's former team.
SI.com has MU in the Texas Bowl against Iowa State.
Yahoo! Sports has Mizzou in the Birmingham Bowl against Central Florida, which would be a reunion between Drinkwitz and UCF coach Gus Malzahn, his close friend and longtime mentor.
And CBSSports.com's Jerry Palm projects the Tigers headed to the place where they were supposed to play last year, meeting Penn State in the Music City.