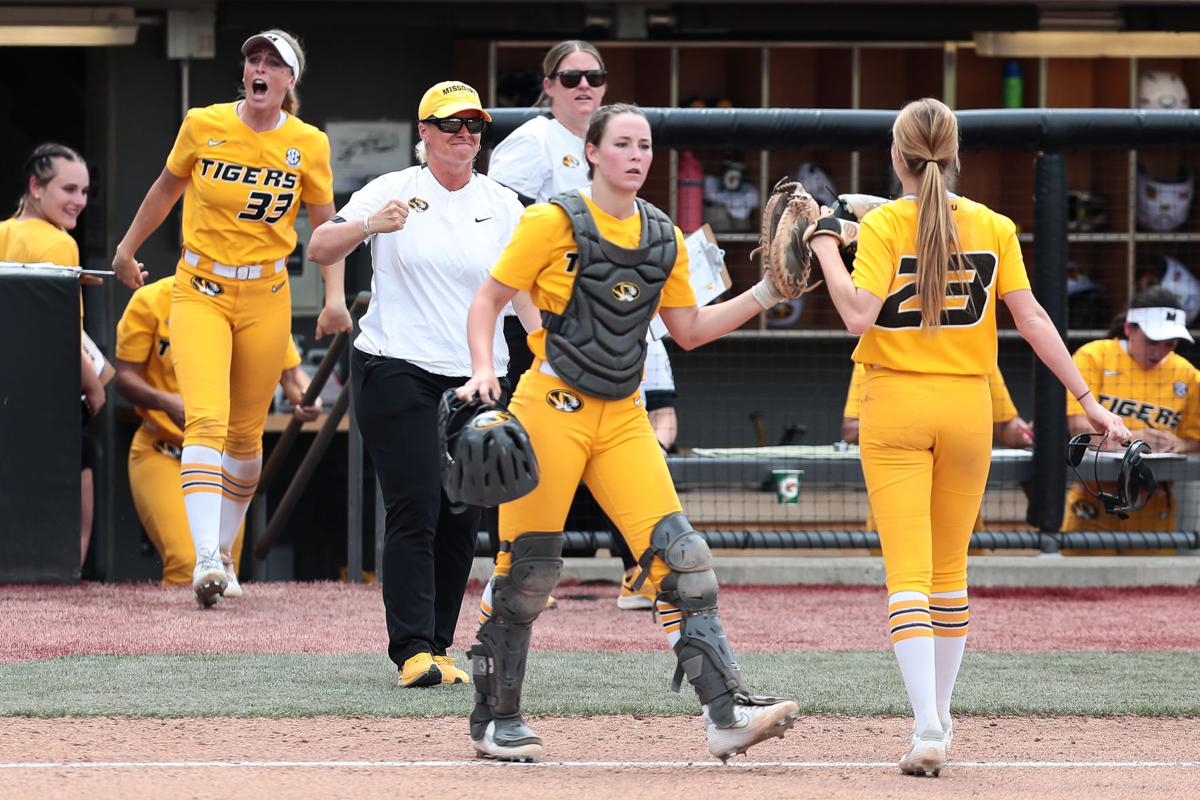 COLUMBIA, Mo. — The Missouri softball team spent the regular season sneaking up on the mighty Southeastern Conference before making a serious run at the league championship. The Tigers have since earned a national seed in the NCAA tournament, dominated last week's NCAA regional field and advanced to the round of super regionals. Along the way, they've shifted identities and secured the role they sought all along.
"They've been wanting that," Tigers coach Larissa Anderson said Wednesday as her team prepares to host James Madison for this weekend's best-of-three super regional. "That's the difference, that they felt like they've been disrespected for the last few years and not getting the accolades and not getting the respect that they felt like they deserved. Now it's finally like, 'You know, we've been telling you this all along. We deserve to be an 8 seed.' Now they actually feel like that they're able to showcase that and people are paying more attention."
Last week's showcase was impeccable. The Tigers (41-15) outscored their three regional opponents 17-0, crushed more home runs (four) than allowed hits (two) and never went to their bullpen. Of the 16 teams still alive on the NCAA bracket, Mizzou was one of just three to hold all of its regional opponents scoreless.
But now comes another kind of challenge. James Madison (37-1) arrives for the super regional on a 27-game winning streak powered by one of the nation's best lineups and an heavy-innings ace pitcher in Odicci Alexander. The Dukes have already toppled one SEC team on its home field, beating regional host Tennessee last week. The series starts with Game 1 at 8 p.m. Friday, followed by Game 2 at 6 p.m. Saturday. Both games are on ESPNU. If necessary, Game 3 will be Sunday at 11 a.m. or 1 p.m. The series winner advances to the sport's ultimate destination: the Women's College World Series.
Reaching Oklahoma City for the first time in a decade would be especially gratifying for a Mizzou team that faced measured outside expectations when the season began. SEC coaches picked Mizzou eighth in their preseason poll.
"We were just supposed to be this average SEC team, but we came out and we showed them that we're one of the best teams in the SEC and within the nation," center fielder Brooke Wilmes said. "I think now that people have seen that and they're actually realizing like, hey, they're a pretty good team, now they're starting to put their money on us, when in reality we still think we're the underdogs in everything."
For the Tigers, suddenly now a postseason heavyweight, their coach is especially equipped for this weekend's visitors. Before taking over at Mizzou, Anderson spent 17 seasons at Hofstra University, another program in the same mid-major conference as JMU, the Colonial Athletic Association. Since 2002, Hofstra and James Madison combined to win 18 of 19 CAA conference championships.
JMU has played only two teams from the power conferences all season but ranks No. 4 nationally in team ERA (1.42) and No. 3 in slugging percentage (.610) and runs scored per game (7.5).
Anderson knows Dukes coach Loren PaPorte well and knows exactly how her team will approach this weekend.
"'The Little Engine That Could,' the mid-majors, are always out to try to prove everybody wrong," Anderson said. "They have nothing to lose. No one's expecting them to win. Because when you look at it on paper, the resources that Mizzou gets versus the resources that James Madison gets, Mizzou is expected to win. It's very hard for softball coaches justify to their athletic director why a mid-major beat a Power 5 school. But the game doesn't care. The softball does not care. The round ball, the pitch that's being thrown, doesn't care what school you're playing for."
The two teams met in February 2020 but in hardly similar circumstances. James Madison rallied for an 8-7 extra-inning victory on a neutral field in Clearwater, Florida, though the Tigers tagged Alexander for three home runs. The Dukes will walk into far different atmosphere at Mizzou Stadium, which was packed for last weekend's games, the first time all year MU opened its facilities to full capacity. The Tigers expect a full house again Friday, Saturday and, if needed, Sunday.
Another successful weekend will send Mizzou to the WCWS for the first time since the program made three straight appearances from 2009-2011.
"It's always a goal every year that we have to make it to the World Series, but there have been some years where it's more realistic than others," catcher Hatti Moore said. "This year it's one of those things where we know we can do it. So, if we don't, it would be really devastating."