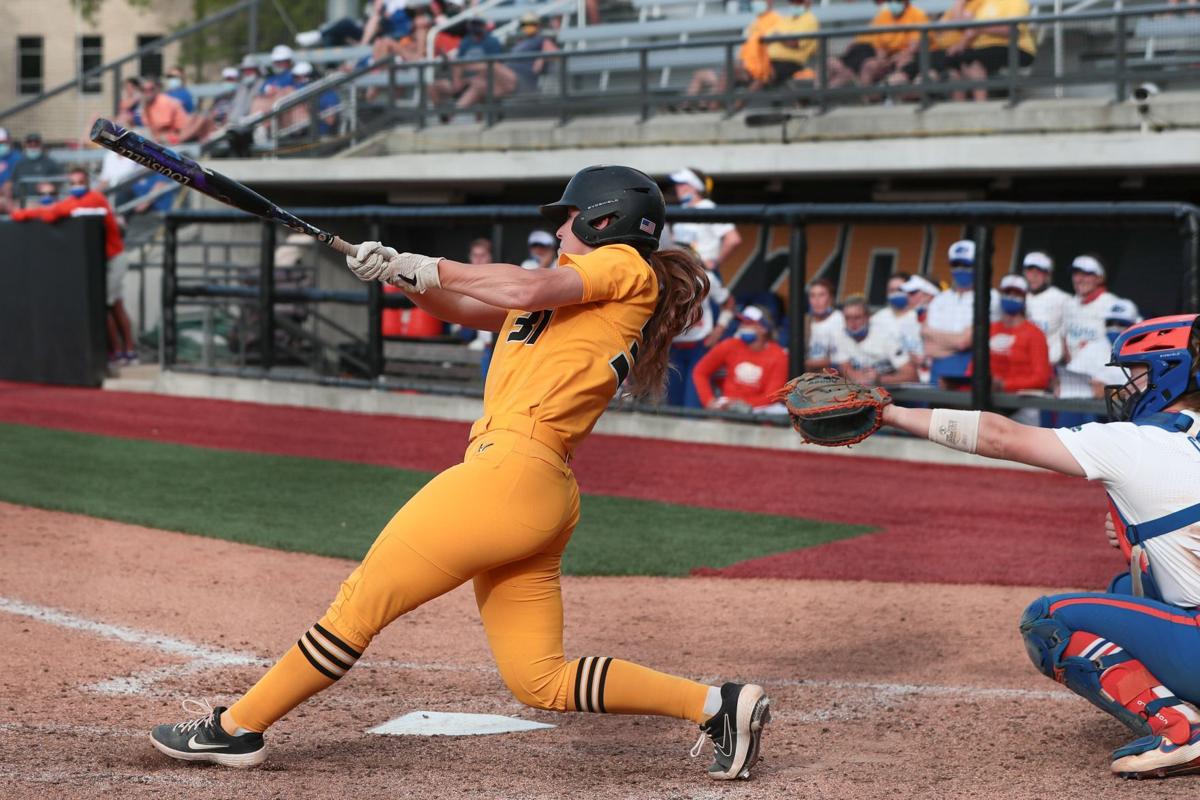 COLUMBIA, Mo. — Southeastern Conference pitchers, this is your warning. Before stepping into the circle this week against Missouri at the SEC tournament in Tuscaloosa, Alabama, keep two things in mind:
1. You can't pitch around anyone in Mizzou's starting nine.
2. These Tigers are never out of a game.
Those are the luxuries of having a historically powerful lineup, perhaps the best in the college game's best conference. It's a lineup that by season's end could finish as the best in team history.
After winning five of eight SEC series during the regular season, No. 15 Mizzou (37-14) is the No. 4 seed this week in Tuscaloosa and opens play in Thursday's quarterfinals against No. 5 seed Louisiana State. First pitch is set for approximately 1:30 p.m. on SEC Network. MU is just 3-6 all-time in the single-elimination tournament, hasn't won a game on the bracket since 2015 and has advanced past the quarterfinals just once, falling to Florida in the 2013 championship game.
"I really think we just have a completely different mindset this year than we have in the past," senior center fielder Brooke Wilmes said. "Us upperclassmen, we know what it's like to come to the SEC tournament and almost feel like we don't really have a shot. But this year we know that we can win it all because every single person in our lineup, one through nine, can get the job done."
This might be Mizzou's most equipped offensive team to mash its way to an SEC crown. The Tigers head into the postseason ranked first or second in the SEC in batting average (.328), on-base percentage (.408) and slugging (.567), all of which rank in the top 20 nationally. Mizzou is tracking to break its single-season team record for batting average of .327, set in 2016.
Larissa Anderson's team averages 6.8 runs per game (No. 10 in Division I) and ranks second in the SEC with 79 home runs, needing just four more to break the team record of 82 set in 2005. The Tigers lead the SEC in doubles (84) and total bases (787) and could break both team records with a lengthy postseason run.
Most impressive, the thunder comes from top to bottom on Anderson's lineup card and all points in between. Seven MU players have six home runs or more.
"We talk about that all the time," said catcher Hatti Moore, whose team-leading 17 homers are three away from MU's single-season record of 20, set by Amanda Renth in 2008. "We say it would be terrible to throw to our hitters. There's not a hole in the lineup. Every single person that comes up to bat you have to throw to them, because the next girl can do the exact same thing the girl in front of them can. … I think it does give us a mental edge. We're prepared and we know we can hang with the best."
Moore isn't alone in chasing records. Wilmes' 16 doubles are three away from matching Mary Babb's team record of 19 set in 1995. Third basemen Kim Wert is chasing Moore for the home run lead with 16.
Three times this season, the Tigers have smashed four home runs in an SEC game, including Sunday's series-clinching 5-3 win at Tennessee, where four home runs accounted for all of MU's scoring.
Then there's freshman shortstop Jenna Laird, perhaps the team's biggest surprise and most valuable player. The rookie from East Meadow, New York, grew up attending Anderson's camps at Hofstra University — they first connected when Laird was 9 — then followed Anderson to the Midwest to become an anchor in her infield. She came to Mizzou exclusively as a slap hitter from the left side, but in working with hitting coach Chris Malveaux, she's developed a more traditional swing — one of the best in the league. Laird leads Mizzou with a .406 average, one of just seven SEC averages of .400 or better among lineup regulars. The slapper has turned into a slugger with seven home runs.
"I knew that I had to grind in order to work hard enough to get my swing to where it is now," said Laird, the league's freshman of the year and a first-team All-SEC selection. "Even though it's not perfect yet, I can still make adjustments every time I'm at bat."
"It's very rare that a freshman is playing shortstop," Anderson said, "so for her to be able to contribute as much as she is I'm just really proud of her."
For the Tigers, there's more at stake this week than an SEC championship. Mizzou is one of 20 schools under consideration to serve as a host site for next week's round of NCAA regionals. The NCAA Division I Softball Committee will unveil the 16 hosts with the full 64-team bracket at 8 p.m. Sunday on ESPN2.
Mizzou was a regular regional host under former coach Ehren Earleywine, hosting every season from 2009-16. In 2019, Anderson's first season at MU, the Tigers were eliminated from regional play at UCLA. The pandemic wiped out the softball postseason last year.
"I'm not going to lie: I want to host," Anderson said. "I want I want our team to be able to host. I want our families to be able to watch us play. I think our community deserves it. It's been a long time since Mizzou softball hosted a regional. I think it's something that our area needs. I think that our community and our athletic department, they need to ride on this wave that we're on right now and really be excited about Mizzou softball and bringing the NCAA tournament to Columbia."