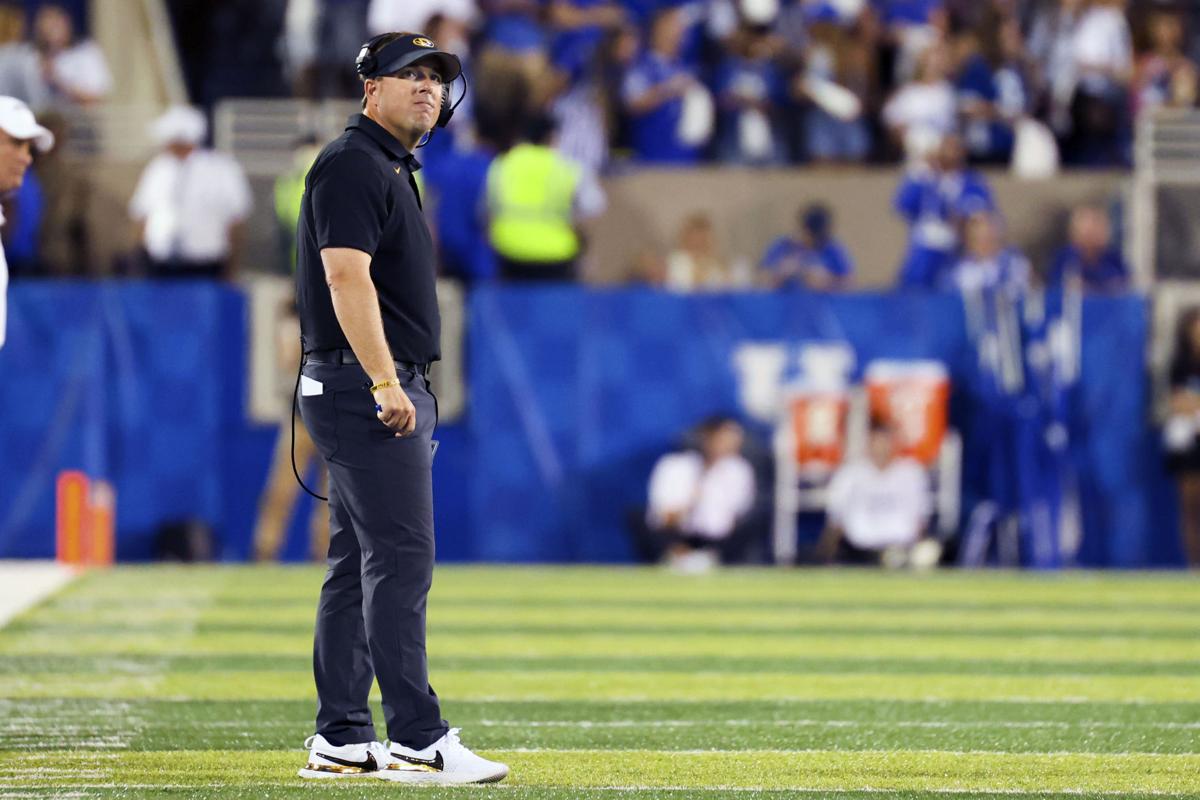 1. Eli Drinkwitz vs. Mike Elko, Part 3
The game within the game features an interesting chess match: Texas A&M defensive coordinator Mike Elko versus Missouri's Eli Drinkwitz, who serves as his own offensive coordinator. It's the third career meeting between the two play-callers, with each coach owning a victory. In 2016, Drinkwitz served as North Carolina State's offensive coordinator, matched against Elko's Wake Forest defense. Drinkwitz's balanced attack went for 200 rushing yards and 327 passing yards in a 33-16 victory, shredding Wake for 6.9 yards per play, N.C. State's most potent offensive day against an ACC team in Drinkwitz's three seasons there. QB Ryan Finley threw 36 passes that day but only three screens, instead targeting Wake with intermediate to deeper throws. Wake managed only four pressures and one hit against Wolfpack protection. A year later, Elko's Notre Dame defense held Drinkwitz's N.C. State offense to just 50 rushing yards and 213 passing yards in a 35-14 Irish win. Notre Dame pressured Finley 17 times but only blitzed on eight of his 38 drop-back passes, resulting in six pressures and an interception returned for a touchdown. Drinkwitz studied both games this week. In A&M's win over Alabama on Saturday, he noticed Elko used the same blitz pattern he called in one of the N.C. State matchups. Don't be surprised to see Drinkwitz dig into his bag of tricks and challenge Elko's defense with an aggressive game plan, similar to last year's trick LSU game, when Mizzou opened the game with a flea flicker. The Elko-Drinkwitz showdown will go a long way toward deciding who wins Part 3 of their series.
2. Which Aggies team shows up?
In last Saturday's 41-38 upset of No. 1 Alabama, Texas A&M finally looked like the complete team most expected could challenge Alabama in the SEC West this fall. The Aggies probably have played themselves out of contention with earlier losses to Arkansas and Mississippi State, but for once they showcased their talent against the Crimson Tide. Now, can the 9-point favored Aggies bottle up that success and take it on the road? Saturday's visit to Mizzou marks A&M's first true road game in 2021. The Aggies have thrived in this role under fourth-year coach Jimbo Fisher, going 6-0 as road favorites under his watch. In fact, that's been an Aggies trend for nearly a decade: They're 17-1 as road favorites since joining the SEC in 2012. But can they shake off any hangover lingering from last week's field-storming upset? Mizzou should get an answer quickly. A sluggish start for the visitors could open the door for the Tigers to keep things close.
3. Mizzou needs to keep a clean pocket
This figures to be the most talented defense Mizzou has faced this season. The Aggies' attack starts with a strong front four. Just ask Bryce Young. The Alabama quarterback was under siege last week, when the Aggies pressured him 19 times, resulting in four sacks. Aggie defensive end Michael Clemons and tackle DeMarvin Leal can wreck any offensive line's afternoon. They've combined for 42 pressures and 10 quarterback hits on the year. The Tigers have allowed only five sacks, but Connor Bazelak has absorbed more contact lately and isn't nearly as mobile outside of the pocket. Two weeks ago Tennessee peppered Mizzou's offensive line with pressure from all angles. In the secondary, A&M features one of the SEC's best defensive playmakers, nickelback Antonio Johnson, a former four-star recruit from East St. Louis High. He leads the Aggies with 47 tackles and owns the team's top defensive grade (86.2) and coverage grade (87.9) by Pro Football Focus. Quarterbacks have targeted Johnson 39 times this season, resulting in 26 receptions but just 5.9 yards per catch, only one touchdown and zero penalties by the sophomore defender.
4. Can the Tigers contain A&M's dynamic duo?
Under the direction of newly promoted position coach Al Davis, Missouri's defensive line showed glimmers of progress last week. But that was against North Texas. Texas A&M features more weapons in the passing game, but why would the Aggies put the ball in the air when they've got two NFL prospects at running back who can dismantle Missouri's defense? Isaiah Spiller, a 225-pound former 1,000-yard rusher is a load to tackle — not exactly Mizzou's specialty — and complements the speedy Devon Achane, who's averaged 6.6 yards per carry and 4.5 yards after first contact. Together they've combined to force 42 missed tackles. Before Mizzou worries about the Aggie tandem, the front four and linebackers have to shed blocks at the point of attack. The North Texas game didn't absolve Mizzou's season-long struggles against the run, but the first half was promising. "We created a new line of scrimmage," defensive coordinator Steve Wilks said. "I thought we did a great job of getting off blocks. There's times that we may have been in our gap, but being in our gap is not enough. We've got to strike and shed. We've got to make tackles."
5. Injuries could test Mizzou's depth
Mizzou's injury list was longer than usual this week. Maybe it's gamesmanship from Drinkwitz, but on Thursday the Tigers listed seven starters or key backups as questionable or doubtful for Saturday's game. MU could be thin at slot receiver with Mookie Cooper (questionable) and Barrett Banister (doubtful) both listed. Defensive tackles Akial Byers and Darius Robinson are questionable, along with starting cornerback Ish Burdine. The secondary is already thin with the season-ending knee injury to cornerback Ennis Rakestraw. Right guard Case Cook has been nursing an undisclosed injury for several weeks and is questionable after playing half of last week's game. Defensive end Johnny Walker Jr., a key reserve on the edge, is also considered doubtful.