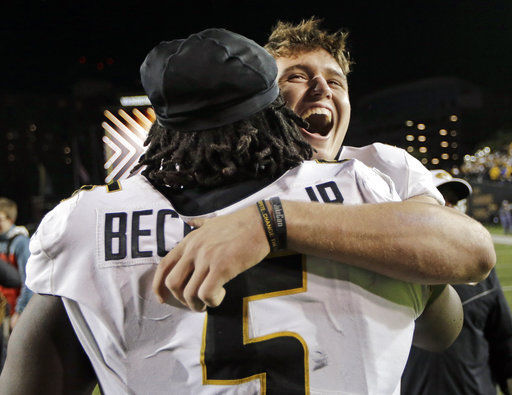 COLUMBIA, MO. • The fickle nature of the matchmaking process for bowl games is mostly beyond the control of college football coaches, but Barry Odom was delighted when the Texas Bowl paired his Missouri Tigers with a familiar foe from the past.
For the first time since leaving the Big 12 Conference, Mizzou (7-5) will face former league cohort Texas (6-6) at Houston's NRG Stadium, an 8 p.m. kickoff on Dec. 27. For both programs, it's their first bowl game since the 2014 season.
Odom's Tigers clinched bowl eligibility two weeks ago at Vanderbilt, but that didn't spoil the suspense and celebration when the invitation became official Sunday. Missouri athletics director Jim Sterk called it "a match made in heaven."
Odom knew instantly his players were thrilled with the bowl and their opponent when he heard them erupt in meeting rooms around the team facility Sunday.
"That was pretty cool to hear from afar," he said.
Regardless of the competition, there's some history at stake for the Tigers in Houston. Mizzou will attempt to become just the second team in college football history to win eight games after starting the season 1-5. In 2008, Rutgers became the first and only team to pull that off. The Tigers will take a six-game winning streak into Houston.
Their next opponent has noticed.
"They're playing some of the best football in the country right now," Texas coach Tom Herman said Sunday. "The quarterback (Drew Lock) I think finished the season with the most touchdown throws of anybody in FBS. They're playing really, really well offensively. Obviously, I haven't watched them on video. I've been out recruiting, but I know just from the numbers that are pretty gaudy. And I want to commend Coach Odom for, this is a guy that's had some adversity early in his tenure there and has stayed the course and has turned this season and this team around."
This will be the Tigers' first bowl appearance since Gary Pinkel's 2014 team beat Minnesota in the Citrus Bowl on Jan. 1, 2015. That same season, the Longhorns lost to Arkansas in the Texas Bowl, then followed with a pair of 5-7 seasons under coach Charlie Strong, who was fired after the 2016 season. The Longhorns replaced Strong with Herman, who led the University of Houston to 22 wins the two previous years. Herman's name briefly came up as a possible successor to Pinkel after the 2015 season — Mizzou's athletics director at the time, Mack Rhoades, had hired Herman at Houston — but talks never got serious.
Instead, Odom and Herman will lead their first bowl teams at their respective schools against each other.
It will be MU's ninth bowl in the state of Texas, where the Tigers are 5-3. Mizzou is 1-1 in Houston bowls with a 14-10 win over Georgia Tech in the 1962 Bluebonnet Bowl and a 35-13 loss to Navy in the 2009 Texas Bowl. Mizzou is 15-16 all-time in bowl games and has met Texas once before in a bowl, a 40-27 loss to the Horns in the 1946 Cotton Bowl.
Texas leads the all-time series 17-6, though the Tigers won the last meeting, 17-5 in 2011. Odom was Mizzou's safeties coach at the time.
Odom's history with the Horns dates back more than two decades. For one, he grew up in Oklahoma, on the opposite side of the bitter Red River Rivalry between the Oklahoma Sooners and Longhorns. Odom's first college game at Mizzou came against Texas in the 1996 season opener, the Tigers' first game as a member of the Big 12 Conference. After a lengthy thunderstorm delay in Austin, UT won 40-10.
"I knew I was in the mix to maybe play, maybe redshirt," Odom said. "I had no idea. Then they put the depth chart out on Monday and I remember calling home and saying, 'I don't know what you guys are doing this weekend, but it looks like I'm playing.' I played a lot. … I have a lot of memories from the game."
The Tigers won the next year's meeting in Columbia, then lost six straight to the Longhorns before that 2011 victory. By then, tension had spilled over between Texas' administration and peers at Mizzou as the Tigers made plans to follow Nebraska, Colorado and Texas A&M out of the Big 12.
Mizzou has been allotted 8,000 tickets for the Texas Bowl. Tickets are priced at $125 (300 Club Level) or $85 (100 Lower Level) and may be purchased online at mutigers.com/tickets. Tickets can also be purchased by calling the MU Athletic Ticket Office (1-800-228-7297) or in person at the Mizzou Arena box office from 8 a.m. until 5 p.m. Tiger Scholarship Fund members and season ticket holders must place their orders by noon on Wednesday to receive priority.