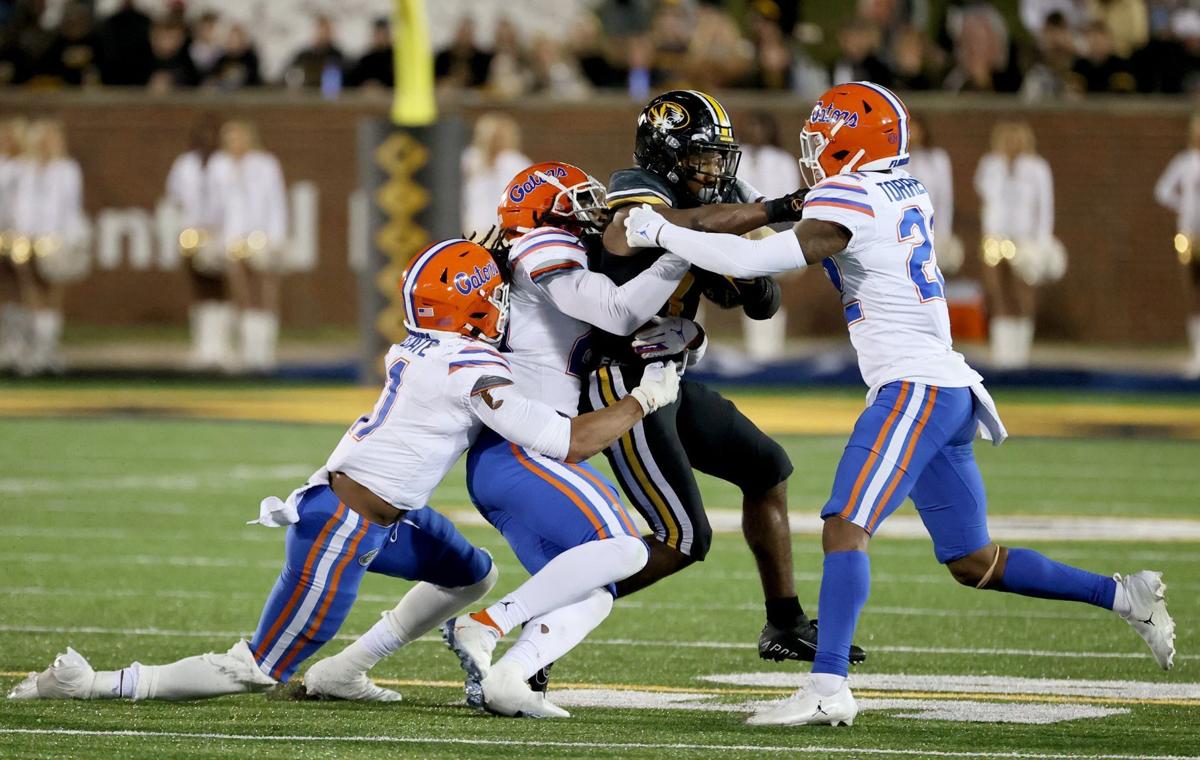 COLUMBIA, Mo. — Last February, Missouri running back Tyler Badie made a bold comment as the Tigers opened spring practices: "I know I can be the best running back in this conference."
He might have sold himself short. Why not the whole nation?
On Tuesday, Badie was named one of three finalists for the Doak Walker Award, given annually to the best running back in the country. The Southeastern Conference's leading rusher made the cut along with Iowa State's Breece Hall and Michigan State's Kenneth Walker III.
Heading into Friday's regular-season finale at No. 25 Arkansas, Badie ranks fourth nationally in rushing yards with 1,385, just 193 behind Devin West's single-season Mizzou record of 1,578, set in 1998. (West ran for another 125 yards in that year's Insight.com Bowl, four years before the NCAA began adding bowl stats to single-season totals.)
Among the three award finalists, Walker leads the bunch with 1,498 yards — second-most in the FBS — and has 17 rushing touchdowns. Hall ranks No. 8 nationally with 1,230 yards and has scored 17 rushing TDs. Badie is by far the most prolific receiver of the three with 53 catches for 335 yards and four scores. Walker (13-89-1) plays a minor role in MSU's passing game. Hall has 34 catches for 263 yards and two TDs.
The winner will be announced Dec. 9 during the ESPN Home Depot College Football Awards Show, which will be held virtually and hosted from ESPN's studios in Connecticut.
The last Missouri player to win an individual position award was tight end Chase Coffman, who won the Mackey Award in 2008. Running back Brock Olivo won the inaugural Mosi Tatupu Award for the best special teams player in 1997.
Left off the national finalist ballot is Mizzou kicker Harrison Mevis, who has the credentials to win the Lou Groza Collegiate Place-Kicker Award but was not one of the three finalists named Tuesday. Mevis, this week's SEC special teams player of the week, has connected on 17 of 19 field goals, including 3 of 3 from 50 yards or longer.
One curious inclusion among the finalists was Oklahoma's Gabe Brkic, who's missed six of his 23 field-goal attempts and ranks just eighth in field goal accuracy among Big 12 kickers. Michigan's Jake Moody (22 of 24) and Ohio State's Noah Ruggles (16 of 17) were the other finalists. All three finalists handle their teams' kickoff duties. Mevis only handles field goals and PATs for the Tigers, while Sean Koetting is MU's kickoff specialist.
Jeffcoat back on trackAfter a slow start to the season, defensive end Trajan Jeffcoat has started to produce at the level most expected when the season began. On Monday, the SEC named him the league's defensive lineman of the week after he posted 3.5 tackles for loss in Mizzou's 24-23 win over Florida. Jeffcoat, who recovered a fumble for a touchdown two weeks ago against South Carolina, has at least half a tackle for loss in each of MU's last six games. For the year, he has 10 tackles for loss and 3.5 sacks. In nine games last year, Jeffcoat had six sacks but no additional tackles behind the line of scrimmage.
"I think right now he's just having fun," defensive coordinator Steve Wilks said. "He would tell you this, but probably a little bit too much pressure that he put on himself (early in the year) to try to go out there and execute and play at a higher level. … What you see right now is that he's going out there just executing his assignment, playing fundamental, technique-sound and not worried about trying to make every play. That's been the difference."
Jackson's bigger role
It's uncertain if Mizzou will have starting cornerback Akayleb Evans back against Arkansas. He missed the Florida game with what Eli Drinkwitz called "a soft tissue injury." Evans wasn't in full pads for the open portion of Monday's practice. Freshman D.J. Jackson started in his place Saturday, played nearly every snap and held his own in the secondary, allowing four completions on seven targets for 40 yards.
"The one thing I like about him going all the way back to when he arrived, it's never been too big for him," Wilks said. "He accepted the challenge of going out there and starting, and he made some plays, critical tackles, key third down plays. So he's just building confidence."
Coming off a wild overtime win over Florida, Eli Drinkwitz's resurgent Tigers head to Arkansas for Friday's Battle Line Rivalry Game. (Apologi…