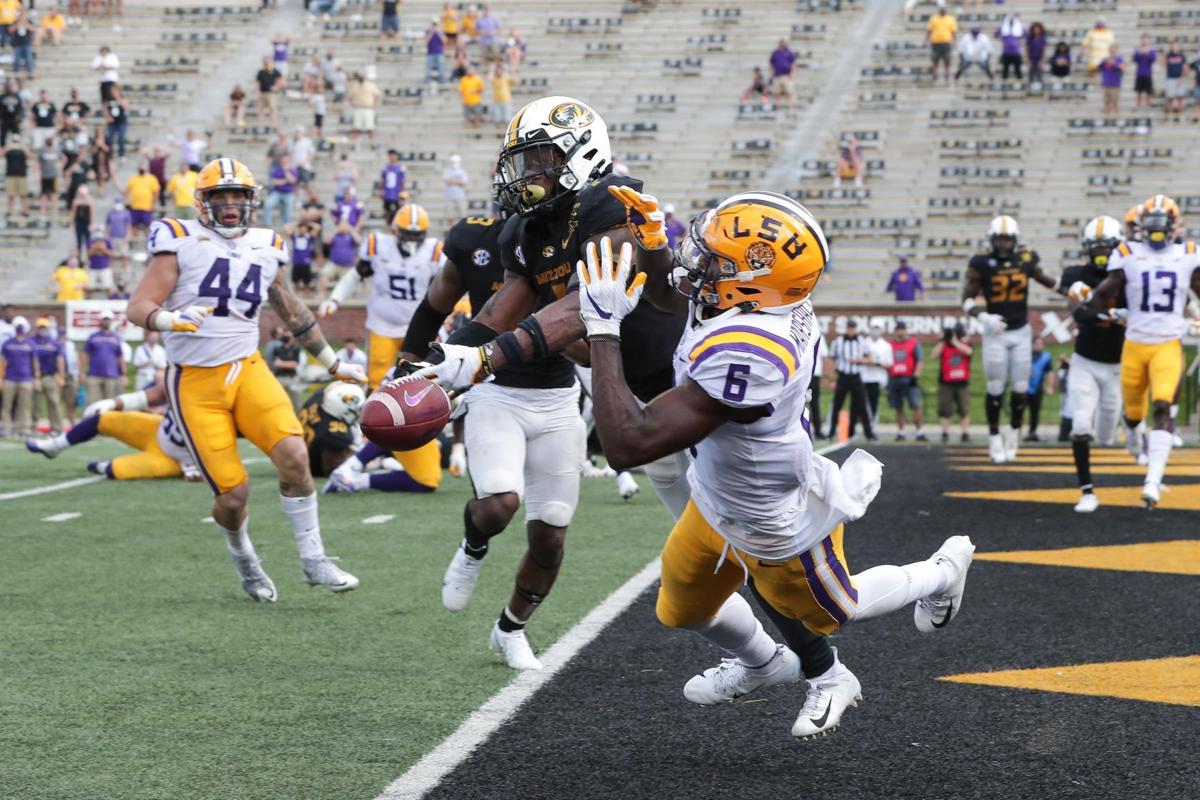 COLUMBIA, Mo. — The most memorable defensive play of Missouri's 2020 football season — there weren't many — not only punctuated Eli Drinkwitz's first victory but gave Joshuah Bledsoe a signature moment for his college career.
Louisiana State ball, fourth-and-goal from the 1-yard line, just a few seconds left in a one-score game. Those three feet of grass would determine which team of Tigers would walk off Faurot Field with a win.
Bledsoe, Mizzou's senior free safety and three-year starter, was covering lethal slot receiver Terrace Marshall, who gave Bledsoe a hard shove off the snap, then watched his defender punch the ball away to clinch the victory. Months later, Bledsoe can retrace his steps like the game just ended.
"I initially thought they were going to run a fade route," he said last week in a phone interview. "So that's why I cheated outside a little bit as the ball was snapped. But as he came out for the pass, I just came downhill."
Two weeks later against Kentucky, Bledsoe preserved the Tigers' second win when he jarred the ball loose from wideout Josh Ali and recovered the fumble on UK's final play from scrimmage.
But when Mizzou fans look back on Drinkwitz's debut year — a campaign ravaged by COVID-19 and all the complications that ensued — Bledsoe's game-winning play against the defending national champions will still resonate.
"I'm just happy I got the opportunity because a lot of people don't get that," he said. "The game's on the line, the play is coming to you, and you get to show what you can do in that situation. I was blessed to be able to show I could deliver when needed in clutch moments."
While most of the seniors on Missouri's 2020 team took advantage of the NCAA's free year of eligibility for 2021 and returned for another year on campus, Bledsoe didn't give the option much thought. Instead, he accepted an invitation to play in last month's Senior Bowl, along with fellow MU safety Tyree Gillespie and running back Larry Rountree III, marking just the fifth time in the Senior Bowl's history that three Mizzou players made the roster and the first time since 2016's trio of Kentrell Brothers, Evan Boehm and Connor McGovern.
"I just felt confident in my ability and my thought process," Bledsoe said. "I felt like my game was up to par and ready for the next level."
With the NFL draft a little more than two months away, the Houston native has spent the last month working out at the EXOS training center in Frisco, Texas. With the NFL scrapping in-person workouts for this year's scouting combine in Indianapolis, Mizzou's March 22 on-campus pro day looms as a major showcase for MU's top prospects, including junior linebacker Nick Bolton, a projected first-round pick, and junior offensive lineman Larry Borom.
The next couple months will be crucial for Bledsoe, who for the second straight season led Mizzou's defense in total snaps — 667 in 10 games — and finished with 41 tackles, six breakups and his first career interception, a sliding grab in the back of the end zone in the season finale at Mississippi State. Bledsoe and Gillespie are in position to become Mizzou's first drafted safeties since Atlanta chose William Moore in the second round of the 2009 draft.
In Mizzou's 4-2-5 base scheme, the defensive staff often assigned Bledsoe, at 6-foot, 200 pounds, to cover shifty slot receivers rather than a traditional deep safety position, a task Bledsoe believes boosts his NFL credentials.
"It really didn't feel like a challenge because that's what I do," he said. "I play man coverage. It's like second nature to me to be able to do that. Don't get me wrong, it's a very hard position to play, especially with no (safety) help the majority of the time. But with my mindset and my feel for the game and my football IQ, I can figure out what's coming at me before the play actually starts."
During the season, now-former MU defensive coordinator Ryan Walters said Bledsoe's coverage skills exceeded the staff's expectations when they signed him as a three-star prospect in 2017.
"It's hard to be that size and be able to cover the slot the way that he does," Walters said last fall. "But he answers the bell week in and week out. Looking back at the LSU game I should have just played him man-to-man on Marshall the whole game because most of his explosive plays came with someone else covering him."
"He's really became a technician in the slot," he added. "He's covered a whole gamut of really good ones throughout his time here. But that's what makes him special at that size to be able to do that."
Bledsoe didn't miss a meaningful snap of the season despite testing positive for COVID-19 in November. That week, positive cases within the program forced MU and Georgia to postpone their game to the final week of the regular season. Another bye in the schedule gave Bledsoe time to recover. He only experienced mild symptoms.
"I could still smell and taste," he said. "It just felt like a regular cold."
While Bolton and Borom decided against playing in the Music City Bowl and started focusing on draft workouts, Bledsoe planned to play against Iowa — until the game was canceled because of MU's high COVID count.
"Everyone went home right before the bowl game, so we kind of knew that COVID might sneak around someway, somehow," he said. "I was kind of expecting COVID might knock out the bowl game, but I wanted to play in it."
Otherwise, the 10-game SEC-only schedule was a grind but rewarding, he said.
"It was fun," he said. "It took a lot of mental power staying strong mentally to sustain that type of season especially with COVID. There were a lot of people who wanted to opt out and just give up and not play. To be able to stay on the field I felt like this season was an escape from the world with COVID going on. So I enjoyed this season a lot."