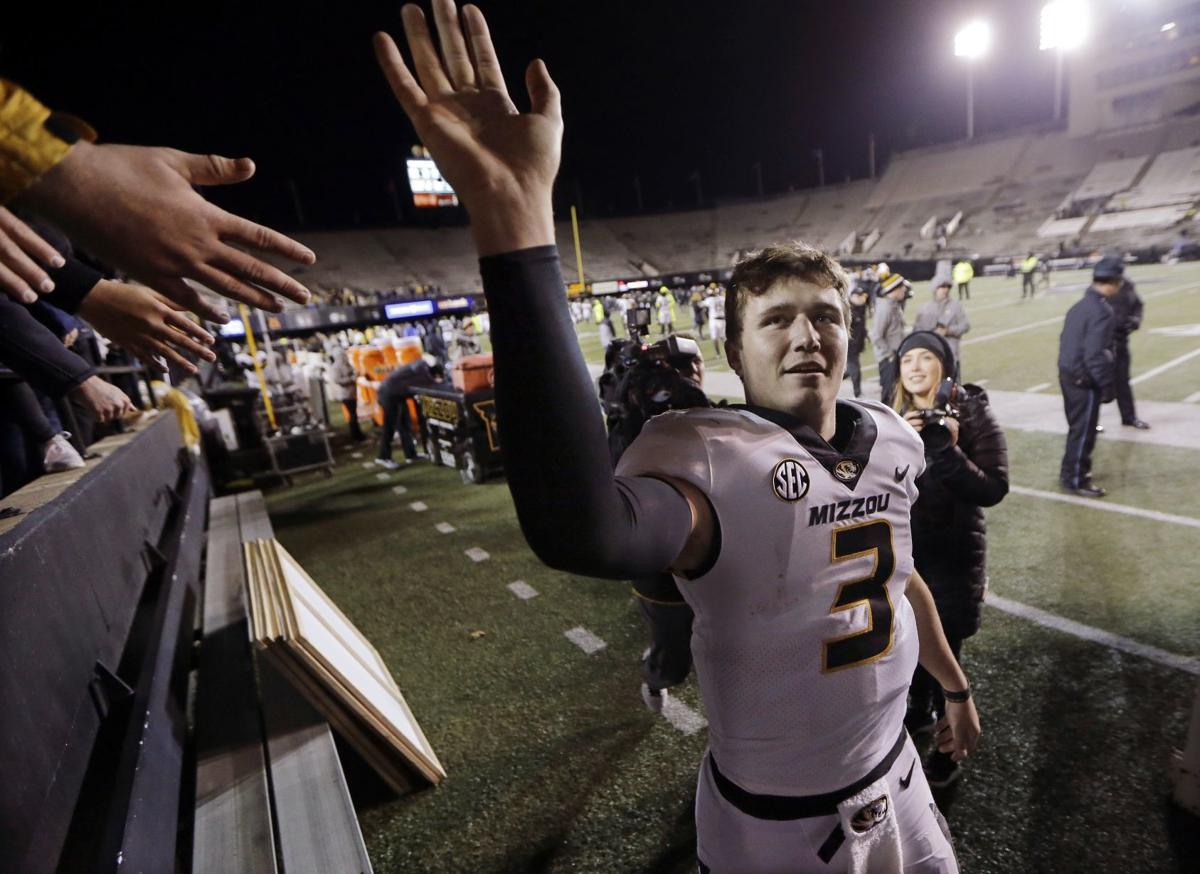 COLUMBIA, MO. • With the NFL draft a month away, Drew Lock could be spending his days having his every throw, every decision, every word evaluated and analyzed by teams in the market for a quarterback.
But after a record-breaking season at Missouri, Lock didn't believe he was ready to slide under that microscope. Physically, yes, he has the arm to impress NFL coaches. The first-team All-Southeastern Conference quarterback has the credentials with 33 career starts and last year threw more touchdown passes (44) than any quarterback in SEC history.
What Lock doesn't have, he insists, is the base knowledge and experience to operate an NFL offense. While NFL systems have evolved to more closely resemble the no-huddle spread offenses that are common across college football, the Tigers ran an extreme version of the spread the last two years under coordinator Josh Heupel, a concoction of shotgun systems made famous at Texas Tech and Baylor that favored tempo, vertical passes, screens and simplified downhill running plays but minimal variety in formations and passing routes.
Once Heupel left Mizzou in December for the head-coaching job at Central Florida, Lock made it clear he hoped Heupel's replacement would install a more multifaceted offense that would help him adapt to the NFL.
Enter Derek Dooley. The former head coach at Louisiana Tech and Tennessee has never called plays but he spent the last five years in the NFL coaching the Dallas Cowboys wide receivers. As Mizzou's new coordinator and quarterbacks coach, he's brought north a thicker playbook, much to Lock's delight. After the newly hired Dooley visited with Lock in January, the junior quarterback decided to return to Mizzou for his final season of eligibility.
"It's more complicated of an offense, but I'd say in a way it's easier," Lock said after Tuesday's spring practice. "It was more guessing games last year on what I thought receivers were going to run. This year, I have it set in stone on what they're going to do every single play. It just makes me a lot more comfortable back there because I know exactly what's going on."
For Lock, an easier offense doesn't mean there's less to learn. Just the opposite.
"There's going to be a lot more plays," he said. "We're in a lot more formations, so I'm seeing looks that I've never seen today."
That was true Tuesday when Lock's personnel often included three tights on the field together — All-SEC Albert Okwuegbunam, Kendall Blanton and Brendan Scales — joined by a running back in the backfield and one receiver split wide. Mizzou played out of three- and four-receiver formations almost exclusively last season.
"I've never gone three tight ends in my whole football career," Lock said.
Lock said the new offense will put him under center at times, too.
"This is exactly what I wanted to experience," he added. "I want to go into a meeting at the (NFL) combine and be able to speak ball. I want to be able to talk NFL stuff with NFL people and I wasn't going to be able to do that (after) last year. I felt like I was good enough to go out there and sling it with those guys. I was a good enough quarterback, but I think maybe on the understanding of NFL ball I wasn't necessarily there."
Dooley's system should shorten Lock's NFL learning curve, but the changes aren't only for the quarterback's benefit. Lock believes an offense with more variety in structures and schemes will pay off against defenses on Mizzou's schedule. This fall, the Tigers play five teams that ranked in the top 25 last year in scoring defense: No. 1 Alabama, No. 6 Georgia, No. 9 Wyoming, No. 24 Purdue and No. 25 South Carolina.
For Dooley, an important feature of the offense is flexibility.
"Rather than being set in stone in one way or the other, he's going to be able to adjust," Lock said. "We'll have things we're putting in this spring that we can go back to and (say), 'Yeah, this is how we're going to attack this defense. This is how we change up to beat this team we're playing,' rather than trying to have them mold to us."
New formations also mean new alignments and packages from the defense. Count defensive coordinator Ryan Walters among those who appreciate the new looks. Mizzou's former offense didn't prepare the Tigers for any team they'd see during the season, Walters said.
"In terms of preparation and defending route trees with the element of being able to go fast and stretch you vertically and horizontally across the field, we're seeing everything," Walters said. "It's good for our players, good for our staff to be able to come with answers and make adjustments and play football really."