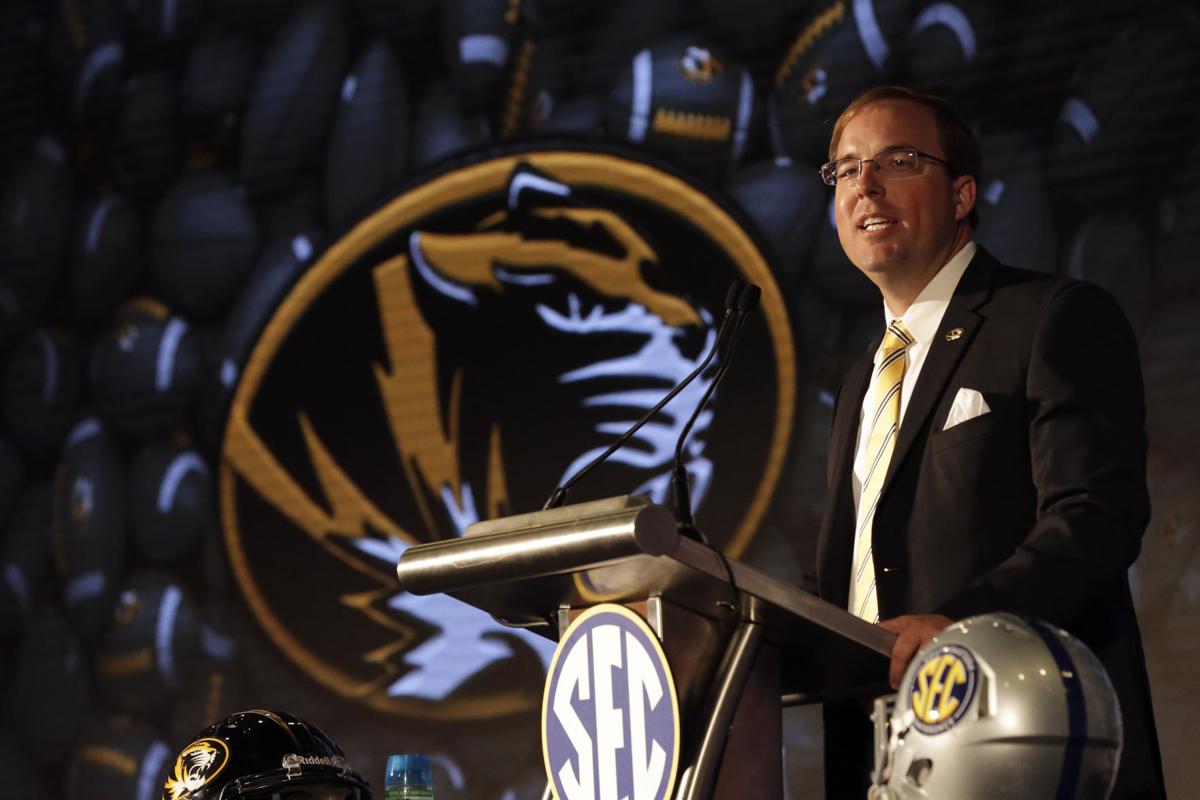 HOOVER, Ala. — From his flashy sneakers to some timely zingers, Eli Drinkwitz came prepared for his first appearance at SEC media days. Wearing his tiger striped Air Jordan 3 Retro Animal Instincts — the same shoes he wears when he's closing a player's recruitment — the second-year Missouri coach touched on all of college sports' hot topics Thursday, most notably the conference realignment scuttle that had captivated college football the last 24 hours.
The day after reports surfaced that Oklahoma and Texas were planning to leave the Big 12 for the SEC, Drinkwitz took the stage here and opened his media session saying he asked SEC commissioner Greg Sankey if the infamous anti-Texas "Horns Down" gesture would lead to a 15-yard penalty in the SEC.
"He gave me a strong rebuttal by saying no comment," Drinkwitz joked. "So we'll see where that goes."
While some have wondered if Mizzou would welcome two former Big 12 cohorts into the SEC a decade after the Tigers fled for the SEC, Drinkwitz quickly made it clear he's not opposed to adding the two heavyweights.
"If you can attract a couple of really good schools to come play, that's great," he said.
"In all seriousness, control what you can control," he added. "That's all speculative. … What we're worried about is converting third downs and scoring touchdowns. They ain't on our schedule this year, and if the commissioner decides, or our presidents decide that's what it will be in the future, then hopefully Missouri employs me long enough to see that."
Joined here by Mizzou offensive guard Case Cook and defensive lineman Akial Byers — a calculated decision on the coach's part — Drinkwitz saved his most passionate comments for a topic some coaching peers danced around earlier in the week: COVID-19 vaccines. Drinkwitz, whose brother Jeremy is the president of Mercy Hospital in Joplin, said MU's staff is 95% vaccinated. He's confident the team will surpass the SEC's 85% vaccination threshold by the start of preseason camp in August. Drinkwitz joined Georgia's Kirby Smart and Alabama's Nick Saban in using the SEC spotlight to advocate for the vaccine.
"When you're in a position of leadership, you've been given an awesome platform," he said. "You've got to weigh the outcomes of what you endorse. For me, when I think about vaccinations, I think about what if I'm wrong? If I say it's up to each individual decision and I'm wrong about that, the consequences of not getting the COVID vaccine are death.
"My brother's a hospital administrator in Joplin, Missouri. They're in the firefight right now for people's lives. The reality of it is, if you're wrong on not getting the vaccine, you're going to die. It's not an argument of whether or not you're going to get COVID. People are going to get COVID. You're going to deal with the results of that. It's death. It's not certain death. Some people fight it off. Some people don't. Everybody's different. There's all kinds of age groups right now that are really struggling with it."
Drinkwitz said it's been hard to convince everyone within the program to get vaccinated, but he hasn't made the vaccine a mandate.
"It's like I told our team," he said, "we ask you to get your ankles taped, not to prevent you from spraining your ankle but to prevent you from missing a game."
As for the Missouri team that will take the field Sept. 4 against Central Michigan, the Tigers might be short on established star power at the skill positions that command the spotlight, but there's a sense of comfort in MU's depth and experience along the line of scrimmage. The Tigers, coming off a 5-5 season last year, return four of the six defensive linemen who played 250 snaps or more in 2020 then added two junior college linemen expected to contribute immediately plus some impact freshmen, including De Smet's Mekhi Wingo, whom Drinkwitz singled out Thursday.
"Obviously, I think the defensive line should be a strength of our football team," he said. "It needs to be."
Across the trenches, Mizzou lost only one starter along the offensive line and returns two stalwarts in center Mike Maietti and Cook, a three-year starter at right guard.
"I think we're a lot more comfortable in the scheme," Cook said. "We've had a year with Coach (Marcus) Johnson. I think we know what he expects of us and what we expect from him, so moving forward I don't think anything can hold us back besides ourselves."
Unlike last year, the Tigers return a starting quarterback in Connor Bazelak, the 2020 co-SEC freshman of the year, but Drinkwitz resisted bringing his QB to Hoover and instead favored the two senior linemen.
As they relished the preseason's biggest stage, that choice was not by coincidence.
"The people of Missouri, the state of Missouri are hard workers and they're in the trenches," he said. "They're the unsung heroes. And that's really what our team is (about), with Akial and Case. Hopefully it sends a message to recruits that, 'Hey, man, you want to come win in the trenches, we'll put you on TV.'"