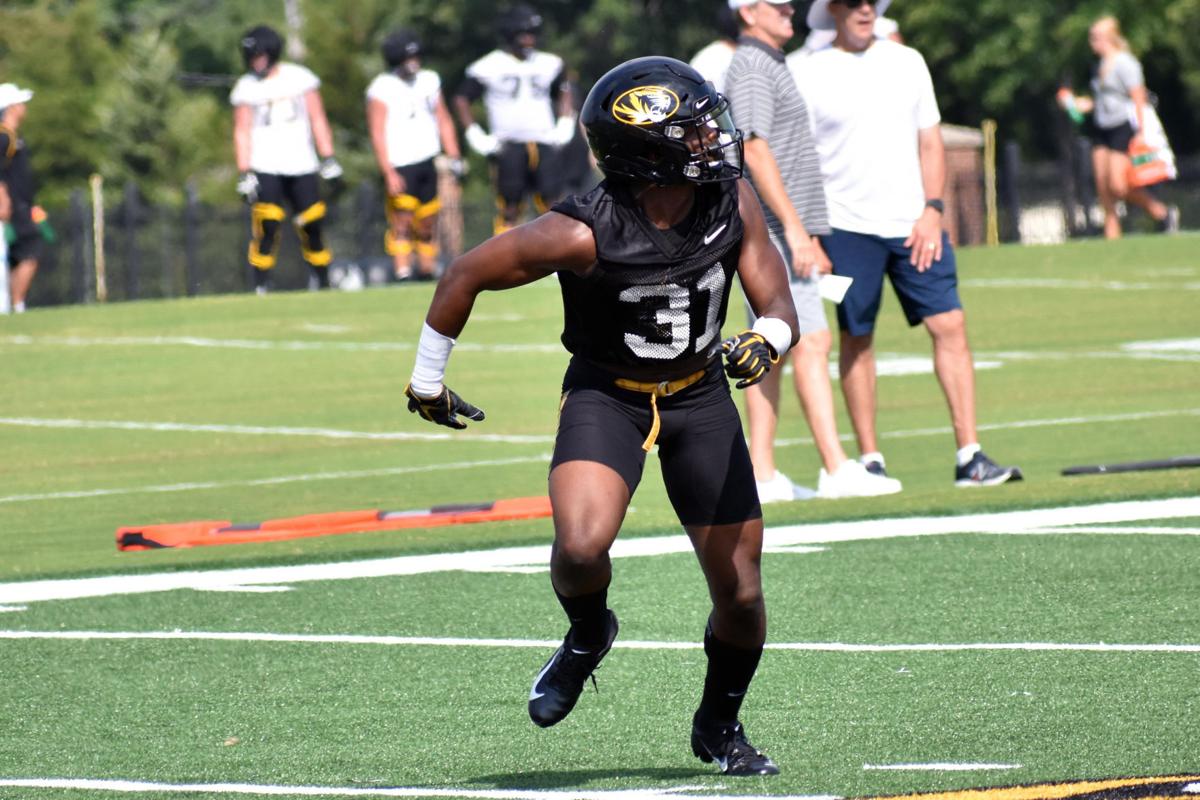 COLUMBIA, Mo. — One of the most contested preseason competitions on the Missouri football team finds a couple sophomores vying for one of the most crucial positions on the defense.
It's Martez Manuel versus Stacy Brown for the strong safety job, a hybrid position in Ryan Walters' 4-2-5 base defense that requires a little bit of everything.
Don't expect Manuel to flinch at a little competition.
The hometown, second-year safety was thrust into the starting lineup a year ago at Kentucky, and while his contributions for the season count as a small sample size, for a freshman, he showed promise.
"As a freshman, I was really hard on myself," Manuel said after a recent practice. "I felt really pressured, but I've kind of let that pressure go and just really embraced all the opportunities I'm given. I believe in myself.
"My freshman year I would say I was a little nervous at times, but now I feel like I've had a year to get in the weight room, to get mentally ready. Now I'm playing really fast, playing really confident."
You won't find a teammate who doubts him. Last fall, the Columbia native who played just south of Mizzou's campus at Rock Bridge High earned a backup role at free safety with a strong preseason camp, leapfrogging a few older teammates in the process. Parkway North's Jalani Williams was the more celebrated safety in MU's 2019 recruiting class, but it was Manuel who earned playing time first.
This year, the Tigers are set at the two deep safety positions with seniors Joshuah Bledsoe (free) and Tyree Gillespie (boundary) back for a third season as starters. But they needed a new starter at strong safety, where last year seniors Khalil Oliver and Ronnell Perkins split snaps. Oliver quietly gave the Tigers a steady presence on a defense that ranked among the nation's top 15 in most categories. Oliver, now a staffer in Mizzou's recruiting department, had the team's third-best coverage rating by Pro Football Focus (84.5%) and gave up only nine receptions on 24 targets. His tackle rating (73.1) was the best among the team's top four safeties.
That's where Manuel comes into the conversation.
With two weeks until the Sept. 26 opener against No. 3 Alabama, he's still competing with Brown, a sophomore from Duncanville, Texas, for the starting role.
In Walters' system, the strong safety usually aligns closer to the line of scrimmage, like a traditional outside linebacker. He covers tight ends and slot receivers. He gives the defense a seventh tackler in the box against the run. He rushes the quarterback on designed blitzes, sometimes flanking a defensive end on the line of scrimmage. Manuel called his old job, free safety, "a more finesse position." He's immersed in traffic closer to the point of attack this year.
"In this position you've got to play bigger," he said. "It's pretty much a 'backer position. So it entails a lot of getting off tight ends, setting the edge on tight ends, fighting off blocks from linemen and also a lot of coverage, too. That's where I feel like that I have an edge. I'm playing big and I'm shooting these gaps like a linebacker, but because I played free safety last year I can cover any tight end in the country. I feel like that's to my advantage."
In 112 snaps last year, Manuel found himself in pass coverage on 38 plays, but opponents targeted him just one time, an incomplete pass against Southeast Missouri State. He played 25 snaps in the second half against Vanderbilt, after Gillespie was ejected for targeting, and started in Gillespie's place the next week at Kentucky, holding his own in the back end of the defense. For the season — again, small sample size — Manuel was rated as Mizzou's second-best tackler (81.3%), behind only senior linebacker Cale Garrett.
"It seemed like he fit our system like a glove," said defensive end Tre Williams, another Columbia native from Rock Bridge.
"You always know Martez is going to play hard for his teammates and play hard for Mizzou," defensive tackle Darius Robinson said, "because this is his city."
Manuel helped win over teammates this summer when he initiated the team's symbolic march through campus and voter registration drive shortly after George Floyd's killing in Minnesota. Manuel had heard about a peaceful protest in Jefferson City and wanted to create something similar in his hometown, at least among his peers on the football team.
With just one college season on his credentials, Manuel could have deferred to older teammates to orchestrate the march but instead took the lead.
"One thing about our team and one thing the coaches always say is you don't have to be a senior to be a leader on the team," senior defensive end Chris Turner said earlier this summer. "I'm extremely proud of him for making a stand, trying to have a voice in his own community. I'm proud of him for wanting to make a change here and starting here. He brought the team together."
Dave Matter brings you the latest updates from the Mizzou sports scene.