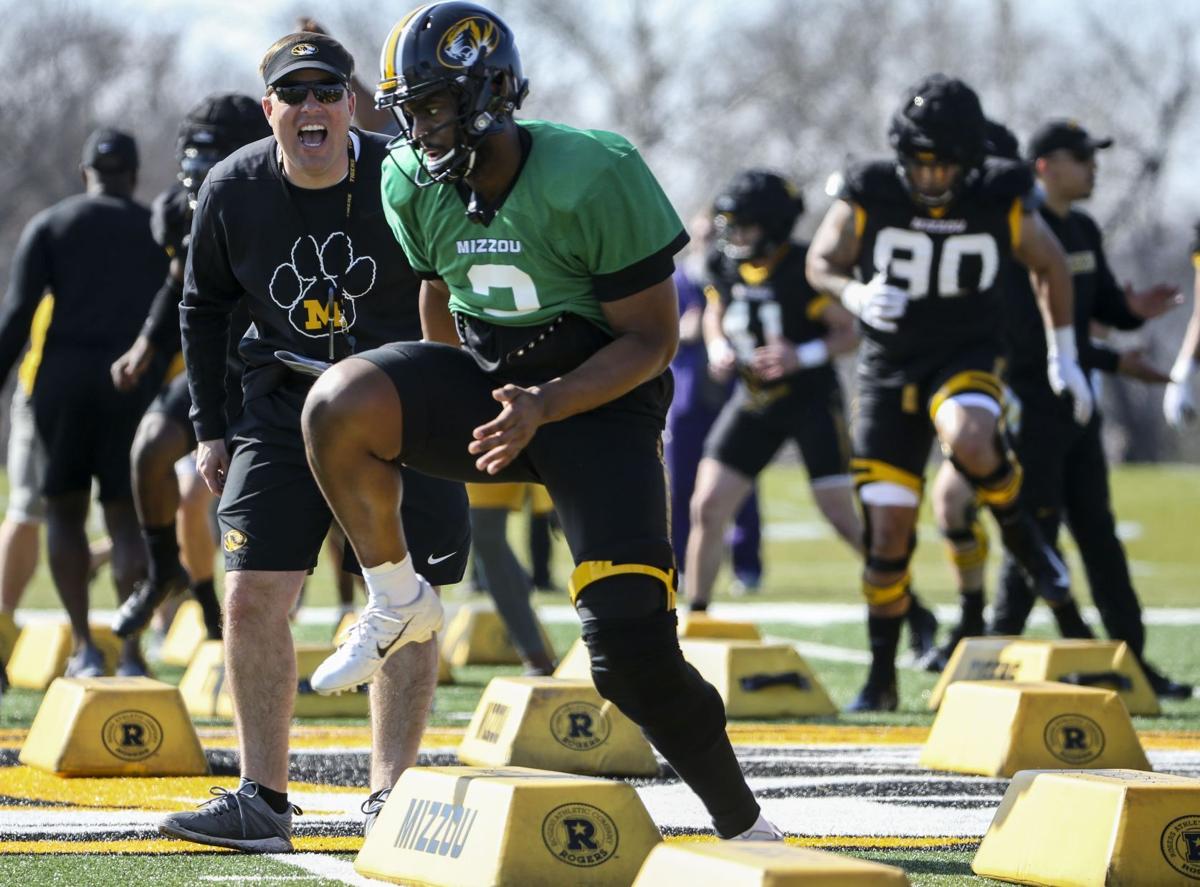 Sixth in a series previewing the Missouri football team's preseason camp under new coach Eliah Drinkwitz. Practices are scheduled to begin Aug. 7, pending interruptions caused by the coronavirus pandemic.
COLUMBIA, Mo. — The runway to a college football season is still bumpy.
But it's getting shorter.
On Friday, the NCAA allows teams to begin what's called "enhanced summer access." For Eliah Drinkwitz and the Missouri Tigers it will be the first time since their final spring practice on March 11 that he and his coaches can oversee team workouts that include the use of a football — or 135 days ago.
These workouts are essentially walk-through sessions. The full pads and tackling drills won't start until August.
But it's a significant mile marker, especially for an offense that's undergone a system overhaul and major personnel upheavals under the new head coach.
Assuming the season starts on time with the Sept. 5 opener against Central Arkansas — the coronavirus might dictate other plans — Drinkwitz will have two weeks of walk-throughs then four weeks of preseason camp to get his system installed and ready to operate.
"We're going to pick up from where we left off (in the spring)," Drinkwitz said last week. "We have spent a tremendous amount of time this summer on Zoom calls re-teaching, re-installing, re-learning. But the game is about doing and action, and you're going to have to go out there and practice. That's really the component we've got to focus on. I don't have a tremendous sense of what we have because I haven't seen all the pieces work together. I do know we've added some really good pieces."
What exactly will a Drinkwitz offense look like? He's provided some bread crumbs since taking over the program in December, often describing his system as no-huddle "pro-tempo" offense that can adjust its pace depending on game situations. Prior to his one season as a college head coach last year at Appalachian State, Drinkwitz served as coordinator at three different schools — Arkansas State, Boise State and North Carolina State — where his scheme blended influences from Gus Malzahn's spread attack and Bryan Harsin's pro-style sets mixed with shifts and motions.
Shortly after Drinkwitz arrived, Missouri fans who wanted to know more about his offenses could have plunged down a YouTube rabbit hole and found an interview he did at North Carolina State shortly after he joined that program as coordinator in 2016.
"Football is cyclical," he said, "and I haven't watched it for 40 years, but I do know this: Football always comes down to execution, and it comes down to being able to run the football. We're going to be able to run the football. It's not going to be a spread finesse football team. It's going to be downhill, run the football. We're going to be able to attack people that way."
In Drinkwitz's 10 seasons as a college assistant, a decade that started with a quality control position with Auburn's 2010 national championship team, his teams have typically leaned more run-heavy in terms of run-pass play-calling. Factoring in sacks allowed as designed passing plays, seven of those teams ran the ball on more than 50 percent of their offensive snaps. Three of those teams — 2010-11 Auburn and 2019 Appalachian State — ran the ball on at least 60 percent of their snaps.
Drinkwitz's three teams that were more pass-heavy — 2015 Boise State, 2017-18 North Carolina State — featured, to no surprise, prototypical pocket passers: current NFL quarterbacks Brett Rypien at Boise State and Ryan Finley at North Carolina State. Last fall, the same Drinkwitz offense that produced 3,300-yard passers each of those seasons featured a capable running quarterback in Appalachian State's Zac Thomas, who logged four games with at least 50 yards on the ground.
Before Mizzou fans can wonder about the 2020 edition, Drinkwitz has to settle on a quarterback first. He's insisted all spring and summer that the competition is wide open. Shawn Robinson, a former starter at Texas Christian University, has the most game experience among a group that includes junior Taylor Powell, redshirt freshman Connor Bazelak, freshman Brady Cook (Chaminade Prep) and freshman walk-on Jack Samsel.
"You always want to design a game plan around the players' strengths … and until we really know who our quarterback is and what our strengths are, I'm not sure," he said earlier this spring. "It's a detailed, disciplined, unselfish pass game that creates horizontal seams and vertical throws. But the hallmark of it is execution."
Without a full offseason to install his system and settle on a quarterback early in the process, Drinkwitz is open to unconventional measures this fall, including multiple players catching snaps behind center.
"Do you, because of the limited practice, go more to a quarterback-run game offense … maybe (receiver) Micah Wilson at quarterback in the 'Wildcat' or (receiver) Jalen Knox?" he said. "Because that's the stuff that's easier to do without excessive practice and execution. Or do you try to stick to what you've done in the past? I think for us that's a question that the offensive staff has to answer. We've got to figure that out."
In this case, time is not on Mizzou's side.
Dave Matter brings you the latest updates from the Mizzou sports scene.