By Calum McAndrew Special to the Post-Dispatch
The defensive end slipped clean through a hole at left guard, where Luke Griffin replaced the injured Xavier Delgado, slammed the Missouri quarterback to the ground — and very briefly to the medical tent — and knocked the football into MU's end zone.
Abilene Christian defensive lineman Alexander Duke was first to it, and the Wildcats had their first touchdown of the day with four minutes remaining in the third quarter, making it a two-touchdown contest.
The story of the game? Not by a long shot.
Indicative of a mounting problem? Indeed.
Missouri completed the task at hand Saturday, looking comfortable enough that a win never was in doubt, but was shoddy in enough areas that the 34-17 final score against an overmatched FCS opponent underwhelmed. But the sack and resulting defensive touchdown was the first time that one of the Tigers' most noticeable question marks of the season — the struggling offensive line — came back to bite them.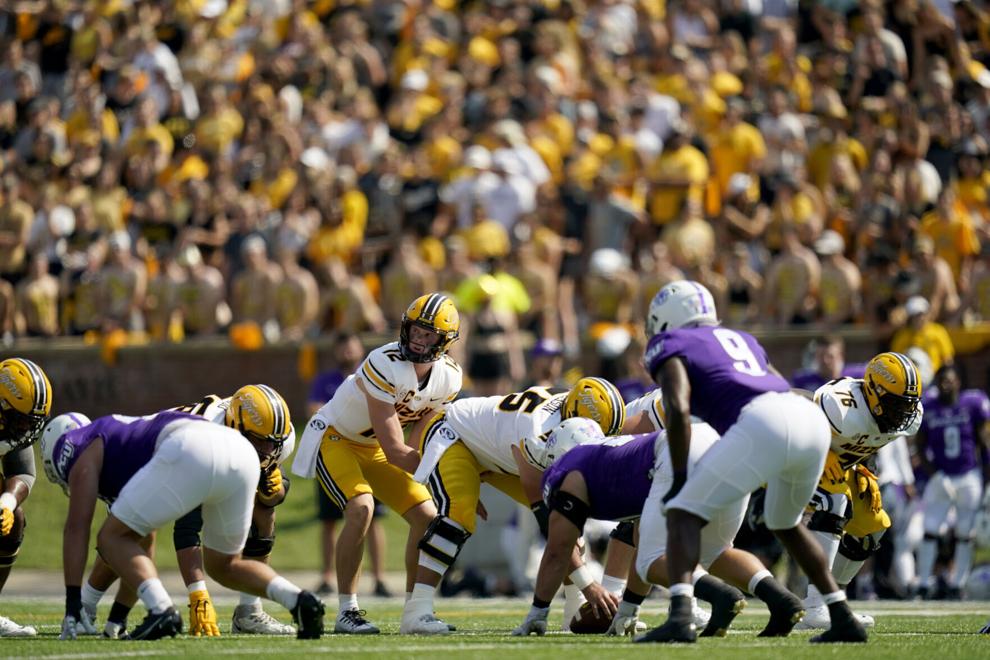 Missouri's backfield was tackled for loss nine times over the course of the contest against the Wildcats. Worse still, MU offensive linemen were responsible for five holding penalties, resulting in 50 yards worth of backtracking.
Offensive line coach Marcus Johnson often repeats the phrase "next man up." Before preseason camp, he said he wants to put the five best linemen on the field, regardless of their natural position, at any given time.
"In our room, it's all about next man up mentality," Johnson said July 31. "No matter who it is, because at the end of the day, when that ball gets kicked off and that clock starts ticking, nobody cares anyway. It's my job, my responsibility, to have whoever is on that field ready to go.
"Just because you've been the backup right tackle, backup left tackle or center, or whatever, that doesn't mean you're the first one going in the game, because we're trying to put the sixth-best guy in the game."
"Next man up" might become plural by the time Missouri takes on Auburn next Saturday.
"We've got to go back and look and see who the best five guys are, to be honest," Drinkwitz said. "We can't hold. We put a couple guys in there, and they got holding penalties. So we've got to go back and find out: What is the best five?"