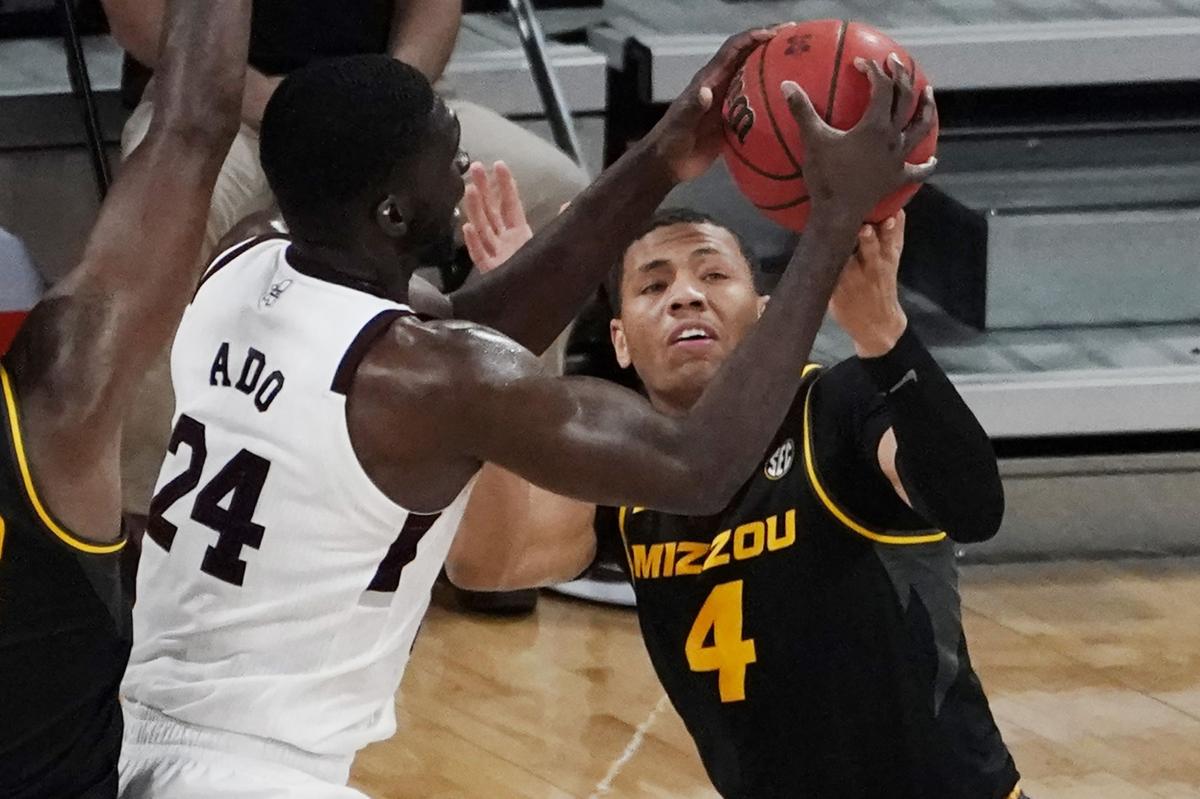 COLUMBIA, Mo. — Newly turned 50-year-old Cuonzo Martin has not discovered the fountain of youth, but Missouri's basketball coach has found his sport's closest version.
The NCAA transfer portal helped reshape the Mizzou roster in a way that's delivered fresh vibes to the practice floor and revitalized the head coach.
"I can see a lot of energy in him," senior Javon Pickett said before Wednesday's practice at Mizzou Arena. "I can tell he's happy for the season (to start.)"
Martin's fifth season at Mizzou officially tips off Nov. 9 when Central Michigan visits Columbia, followed by December's unforgiving nonconference gauntlet.
First, though, Martin has put his remade team through a crash course in chemistry. With only three players back from last year's 16-10 team, Martin and his staff rebuilt the program with five freshmen and four Division I transfers. Once all the newcomers arrived on campus this summer, Martin and his wife Roberta hosted the players and coaches at their home on the south side of Columbia a couple times a month in June and July. For Martin, those get-togethers were every bit as important as the team's initial round of summer practices.
"You learn how to build those relationships that you sometimes took for granted in recruiting because it goes so fast," he said. "It help you build those relationships and you know the guys on a more intimate level."
On the court, he accelerated the get-to-know-you process, too. In preseason workouts, Martin has intentionally scripted more five-on-five drills than any previous year. He's mixed and matched lineup combinations, at times intentionally surrounding Pickett, the team's lone senior, with a cast of freshmen. The experiment uncovered a few things about this 2021-22 team.
One, Pickett has embraced his new role as the tip of the team's spear.
"He's been tremendous as a leader because he's always lived by his actions, his work ethic and his character and all those things," Martin said of the Belleville native. "But he does a great job communicating with the younger guys."
Two, those five-on-five sessions revealed a team that's engine never stops.
"The one thing I notice about these guys, they can play extended minutes of high-level basketball, up and down, five on five, pressing and doing different things," Martin said. "They don't really complain and just continue to compete and get after it. And they do a great job across the board of individual skill work in the morning. It used to be two or three guys, but now you got six, seven, eight guys coming in every morning. It's fun to see."
"A lot of chirping going on," he added, "which is a good thing."
For just the second time in eight years, Mizzou reached the NCAA Tournament last season, losing to Oklahoma in the opening round as a No. 9 seed, soon followed by an exodus of players, including some expected departures. Seniors Dru Smith, Mitchell Smith and Jeremiah Tilmon declined to use the NCAA's extra year of eligibility, while seniors Mark Smith (Kansas State) and Drew Buggs (Winthrop) opted to play their final year elsewhere. Torrence Watson (Elon), Parker Braun (Santa Clara) and Xavier Pinson (Louisiana State) also transferred, clearing space for Martin to build a roster he believes is an upgrade in versatility and athleticism. Transfer guards Boogie Coleman (Ball State), DaJuan "Quaye" Gordon (Kansas State) and Amari Davis (Green Bay) will play heavy minutes, while freshmen Anton Brookshire and Trevon Brazile, high school teammates in Springfield, Missouri, have made strong first impressions.
"More guys can make individual plays, so you can open up (the offense), you can isolate guys," Martin said. "Kobe (Brown), Quaye, Boogie, Javon, Amari … guys who can really make plays individually. Anton can shoot as well as anybody. Trevon is an elite athlete at 6-9 as a young guy. So I think you have the parts."
As for chemistry on the floor, so far, so good. Late last season, there was obvious tension between the staff and Pinson, whose minutes, production and mood fluctuated from week to seek, culminating with the final six minutes of the season when he watched from the bench as MU lost to Oklahoma at Lucas Oil Stadium. He began the transfer process three days later.
Several times Wednesday, Martin and players noted the camaraderie this remade team developed this summer.
"The communication is a lot better," Pickett said. "We could tell the guys aren't nervous around each other (and) can say whatever we want to each other, people not getting offended by anything at this point. I feel like our chemistry has gotten a lot better. It's becoming more of a brotherhood each day, going to practice and competing, bringing us closer."
• Rather than schedule exhibition games, the Tigers will play a couple closed scrimmages in the coming weeks. Then comes a grueling nonconference schedule. After playing two games in the Jacksonville, Florida, Classic against SMU and either Florida State or Loyola Marymount, Mizzou faces a four-week stretch with home games against Wichita State and Utah, road games at Kansas and Liberty and the Dec. 22 Braggin' Rights Game against Illinois in St. Louis. Oh, and SEC play begins Dec. 29 at powerhouse Kentucky.
"I think it's a tremendous schedule," Martin said. "I'd be hard pressed to find 10 better in the country."
• Martin hopes to see a full crowds back at Mizzou Arena this season. A year after limited crowds were allowed for home games, MU has not announced any reduced capacity protocols.
"We need everybody in attendance," he said. "I think that is important. Because I think as a fan, it's OK to have discomfort, to disagree. That's fine. But let's do that while we attend. Let's support (the team). I think that's very important. It just like we need to support the football side. We need to pack that (stadium). I think that is very important. It's not whether or not we win or lose. This is what we do. We're supposed to be the best. We're supposed to be the flagship. We're supposed to show how it's done. This is what we're supposed to do. Whether you're on the court, you're on the sideline, we have to be all in. I think that's very important. It's OK to talk about it. But while we're talking about it let's be inside (the arena) … I don't care about football games at 11 a.m. Let's get up and go. This is what we're supposed to do. Because this is us, right? So let's do that. If we want to be the best then let's show that every day. Because we want the best recruits and all that, that sounds nice. OK, we need you to help us do that. That means showing up every day to do your job. And we need our fans. We're not the program that we want to be and should be (unless) we have our fan attendance. They go hand in hand. You look at the best programs, they go hand in hand. I can also name some programs in and outside the Midwest that hadn't been very successful and they're all in. There's no in-between. It's all in. A-L-L I-N."
• Sophomore center Jordan Wilmore is still 7-foot-3. But there's far less of him than last year, when fitness seemed to be his biggest obstacle to playing time.
"If you haven't seen him," Pickett said, "he lost some weight."
A whole lot of weight. Wilmore is listed at 310 pounds — and appears at least 75 pounds slimmer than last season.
Wilmore is the most obvious candidate to replace Tilmon's role in the middle. That doesn't mean he'll be on the floor nearly 28 minutes a game like Tilmon last season, but based on Wednesday's practice, the big man from Laurel, Maryland, will figure into the frontcourt rotation. He played all of 22 minutes in just five games as a freshman.
"He's got to help us at 7-3," Martin said. "I don't mean he has to help us because he's 7-3, but he's got the ability to help us. He's done a great job with his body. Jordan can be as good as he wants to be when Jordan consistently believes that. Because he has the parts. He has good footwork for his size and a soft touch around the rim. I just think (it's about) everyday confidence for him because he will have great days. … He's one of our best talkers defensively in ball screen coverage. He does a great job of moving his feet. But we need him to be a successful basketball player. He has the parts to be that."
• Here's how the coaches split Wednesday's units during five-on-five drills: In white jerseys, Coleman at the point with Davis and Pickett on the wings, Ronnie DeGray at forward and Wilmore at center. DeGray, a 6-6 transfer from UMass, looks like a sturdy defender who can match up with both wings and post players.
In black jerseys, Brookshire ran the point, with Gordon and Sean Durugordon on the wings, Kobe Brown at forward and Yaya Keita at center. When Brazile replaced Keita on the floor, Brown slid over to center for a few possessions to trade blows with Wilmore in the paint. Brazile also spent some time on the wing.
• No telling what Brazile will contribute offensively, but he's long and bouncy and should get his share of blocks and altered shots at the rim. And he'll run the floor like a guard.
"I'm not saying he's like a big guy, but he's tall, he's slim," Pickett said. "He's able to knock down shots, open shots, and he can get to the rack. He's very versatile. He's very athletic, gets above the rim. He can block shots. He can run in transition and finish baskets, hit pick and pop 3s, whatever we need him to do."
• Keita is still lugging around a leg brace after tearing his ACL his senior year at De Smet High, but all the tales of his weight room fanaticism appear true. He's put together like a readymade SEC power forward — and ran the floor well considering last year's knee surgery.
• Can Gordon revive his 3-point shooting after a down year (23.1%) from the arc? Not sure, but he's an upgrade athletically on the perimeter as a slasher in the halfcourt and a finisher in transition.
• Kaleb Brown, Kobe's younger brother, sat out drills Wednesday. He could contribute some minutes on the perimeter as a freshman.
• Martin said he's been impressed with Coleman and Gordon's veteran presence. "They're not afraid to speak up," he said. But until newcomers prove themselves on the floor and during the inevitable bouts of adversity the season will deliver, Pickett and Brown are the leaders of the program. "We try to spend a lot of time as a staff just building young men into men and that doesn't happen overnight," he said. "But I can leave a practice and if Javon and Kobe ran the practice we'd be in great hands."
• Lots of talk Wednesday about this team's ability to score in transition. They're still an unproven bunch when it comes to running a cohesive halfcourt offense with so many new pieces — and it's fair to wonder how well they'll shoot from 3 — but Martin believes this is a team that must score on the break. His last three Mizzou teams progressively played faster from year to year. This team? "Even faster than last year," he said "I like that. We're working on it. No doubt about it. As fast as we can go almost running through that wall. We want to go fast, but you want it to be efficient."