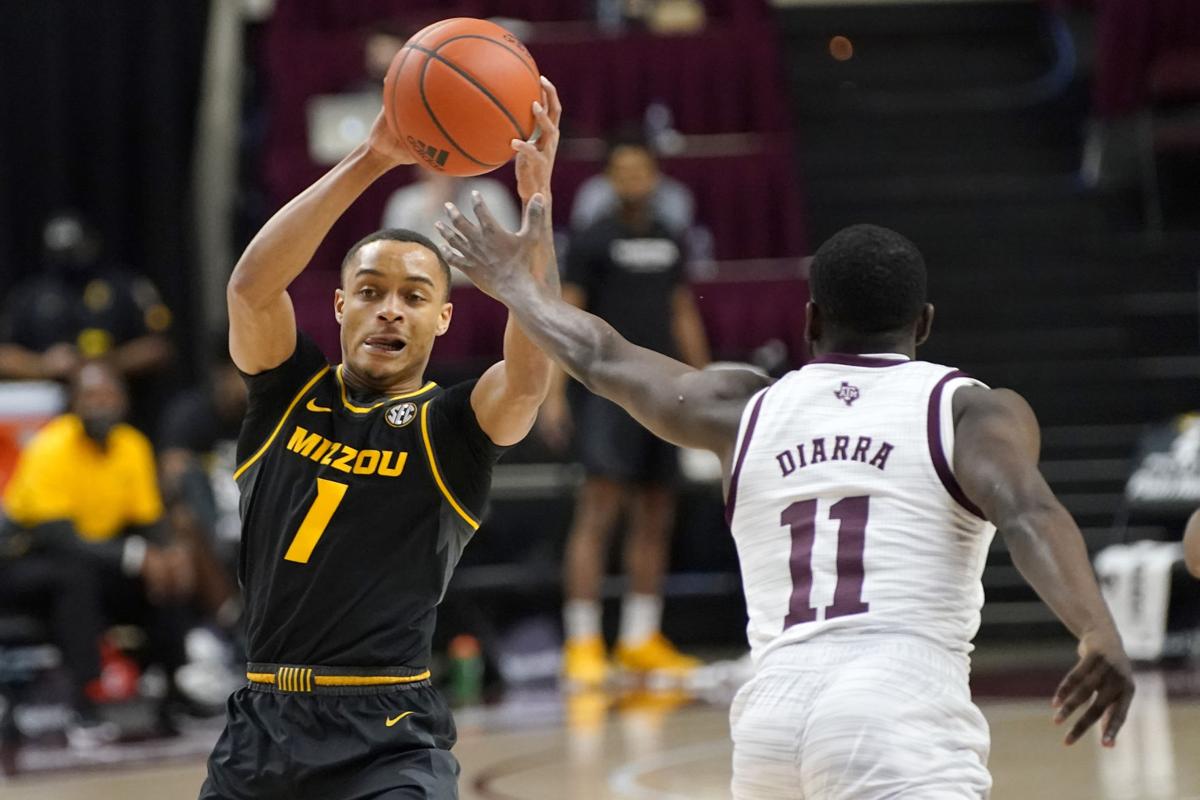 COLUMBIA, Mo. — Three days after the conclusion of Missouri's basketball season, the Tigers have closure on one of the biggest question marks of the offseason: Junior point guard Xavier Pinson entered the NCAA transfer portal Tuesday, the team confirmed.
Pinson started every game for the Tigers this past season, took more shots than any player on the team and until late in the year was MU's top scorer. But discord between the junior point guard and MU's coaches simmered through the second half of the season, up until the point Cuonzo Martin benched Pinson for the final stretch of Saturday's season-ending loss to Oklahoma in the first round of the NCAA Tournament. Martin later explained that senior point guard Drew Buggs was better executing the offense and was playing better defense. Pinson scored just two points in a season-low 18 minutes and struggled guarding OU's perimeter players.
"We got back in the game with Buggs, and it just went from there. I thought Buggs did a great job on both sides of the basketball," Martin said in Indianapolis.
Post-Dispatch attempts to reach Pinson by phone Tuesday were unsuccessful. Someone answered at his number but hung up before talking.
On Tuesday, Pinson posted on Instagram: "Mizzou, words couldn't thank you enough. I'm just a kid from the west side of Chicago, Illinois and the fans we had accepted me with open arms. Happy I can say I spent 3 years at this AWESOME university and I can wait to see what the future holds. #XPOUT."
Pinson entered his name into the NBA draft pool last year before deciding to return to Mizzou for his junior season, though late into the summer Mizzou's staff was unsure of his plans. Each of the past two offseasons he had posted cryptic messages on his social media accounts causing fans, media and sometimes his coaches to wonder if he'd rejoin the team.
This past season, Pinson showed flashes of becoming a consistent high-scoring point guard. His 36 points in an overtime win over TCU were the most for any Southeastern Conference player during the regular season. But midway through conference play, his production dropped off — especially his willingness to attack the rim and earn visits to the free throw line — and Martin's frustration with his decision-making and defense became apparent.
Asked what Pinson needed to improve after a loss at Georgia on Feb. 16, Martin said, "Strong drives, stuff we talk about all the time, strong defense. Execute what we're trying to do as a point guard. He's one of the experienced guys in our program. … It's nothing different than what I talk about all the time."
Pinson's play bottomed out in a Feb. 23 loss to Mississippi, when he matched his lowest scoring game of the year with two points on 1-of-9 shooting. He was on the bench for an entire 15-2 run that got the Tigers back in the game but returned for the final minutes when the Tigers struggled to gain ground on the Rebels.
"I didn't think X was aggressive even though he took nine shots," Martin said. "But I didn't think he was aggressive and attacking. He settled for some shots and didn't get downhill, getting in the lane and making plays, if not for himself then for other guys."
For the season, Pinson finished as MU's second leading scorer with 13.6 points per game behind senior guard Dru Smith, while leading the team in field goal attempts (290), 3-point attempts (128) and turnovers (75) while playing the third-most minutes (665). He was second to Smith in assists (2.9) and steals (1.1) and ranked third on the team in free throw shooting (83.7%) and fourth in 3-point shooting (33.6%).
His departure, though not unexpected internally, only adds to the roster rebuild Martin faces this offseason. MU's five seniors have not formally announced if they'll return for another year of eligibility granted by the NCAA, though most, if not all, are expected to move on. That means the Tigers will have to replace five of the team's top six players in minutes played and five of their top seven scoring leaders. MU has five high school prospects signed to join the team next season. Pinson's departure leaves open another scholarship to add a transfer. Mizzou is expected to heavily shop the transfer market and has already been connected to several transfer targets among the hundreds in the portal.
Where will Pinson land? That remains uncertain. The Chicago native signed with the Tigers as a three-star recruit in 2018, choosing MU over Georgetown, Memphis and Wisconsin.