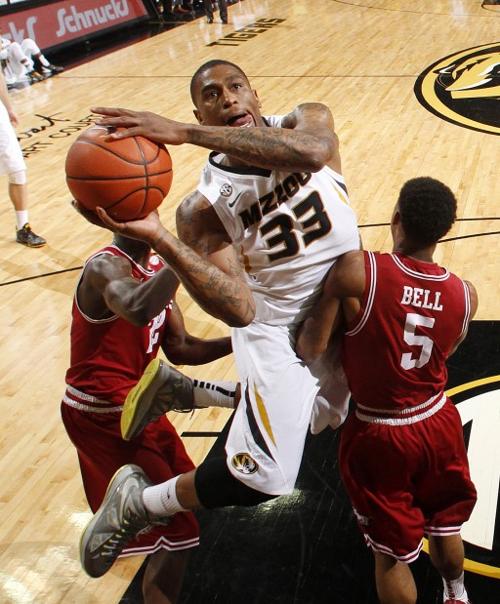 BIRMINGHAM, Ala. • Missouri's Earnest Ross sat in front of reporters Wednesday and said he'd be happy to reprise his role as the team's sixth man this season.
Frank Haith doesn't need a polygraph machine to know his senior wing is telling a fib.
"I think Earnest will be in the (starting) lineup," Haith said at Southeastern Conference basketball media days. "I think Earnest will jump off a bridge if I wouldn't let him start."
The idea that Ross could again come off the bench for Missouri is a testament to the remodeled roster's newfound depth and versatility. As Haith continues to figure out his rotations in time for the 2013-14 season — MU holds its first exhibition game Oct. 25 against Oklahoma City University — Haith's latest chemistry experiment has several new ingredients, starting with a seasoned mix of veterans.
Unlike last year, when Missouri returned just one player from the previous season, point guard Phil Pressey, Haith has a nucleus of established players. Whether he starts or comes off the bench, Ross is a pivotal part of that core.
The transfer from Auburn came off the bench in 24 of Missouri's 34 games last year and became the SEC's top scoring reserve, averaging 11.0 points a game off the bench, slightly better than his overall season scoring average (10.3).
The 6-5 Ross scored in double figures 18 times, including four of Mizzou's last six games. He shot 40 percent or better in eight of 10 games during a stretch from early February to early March and finished the season shooting 37.7 percent from 3-point range, the best mark among Missouri's returning players.
Ross took 45 percent of his shots from behind the 3-point line, but Haith believes he's capable of more.
"I want Earnest just to be a complete player," Haith said. "I had a guy tell me that Earnest is a catch-and-shoot guy. He should want to be more than that. ... I want him to drive the ball more. I want him to be a rebounder. I think Earnest is capable of getting seven, eight rebounds a game. I want him to play in attack mode."
With his college career down to one final season — he played at Auburn from 2009-11 — Ross has been less concerned with playing a defined role for the Tigers. Winning games, he said, is most important.
"I come in and contribute and do what I have to do for the team," he said, "whether that's starting, being the sixth man or seventh man."
The Tigers return just one starter from last year's team, which finished 23-11 and 11-7 in the SEC. That would be junior guard Jabari Brown, a transfer from Oregon who averaged 13.7 points, best among Haith's returning players. But with Ross, Brown, reserve forwards Tony Criswell, Stefan Jankovic and Ryan Rosburg and point guard Jordan Clarkson, a transfer from Tulsa who's eligible this season, Haith returns a core with 269 collective games of Division I experience.
Another five newcomers are expected to figure into the rotation — at least, for now — including projected starter Keanau Post, a 6-11 transfer from Southwestern Illinois Community College. The 255-pound Post has shed 15 pounds of what Haith described as "bad weight" since arriving on campus this summer. Judging by his eight-foul performance in Tuesday's Black and Gold scrimmage, Post gives the Tigers a physical presence in the lane.
"He's got great feet, great hands," Haith said. "He can score the ball."
Post is a more skilled offensive player than departed center Alex Oriakhi, Haith said. That comes as high praise considering Oriakhi, now playing in France, became a consistent threat late last season and parlayed his late push into a surprise selection in the second round of the NBA draft.
But with the bulk of Mizzou's scoring punch is expected to come from perimeter threats Ross, Brown and Clarkson, Post will fill other roles, too.
"Rebounding, rebounding, rebounding is something that he has to embrace," Ross said. "He's very aggressive and active on the glass. That's what we love about him."
Haith's third Missouri team, his first made up exclusively of his recruits and transfers, welcomes four freshmen that should deepen the bench and create more floor combinations for the coaching staff. Johnathan Williams III and Torren Jones are added resources in the frontcourt. In the backcourt, freshmen Wes Clark and Shane Rector combine with Clarkson to triple Mizzou's number of capable point guards from last season. At times, Haith said, the Tigers will have enough backcourt options to play a four-guard lineup with Ross patrolling the inside.
"We can be very deep," Ross said. "We have a lot of guys on this team that can play."
Dave Matter brings you the latest updates from the Mizzou sports scene.