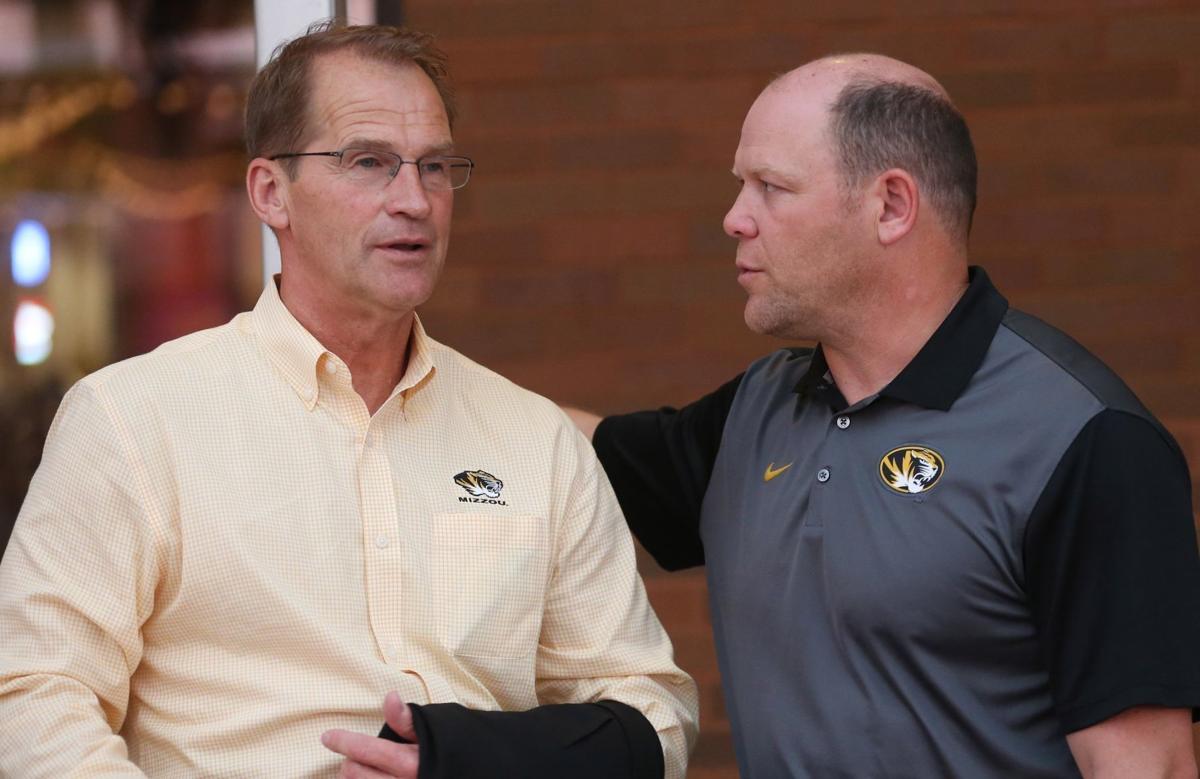 Missouri finally has an answer from the NCAA. And it's not what the Tigers hoped to hear.
The NCAA Infractions Appeals Committee denied the school's appeal of sanctions against three programs, MU and the NCAA confirmed Tuesday, as the Post-Dispatch and other media outlets reported earlier in the day.  The upheld sanctions included a one-year postseason ban for the football, baseball and softball teams. 
"After reviewing the record in this case, we do not find information that supports a determination that the panel abused its discretion when prescribing the penalties related to postseason competition ban, scholarship reductions and recruiting restrictions," the appeals committee said in its eight-page ruling.
The school learned of the final ruling Monday night, university sources said.
That means no matter what happens in Friday's regular-season finale at Arkansas, Barry Odom's football 5-6 Tigers will not go to a bowl game this year. That also means the athletics department will miss out on a projected $8-9 million in revenue distributed by the Southeastern Conference from the bowls, the conference championship game and the College Football Playoff. MU can receive half the lost revenue in five years if the athletics program isn't put on further major sanctions. Mizzou was also denied its appeal of scholarship reductions and recruiting restrictions placed on all three programs.
"We are deeply disappointed and appalled by the NCAA Infractions Appeals Committee's decision to shirk its responsibilities and simply uphold sanctions that are not consistent with precedent or even common sense," athletics director Jim Sterk and chancellor Alex Catrwright said in a joint statement released Tuesday. "Despite this frustrating and disappointing outcome, the University of Missouri and Mizzou Athletics will continue to stand for integrity, and we will become stronger despite the challenges we are faced with today. We have outstanding student-athletes in all three affected programs and they are building something special here at Mizzou.
"We are grateful for everyone who has supported Mizzou and our 'Make it Right' campaign over these last several months, and during the nearly 19 weeks it took to reach this troubling conclusion."
"Today's decision raises serious questions about whether the current NCAA enforcement system encourages or discourages cultures of compliance and integrity. While we have exhausted our NCAA appeal avenues, we will continue to advocate for meaningful reform within the NCAA enforcement process."
Along with the postseason ban, two other major penalties were upheld and will be enforced for the 2020-21 academic year: a 5-percent reduction in scholarships for football, baseball and softball; and recruiting restrictions, including a seven-week ban on unofficial visits, a 12.5 percent reduction in official visits, a seven-week ban on recruiting communications, a seven-week ban on all off-campus recruiting contacts and evaluations and a 12.5 percent reduction in recruiting-person or evaluation days.
MU did not appeal the NCAA's initial thee-year probation sentence or the requirement to vacate wins in which involved players competed. For example, MU now lists the 2015 football team's record as 0-7 and the 2016 record as 0-8 instead of 5-7 and 4-8, respectively. 
In the initial ruling by the Committee on Infractions, the NCAA found that former tutor Yolanda Kumar, though unnamed in the report, violated NCAA rules for ethical conduct, academic misconduct and academic extra benefits when she completed academic work for 12 Mizzou athletes between the summer of 2015 and the summer of 2016. Mizzou and the NCAA's enforcement staff agreed that Kumar had committed Level I violations, though MU was lauded in the COI report for exemplary cooperation during the investigation. 
In the initial COI report, MU was cited for prompt self-disclosure of its violations but not self-detection. Kumar's allegations of academic fraud first came to light when she admitted to violations in a Facebook post in the fall of 2016, though by then she had already come forward to MU's compliance department, which prompted MU's internal investigation.
Since January, Mizzou has argued that its sanctions were excessive and inconsistent with case precedent, especially once fellow SEC member Mississippi State avoided a postseason ban for similar academic misconduct charges in August. Unlike Missouri, Mississippi State was able to work with the NCAA through a newly approved process called negotiated resolution that allows schools and the NCAA to agree on violations and penalties without formal hearings. The negotiated resolution process was passed into NCAA bylaw last August and went into effect this past January, a few weeks before the NCAA Committee on Infractions announced Mizzou's sanctions.
According to the appeals committee's published ruling, the heart of the conflict was a squabble over mitigating and aggravating factors that determined the penalties. MU argued that two mitigating factors should have been applied to its case — that the school promptly self-detected and self-disclosed the violations — but the appeals committee upheld the infractions panel's handling of those factors.
MU also argued the COI erroneously relied on a statement in a summary disposition report that was later rejected, but the appeals committee referred to an internal operating procedure that states "any party may rely on statements and information in a rejected summary disposition report and that a rejected summary disposition report becomes part of the record before the panel." 
SEC commissioner Greg Sankey called Tuesday's ruling "unusually severe."
"Throughout this process, the University of Missouri has conducted itself with great integrity and has been praised by the NCAA Division I Committee on Infractions for its exemplary cooperation in this matter," said Sankey, who sits on the NCAA infractions committee but recused himself from hearing MU's case. "While there is no excuse for the actions of a single academic tutor and the small number of student-athletes involved, the penalties applied are unusually severe when fully considered.
"It is regrettable that so many innocent current Missouri student-athletes across three sports will miss postseason opportunities due to actions for which they were not responsible. Our disappointment related to the application of a postseason ban and the Infractions Appeals Committee's upholding of the decision after more than four months of deliberations is magnified by recent decisions in other cases with similar fact patterns.  
"While it is important to hold accountable those individuals who engage in unethical behavior and conduct that fails to meet our expectations for integrity in college athletics, it is also important to fully consider the nuances and unique set of circumstances present in each case when setting penalties.
"Mizzou is presented with considerable challenges as a result of this decision, however it is a university of proud heritage that will persevere thanks to its strong leadership and high ethical standards."
With Tuesday's ruling, the Mizzou baseball and softball teams will be prohibited from playing in their respective 2020 Southeastern Conference tournaments and NCAA Tournaments. Freshmen players from both teams were just starting their freshman years in high school when Kumar began doing academic work for MU athletes.
"Today, about 180 student-athletes who had nothing to do with the actions of one rogue part-time employee will pay a steep price," Sterk and Cartwright said. "NCAA enforcement officials noted that prior to the violation the university employed a robust institutional system to ensure rules compliance. Once the problem was known, we self-reported immediately, held individuals accountable and cooperated with the investigation in what NCAA officials described as 'exemplary' fashion.
"Meanwhile, a recent case involving Mississippi State University with similar circumstances as Mizzou's yielded a very different result. MSU, like us, acted with the highest integrity. MSU's case followed a new NCAA process that was not available to us and resulted in an outcome that, we believe, was more reasonable given the circumstances. The inconsistency of these decisions make it difficult for anyone to comprehend how Mizzou could receive such harsh sanctions."
Others from around Mizzou shared thoughts on the ruling Tuesday:
UM system president Mun Choi: "I could not be more upset with this decision. Mizzou supporters across the state and nation have every reason to be outraged, and college sports fans across the country should be concerned about this decision.
"I know that Mizzou's Chancellor Alexander Cartwright, Athletics Director Jim Sterk and the coaches have done everything in their power to cooperate with the NCAA. Most of all, this decision hurts our students who have continued to give their absolute best on and off the field during this entire process.
"We are very so grateful for the support of our fans, elected officials and community as we fought these unjust sanctions. We will continue to instill and live by our Missouri values of hard work and accountability. These values are what make the University of Missouri a special place."
Jon Sundvold, chairman of the UM System Board of Curators: "The NCAA enforcement system is broken. This decision hurts student-athletes who had nothing to do with the actions uncovered and who put 110% into everything they do – their schoolwork, their practice time, their dedication to this great institution. They have put their belief into a system that should reward good behavior and discipline poor actions. Instead, we're seeing the reverse happen, and it sets a dangerous precedent.
 "Mizzou did the right thing. This ruling tells every other school that it's better to hide the truth than to admit mistakes."
Mizzou softball coach Larissa Anderson: "I am absolutely heartbroken and disappointed by the committee's decision to punish a group of 27 current student-athletes who didn't play any role in this and have done everything right from the very beginning. The NCAA claims to value the student-athlete experience, but this decision continues to cause unnecessary harm to a group of innocent student-athletes. This unjust decision will not deter our program. We have pride in Mizzou, and we will continue to Win it Right as one family."
Mizzou baseball coach Steve Bieser: "Our program as a whole is clearly disappointed with today's news from the NCAA. My heart is specifically broken for this group of student-athletes currently on the team. These student-athletes have done everything right since becoming a Tiger, but yet are cruelly penalized for the actions of one individual from years' past. While we obviously strongly disagree with the NCAA's final decision, we will without a doubt rally with each other and make the most of the upcoming 2020 campaign."
Mizzou football coach Barry Odom: "I hate the news for our program and for our seniors who have represented the University in a very positive way. This decision negatively impacts their short experience in life as college student-athletes who had nothing to do with this situation. It's a tough lesson to be dealt, but they will learn from this and motivationally use it later in life when hardship comes along."
Dave Matter brings you the latest updates from the Mizzou sports scene.