COLUMBIA, Mo. — After beating Arkansas to snap a losing streak at five games Friday, Missouri's Barry Odom was unsure if he'd have a job Saturday.
He got his answer in the morning, when athletics director Jim Sterk fired the fourth-year coach, less than a year after signing him to a contract extension through the 2024 season.
"Coach Odom bleeds black and gold and I understand that, which made it not an easy decision," Sterk said Saturday. "I did not make this move lightly. And I made this move to move our program forward."
With Odom out after going 25-25 in four seasons, Sterk has launched a national search to find his replacement with the help of Parker Executive Search, the same firm Sterk used when he hired men's basketball coach Cuonzo Martin. He hopes to move swiftly with a coach hired within the next two weeks.
Head-coaching experience isn't a requirement for the next coach but would be "very helpful," Sterk said. If not, the coach must be a successful coordinator "at a high level," he said.
Defensive line coach Brick Haley will serve as the team's interim coach until Sterk hires a replacement for Odom. The rest of Odom's coaching staff will stick around until the next coach is in place.
"As a program, we had tremendous momentum coming into the 2019 season with the opening of the new south end zone facility as well as other strategic investments in our football program," Sterk said. "However, we lost a great deal of that energy during the last half of the season. This decision was difficult to make but was necessary."
Asked if he identified any problems that led to Mizzou's losing streak, Sterk said, "The coaches, as you talk to them, (they're) not sure exactly what happened. It was unfortunate. So yeah, still an unknown."
After a season-opening loss at Wyoming, Mizzou cruised through a five-game winning streak at home before the season began to unravel with a loss at Vanderbilt on Oct. 19, followed by losses to Kentucky, Georgia, Florida and Tennessee.
Odom, 43, a Mizzou linebacker from 1996-99, joined the team's staff in 2003 and worked under Tigers coach Gary Pinkel in various roles until a three-year coordinator stint at the University of Memphis. He returned to Mizzou in 2015 to serve as Pinkel's defensive coordinator, then took over as head coach after Pinkel retired.
Since Don Faurot retired in 1956, Odom's winning percentage of .500 trails only Dan Devine (.704), Pinkel (.618) and Warren Powers (.580) among Mizzou coaches who lasted more than one season. But he was just 13-19 in Southeastern Conference games and 3-24 against FBS teams that finished with or currently have winning records.
The Tigers won enough games this season to qualify for a third bowl game under Odom, but the decision announced Tuesday by the NCAA Infractions Appeals Committee to uphold MU's one-year postseason ban will keep the Tigers home for the bowl season.
Under the terms of Odom's contract, Mizzou owes him his base salary ($450,000) for each of the five years left on his deal, plus $150,000 for every year he's been head coach as part of his annuity fund. That brings his buyout total to $2.85 million. His annual guaranteed salary was $3.05 million.
Mizzou will have to pay buyouts to Odom and any assistants who aren't retained, but those figures are offset by salaries they'll make at future jobs. The most MU would owe the outgoing staff is around $9 million, but Sterk said he expects MU to pay them about a third of that.
Odom was one of the lowest-paid coaches in the Power Five conferences, but Sterk indicated Mizzou is positioned to pay his successor more than Odom's $3.05 million.
"I think that the salary (will be) commensurate with experience, and if we can go out and hire someone with a lot of experience, then we're going to look at that," Sterk said.
Sterk told MU players his decision on a conference call Saturday. The team will have its postseason banquet Sunday.
Naturally, some former and current players spoke out on social media about the decision, including senior cornerback and return specialist Richaud Floyd. "Forever a fan of Coach Barry Odom," he tweeted. "They (messed) up that decision. The program that gets him will be lucky"
Odom did not return messages seeking comment on Saturday.
Where does Sterk go from here? A handful of established Group of Five conference head coaches should be appealing, including, possibly, Memphis' Mike Norvell, Louisiana-Lafayette's Billy Napier, Cincinnati's Luke Fickell, Boise State's Bryan Harsin and Florida Atlantic's Lane Kiffin. Sterk is familiar with Central Florida's Josh Heupel, Mizzou's offensive coordinator from 2016-17, but he comes with a $10 million buyout there.
Sterk could start interviewing candidates this week, though several of the aforementioned coaches will be in conference championship games next weekend. With the start of early signing period less than three weeks away, time is of the essence.
The Tigers are down to 16 players verbally committed to the 2020 recruiting class after losing one Saturday: three-star Texas defensive lineman Robert Wooten, who announced on Twitter he was opening his recruitment. The Tigers have another eight in-state targets with six from the St. Louis area. The early signing period begins Dec. 18, leaving prospects less than three weeks to consider other options.
A look at some potential candidates
Luke Fickell, Cincinnati
Age: 46.
Record: 31-19 (6-7 in one year Ohio State; 25-12 in three years at Cincinnati).
Salary: $2.3 million.
Buyout: $2.5 million.
The skinny: He's a Columbus, Ohio, native who played at Ohio State and has spent his entire coaching career in Ohio, 13 years as an Ohio State defensive assistant, one year as the Buckeyes head coach between the Jim Tressell and Urban Meyer regimes and the last three seasons as Cincinnati's head coach. After a four-win debut season with the Bearcats, he went 11-2 last year and 10-2 this season. Mizzou might prefer an offensive-minded  coach, but Fickell figures to be a prime Power Five candidate.
Bryan Harsin, Boise State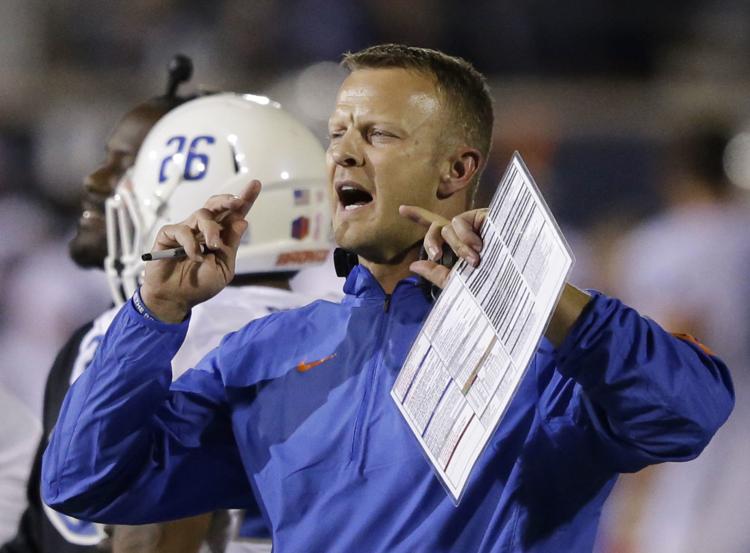 Age: 43.
Record: 69-21 (7-5 Arkansas State, 62-16 Boise State).
Salary: $1.75 million.
Buyout: $350,000.
The skinny: Harsin spent a couple seasons as Mack Brown's offensive coordinator at Texas and since has been one of the most successful Group of Five coaches in the country, with five double-digit win seasons in six years at Boise State, his alma mater. He might be difficult to pull away from the West Coast but figures to eventually leave for a Power Five position.
Josh Heupel, Central Florida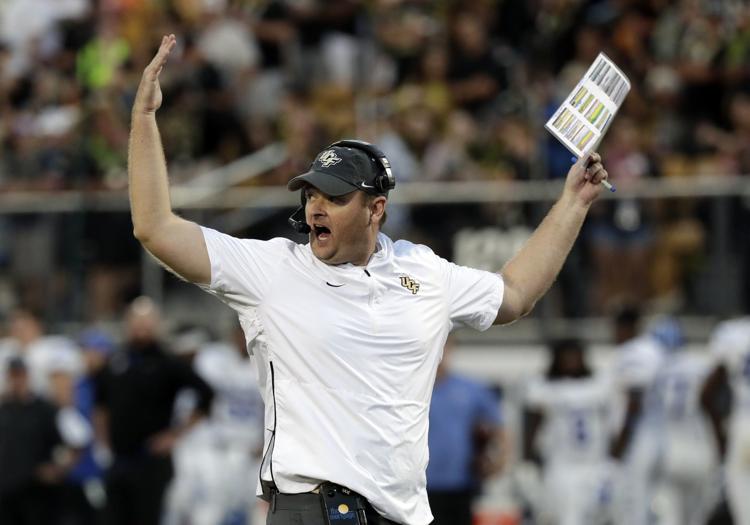 Age: 41.
Record: 21-4 (two years at UCF).
Salary: $2.3 million.
Buyout: $10 million.
The skinny: Heupel knows Missouri's program well having served as just-fired coach Barry Odom's offensive coordinator and quarterbacks coach in 2016-17. The former Oklahoma quarterback and longtime Sooners assistant long has been associated with explosive offenses and as a first-time head coach last season led Central Florida to a 12-1 record. Heupel has familiarity with Jim Sterk, but the Mizzou's athletics director is especially close with Central Florida AD Danny White and might not want to poach his head coach.
Lane Kiffin, Florida Atlantic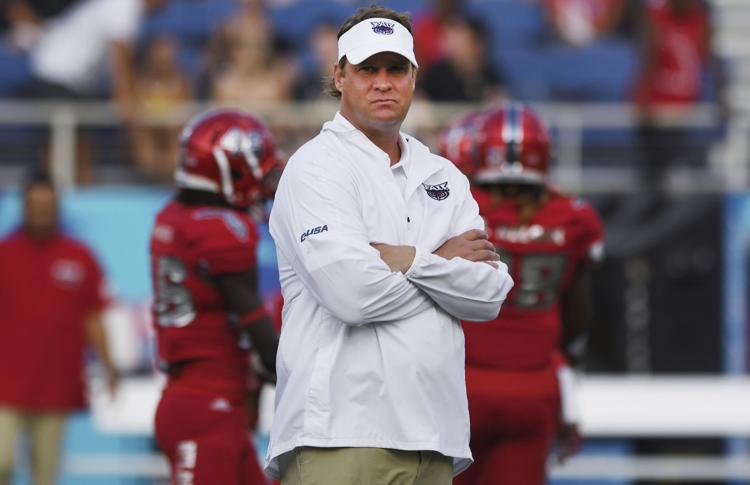 Age: 44.
College record: 59-34 (7-6 in one year at Tennessee, 28-15 in four years at USC, 24-13 in three years at FAU).
Salary: $1.432 million.
Buyout: $2 million.
The skinny: Kiffin was an easy punchline after a controversial short stay and abrupt departure from Tennessee, then was famously fired on the runway five games into his fourth season at Southern California. He rehabilitated his career with a three-year run as Alabama's offensive coordinator, and other than a few spicy tweets, he's stayed out of the national headlines at FAU, where he made a splash with an 11-win season in 2017, followed by a five-win setback in 2018. He's known as a gifted offensive mind and aggressive recruiter and would certainly bring some swagger to a program short on buzz.
Jeff Monken, Army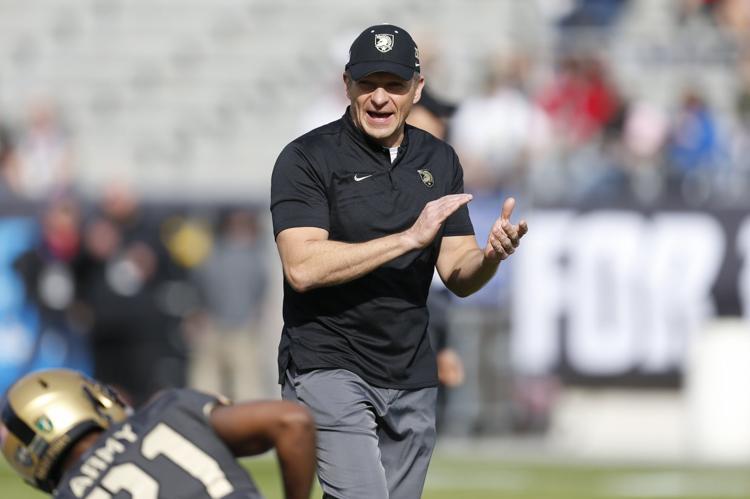 Age: 52.
Record: 78-50 (38-16 in four years at Georgia Southern, 40-34 in six years at Army).
Salary: Unavailable.
Buyout: Unavailable.
The skinny: The Peoria, Ill., native would be an unconventional option on two fronts. One, he runs the flex-bone triple option offense, a rarity at the Power Five level during the age of the spread attack and run-pass option craze. Two, he's been incredibly successful at West Point — three straight bowls and 21 wins in 2017-18 — but hasn't recruited at Power Five caliber of
Mike Norvell, Memphis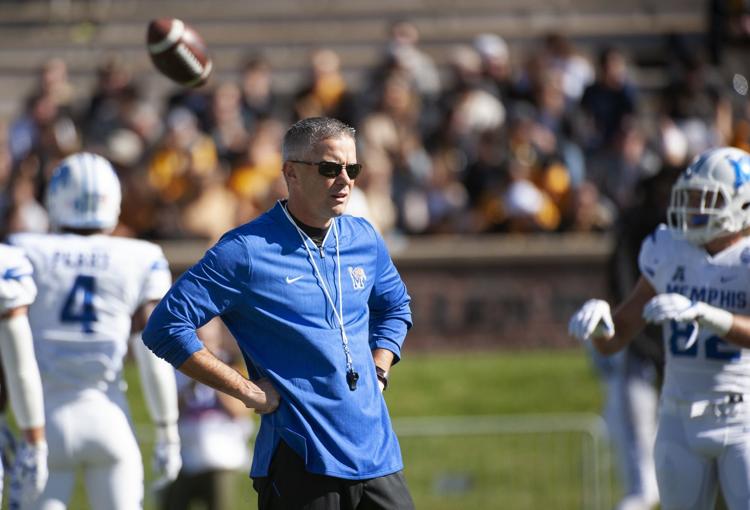 Age: 38.
Record: 37-15 (four years at Memphis).
Salary: $2.66 million.
Buyout: $500,000.
The skinny: One of the nation's most successful under-40 coaches, Norvell has two double-digit win seasons in his four years at Memphis and is known as a sharp offensive coach. As an assistant, he's coached at Tulsa, Pittsburgh and Arizona State and figures to be in high demand from other Power Five programs — notably Arkansas and Florida State.