Three years ago the NCAA accelerated the pace of college football recruiting with the addition of the December signing date. In the past two months, recruiting has found another gear.
There's no doubt the coronavirus pandemic has shifted the process for both college football prospects and the coaches trying to secure their commitments. As of Wednesday, 551 recruits had pledged verbal commitments to teams in the Power 5 conferences, according to Rivals.com's tally, with the Big Ten Conference leading the way with 155 pledges, followed by the Atlantic Coast Conference with 135.
Of the 65 teams in the five power conferences, 25 already have at least 10 commitments for the 2021 class, including nine of the 14 teams in the Big Ten. Typically, teams don't reach those commitment counts until late in the summer, at the earliest, after recruits have traveled the camp circuit and completed rounds of official and unofficial campus visits.
This year, 50 of the nation's top 100 recruits, as rated by Rivals, have already pledged commitments, including six of the site's 17 five-star prospects.
Nobody's hauled in more commitments than Tennessee. The Volunteers have a staggering 22 commitments, already three away from the NCAA's one-year limit. Tennessee is coming off a four-week spree, landing a dozen commitments from April 26 to May 18, including seven four-star prospects. Ohio State is close behind with 18 pledges. Minnesota has 17.
"I think this, for sure, is a different environment than it ever has been," said Casey Woods, Mizzou's recruiting coordinator.
As of Wednesday, Mizzou had nine verbal commitments for the 2021 class, just ahead of the Southeastern Conference average of 8.5. A year ago, MU entered June with four commitments for the 2020 class.
Six of MU's nine pledges are from in-state targets, five from the St. Louis metro area. (Mizzou counts players from greater metro areas in St. Louis and Kansas City as in-state recruits, which means MU considers East St. Louis quarterback Tyler Macon as an in-state pledge.)
A handful of developments have likely factored into the rush of commitments, starting with restricted travel throughout the country. Back on March 13, just as the NCAA started canceling championship events, the organization's Council Coordination Committee adopted emergency legislation to institute a temporary recruiting dead period that prohibited all in-person recruiting for every school in every sport through April 15. The NCAA has since pushed back the deadline twice, to May 31 and most recently through June 30. The dead period canceled countless recruiting visits.
Four-star defensive end Travion Ford had visits planned for Illinois and Louisville before he committed to Mizzou on April 30.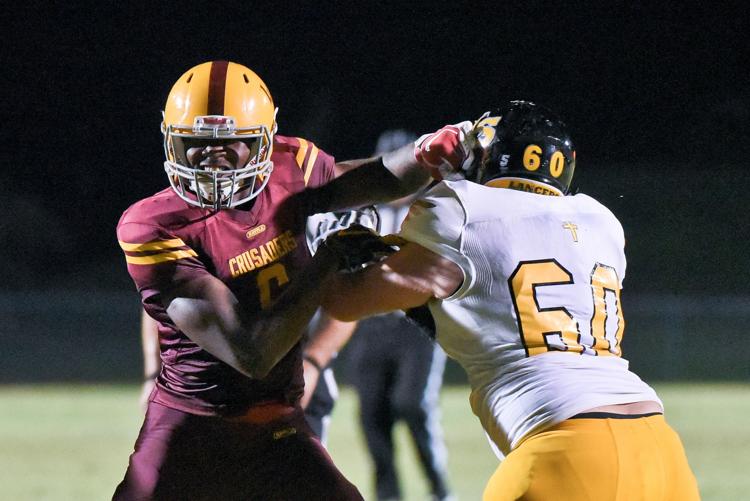 "The coronavirus situation canceled quite a few visits," Lutheran North coach Carl Reed said at the time. "I just think he was getting to the point where he was pretty comfortable with this decision."
The dead period also applies to college coaches, taking them off the road and giving them more time to communicate with recruits electronically through calls, texts and video chats. Coaches have capitalized on the extra time, and in some cases, worked to develop stronger relationships with the players they're recruiting.
That's how Woods explains Mizzou's successful start to the 2021 class.
"You have action seekers in this profession in our certain demographic of people," Woods said. "We're always chasing stimulation and making sure that we're competing in everything that we possibly do. So you've got every coach and staff in America that everybody told to go home and sit and don't do anything for two months. Well, we went home and sat, but we kind of ran out of things to do. So we compete in everything we could do."
"Ordinarily today on a Tuesday, I'd be hitting eight to 10 schools in Kansas City and two practices and a workout," he added. "Whereas today I was able to (talk to) our top five prospects, I was able to host two of them on Zoom meetings and I got on the phone with two class of 2022 guys. It's more specifically isolated recruiting."
The same is true for the recruits, who for two months have been quarantined at home with more time to spend on the recruiting process.
"They can absorb more information, they can seek out more information and they can be more educated," Woods said, "Instead of going to junior prom they're talking to three college coaches."
"You get a lot more time to think about (the decision)," said Washington, Mo., tight end Ryan Hoerstkamp, who committed to MU last month. "For me, I have more time to think about it and discuss things with my family (about) what we're looking for in a college. It's easier to make a decision when you have all the time in the world to think about it. … This whole thing kind of helped me realize I want to stay close to my family and want to stay at home just if something like this would happen again."
The NCAA relaxed other rules as part of the new mode of remote recruiting. Any university staff member can take part in calls to recruits, not just coaches. There's no longer a restriction on how many recruits can participate in calls with coaches. Also, current college athletes can now appear on recruiting calls along with their coaches.
Barring any further changes to the recruiting calendar, the earliest 2021 prospects can sign national letters of intent will be Dec. 16.
Should long-distance travel resume this summer and fall, there could be a wave of decommitments as recruits weigh their options and schedule more campus visits.
"I think that that's kind of the narrative right now a little bit, but I don't know how true that is," Woods said. "Obviously I don't know. It's unprecedented in what we're dealing with here. I think if guys are educating themselves and they're building the relationships that they need to build and I think (those relationships) will stand on solid ground. I feel great about the guys that are committed to us right now."
"I think if you're a student that's made a decision based off of fear or off lack of information or maybe lack of knowledge then I think that you may see guys like that who put themselves in position to question their decisions for sure," Woods added. "If they open (travel) in the fall, then these kids are going to be playing games on Friday nights. So it's not like they're going to play on Friday and then drive on a six-hour tour and hit four schools. They're going to have limited opportunities to visit places they want to visit."
Days after Hoerstkamp announced his commitment to Mizzou he received a scholarship offer from Alabama. He hasn't wavered in his pledge to MU but is open to visiting Alabama at some point in the coming months. That's a reminder that no matter if it's May or September — or if a global pandemic has wiped out travel across the country — commitments are non-binding until the paperwork is completed at year's end.
"An offer from Alabama is hard to turn down," he said. "I'm definitely … or probably going to look at Alabama. But I'm all Mizzou. (Visiting Alabama ) is an experience you only get to do once. There's a lot of kids that don't get the chance to do that. So I'm going to go there and check it out. But I'm all Mizzou. … I know Travion has an offer from Alabama. A lot of other kids are trying to get offers from big schools. All of us are turning down schools like this, but I think Mizzou can become an Alabama. I really do."
Dave Matter brings you the latest updates from the Mizzou sports scene.