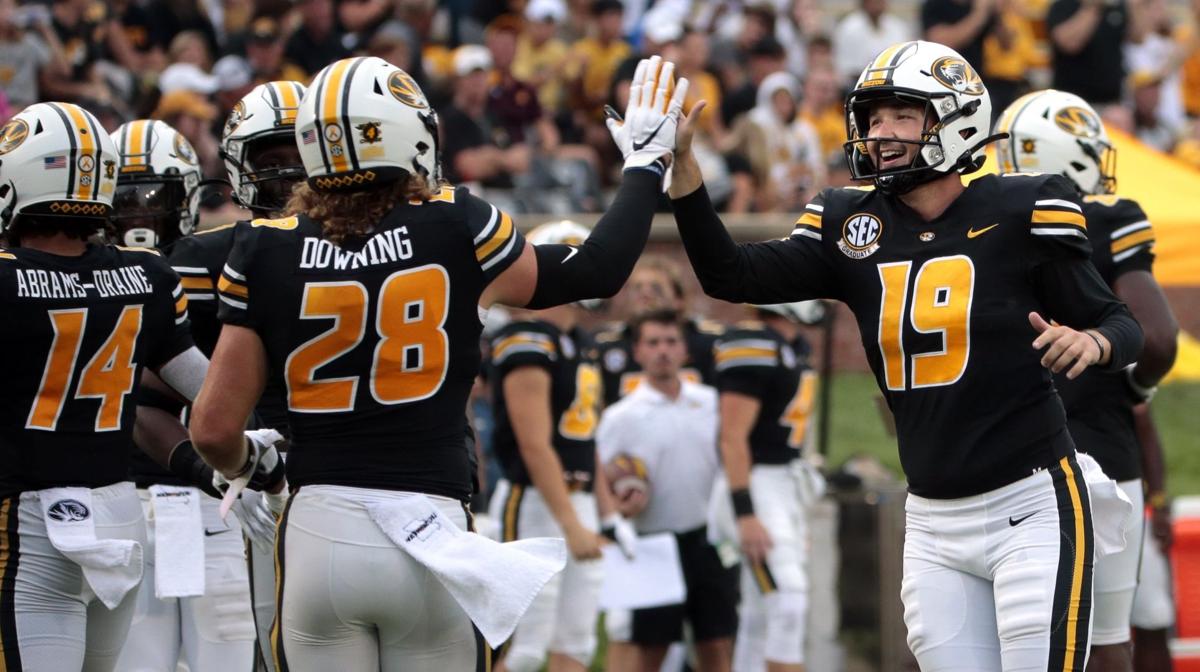 LEXINGTON, Ky. — Grant McKinniss is uniquely qualified to measure the importance of Saturday's Missouri-Kentucky showdown, the first Southeastern Conference game of the season and a pivotal matchup for two programs trying to launch themselves into SEC contender status.
Missouri's punter spent his first four seasons at Kentucky, where he went 4-0 against the Tigers. Now in his second season at Mizzou, he's trying to go 2-0 against his former team. Of all the players and coaches who will be on Kroger Field for the 6:30 p.m. kickoff, McKinniss knows what's at stake better than most.
"Yeah, I think that in the last, whatever, five years or so (this game) set the tone for the season for that team that comes out on top," he said this week.
Kentucky and Mizzou have never posted winning SEC records in the same season since the Tigers joined the league in 2012. Since 2015, the year after Mizzou won its second straight SEC East Division title, Kentucky has three more wins in SEC play — 22-28 for UK, 19-31 for Mizzou — but five of those Kentucky wins came against the Tigers. UK is 17-27 against the rest of the SEC. Mizzou is 18-26. Over the last decade, UK has never posted a .500 conference record without beating Mizzou.
The way things have gone for both teams in the division, it's been nearly impossible to have a successful season without beating the other.
Welcome to life in the SEC East middle class.
Georgia and Florida, both nationally ranked, have split the last six East titles. At the other end of the division, Tennessee, South Carolina and Vanderbilt are in rebuild mode under new head coaches.
Who's left in the middle? Mizzou (1-0) and Kentucky (1-0). The Wildcats are 5½-point favorites to win Saturday. No one's going to label it as such the second week of September, but if the preseason projections are close to accurate, third place in the East is on the line.
How big has this series become for both programs?
Eli Drinkwitz, who last year became the first Mizzou coach to beat Kentucky since 2014, spent the week praising the Kentucky program Mark Stoops has built over the last decade while tamping down any big-picture implications of Saturday's game.
"They're all big," he said. "Obviously, last year was a big game for us because we hadn't beat them in five years. And I think getting that off our chest was good. Coach Stoops has been there for 10 years, recruited at a really high level and developed his players. So to try to make a comparison of us and them right now I think is a little bit soon. We got to control who we are. We got to do what we need to do, go on the road. I don't think anybody's season ends after week two, regardless of how it plays out. I think it's a big test for us on who we want to be and how we want to perform and what we want to do on the road, which we didn't play particularly well, last year on the road. I think we get one road win. So I think for us, it's more about a test to see how much we've grown and developed. I don't look at it as this is a where Kentucky's program is versus where Missouri's program is. I think that's making it probably a little bit too big."
Maybe so, but given the history between these two programs, the outcome will position one team closer to challenging East favorites Georgia and Florida. For the Wildcats, Saturday's SEC opener is a chance to avenge last year's 20-10 loss in Columbia, a game where the Tigers controlled both lines of scrimmage, held UK to just two third-down conversions and kept Stoops' offense off the field for all but 16 minutes and 50 seconds. It's a game the Wildcats have not forgotten.
"They played more physical than us a year ago, and that is uncharacteristic and I don't particularly like that," Stoops said this week. "We need to be much more physical this year. … I sense that they were much more prepared to play last year than we were. That's on me. I can promise you that's not gonna happen again."
For many of Missouri's players, this will be their first taste of an SEC road game with a full crowd. COVID protocols limited stadium capacities last season, but Kroger Field should be a throng of blue on Saturday. Mizzou was just 1-3 in SEC road games last fall under Drinkwitz and hasn't won an SEC road game as an underdog since a 2018 victory at Florida.
"It's hard to win on the road, so that just elevates the focus that needs to go into this week," Mizzou wideout Keke Chism said. "You have to have a professional mindset going into this game, that it's going to be a dogfight. It's going to be a four-quarter game."
Mizzou's veteran players know from experience that Saturday's outcome doesn't necessarily promise a successful season. The 2019 Tigers started 2-0 in SEC play with wins over South Carolina and Ole Miss, then promptly lost their next five conference games. Drinkwitz tried to make a similar point this week. No matter how even these programs have been historically, Saturday's game is just the beginning of a long journey.
"Regardless if you win," he said, "you're 1-0 in the SEC with seven to go."