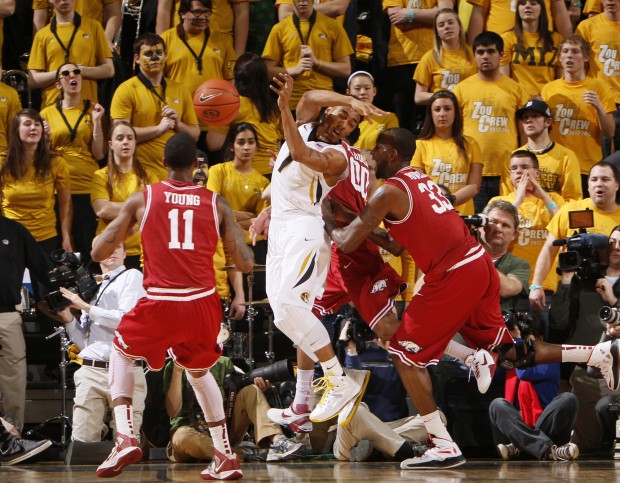 CHICAGO • Given one hour to make an impression on NBA scouts and executives, Phil Pressey and nine other point guards spent the majority of their workout Thursday shooting the basketball.
Drills focused on mid-range jumpers, 3-pointers and everything in between. The former Mizzou star figured it wasn't the best setting to display his strengths and improve his standing for next month's draft.
"I feel I excel at all the other things we're not doing here," he said. "Creating for your teammates, passing and making big plays. Those are things I can do. This is stuff I have to prove to the teams."
As a junior, there were games when Pressey launched 20 or more shots. His accuracy beyond the 3-point arc dwindled to 32 percent. And some of his shot selections in tight games drew mass criticism.
Pressey knows scoring will take a backseat to playmaking at the next level, so he is anxious to participate in several upcoming individual team workouts, where he can emphasize his skills as a distributor.
His confidence certainly isn't lacking.
"My passing ability and the way I create for others is second to none, I feel," he said.
Although his statistics in some areas dipped, it didn't come as a surprise when Pressey opted to skip his final year of eligibility. He knew most teams viewed him as a second-rounder but felt his game had reached a point that he was prepared.
He has spent the last several weeks working out in Los Angeles, emphasizing his mid-range game. But the shooting he displayed Thursday is only part of the emphasis during the combine.
Pressey interviewed with officials from the Phoenix Suns and Houston Rockets on Wednesday night and was scheduled to meet with Brooklyn and New York after his workout.
He will attend smaller workouts in Boston, Brooklyn and Orlando in the next week. He described the arrangement in Brooklyn as a "group workout," where he hopes to "show them what I do best" in a five-on-five setting.
Pressey said he has avoided viewing mock drafts, which mostly project him in the middle to late second round. Some have left him out completely. But he never has doubted his decision since discussing the matter with his father, former NBA star Paul Pressey.
"He asked if I thought I was ready to leave," Pressey said. "I said I felt in three years as a point guard I'd experienced all I needed to experience at the college level. I came in and wanted to break records. I broke a couple. The only thing I didn't do that I wanted was win a national championship."
Pressey said last season was challenging, partly because of the increased scoring role he felt he needed to shoulder. Shifting between playmaker and scorer during the course of games forced him to switch gears.
There were games when he could avoid shooting and focus on running the offense. But he often felt a need to take over at the offensive end.
"The (previous) two years were easy because all I had to do was create," he said. "This year I was passing and had to score. It was kind of a rhythm thing. I'd go from passing for 10 or 15 minutes straight and then I had to score for five minutes."
His shift into scoring mode often came in the closing minutes of games. And frequently it led to questionable decisions in critical moments. Bad shots and errant passes in close losses became a blight on his season.
Pressey said he repeatedly studied film of the final minutes of several games with coach Frank Haith. His errors were emphasized. But he never backed down from taking charge in the next close game.
He said if that is what people remember, so be it.
"You have to put that on the best player," he said. "There were times I forced some things and tried to make a play and shouldn't have. I wanted to make the best play, but it doesn't always work out that way and you learn from it. Being the leader and captain, I have to take ownership when things go wrong.
"I learned how to handle all those situations, and when I move to the next level it's not going to be a problem for me."