Quick Hits: Matter on Mizzou sports
Rounding up the hot topics from Mizzou beat writer Dave Matter's weekly chat.
ONE OF MIZZOU FOOTBALL'S WORST DEFEATS?
QUESTION: Considering how high the expectations were for this team going into the season, would you consider the loss to Wyoming the worst loss ever for a Mizzou football team, or the biggest upset? 
MATTER: It's on the short list. Yes, it was on the road. Yes, it's an unconventional place to play. Yes, season openers are tricky. Yes, elevation, altitude, 7,220 feet, yadda, yadda, yadda.
But the Tigers were favored by 18 points. Nobody outside of the Wyoming locker room gave Wyoming a chance. The media who cover Wyoming expected a big Missouri win. Folks around town in Cheyenne and Laramie expected a Missouri win. I've been covering Mizzou since the late 1990s. I'd put this one in the company of 2004 Troy and 2014 Indiana. In hindsight, that was a good Troy team with an NFL superstar on defense in DeMarcus Ware. Urban Meyer's Bowling Green teams that beat Missouri in 2001 and 2002 were better than MU - or at the very least on par with the talent Missouri had in Pinkel's first two years. Odom was a rookie coach still trying to figure out what he had in 2016 when Middle Tennessee won in Columbia.
All of those were bad losses, but not like this one Saturday.
WHY ARE TIGERS SUCH HEAVY FAVORITES?
QUESTION: Your prediction for this Saturday? Is Mizzou still a two-touchdown favorite over West Virginia? If yes, does that surprise you after what happened last week? 
MATTER: It doesn't really surprise me, for a few reasons ...
• Mizzou moved the ball at will against Wyoming and was in position to score a lot more points but had untimely turnovers. Nine times out of 10 MU scores a TD on the play Rountree fumbled. Another TD was erased on a pass interference penalty that isn't always called. Both MU fumbles hopped right into the hands of a Wyoming defender. There's some luck at play there. The line indicates Vegas expects those kind of breaks to balance out — and that MU played better than the final score indicated. 
• West Virginia nearly lost at home to an FCS team, albeit a very good FCS team, but still ... WVU's run game was nonexistent. This is not an experienced team. Lots of new parts. First road game under a new staff. A two-touchdown point spread doesn't seem all that surprising. 
MIZZOU HOOPS: WORST IN SEC ... OR A TOURNAMENT TEAM?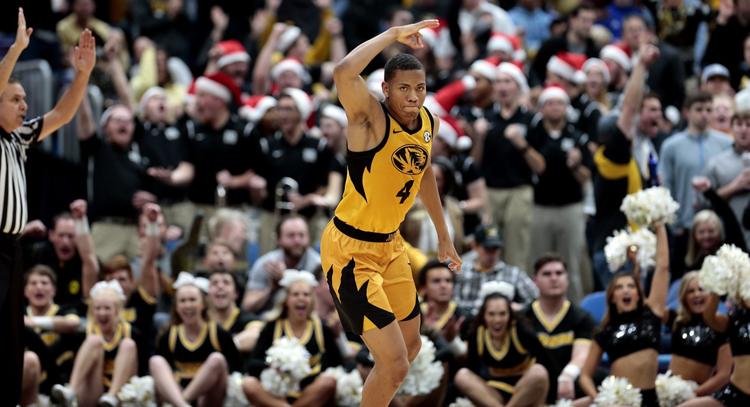 QUESTION: What feeling do you have about Cuonzo Martin's team this year? Are they really among the worst in the SEC as many have predicted? Or do you see them as a tournament team?
MATTER: I don't agree with this national opinion that MU will be one of the worst teams in the SEC. There's a lot to like about this group and I don't think it's unrealistic to expect a push for the NCAA Tournament. I've checked around to see how practices are going. Here's what I'm told ...
• There's really strong depth on the wing and better outside shooting with the Smiths, Watson and Pickett. 
• Dru Smith can do a little bit of everything and is all-around solid as a shooter, playmaker and has become the leader of the team. No weakness in his game. Great defender. 
• Mitchell Smith is stronger and bigger than he's been and will get some minutes at the 5 behind Jeremiah Tilmon, who's been "a monster" in practice. I interpret that as a positive.
• The two freshmen forwards, Kobe Brown and Tray Jackson, will make this team much more athletic at the power forward spot. Both can handle the ball and pass. Brown has impressed the staff with his work ethic. Relentless. Getting compared to Pickett in that regard. 
• Pinson is more mature, learning how to control his game but still be exciting. 
• The 7-foot juco, Axel Okongo is extremely raw on the offensive end, but if he sees the floor he'll add some shot-blocking and grab rebounds. He's been a good asset in practice to battle with Tilmon — but he's only been on campus for a few weeks.
TIGERS WINNING THE EAST? NOT SO FAST ...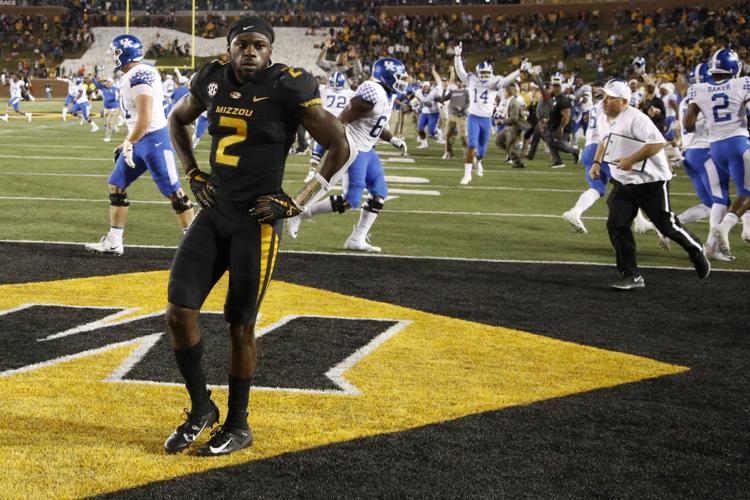 QUESTION: What do you think of the conference play this past weekend? Florida looked bad but won. South Carolina had its problems even before losing it's quarterback. If Mizzou can right the ship, why can't it win the SEC East even after Saturday's loss? 
MATTER: Win the East? Missouri's not touching Georgia unless a lot changes in the next couple months. Missouri should focus on beating a Power 5 team with a pulse first. Georgia isn't a perfect team but is a genuine playoff contender and might win the East by multiple games again this year.
I wasn't impressed with South Carolina for obvious reasons, but that should still be a competitive game for Mizzou. Always is.
Tennessee is a loss to BYU away from being a sinking ship. They looked really bad on both sides of the ball. 
Hard to assess Vandy after they had to open against a legit playoff contender in Georgia. Vandy has three really good offensive skill players.
Kentucky was hardly dominant, though Toledo's one of the best Group of 5 programs in the country. The Cats won't win 10 games but won't be pushovers. 
Auburn showed some fight. LSU appears to have a real offense. Bama is Bama. Can A&M give Clemson a scare? Reports of the East's resurgence appear premature. The West is still best. 
BRYANT'S MIZZOU DEBUT
QUESTION: The interception was a bad decision, but overall I thought Kelly Bryant looked better than expected as a passer. What happened on that last play? Also, is it just me or is Albert O starting to compile too many undisciplined plays over his career?
MATTER: I thought Bryant would have been better off dumping it off to Badie and hoping he gets past the marker ... or down the seam to Albert, who had a defender behind him when the ball was in the air, but he was more open than Johnson, who had a defender in front and behind. (The guy behind Albert could have made a late charge on the ball and picked it off or knocked it down, but no more so than the two defenders on Johnson.) Again, with the luxury of hindsight, it's an easy decision to second guess. We also don't know what Bryant's line of vision was on the play. He might not have been able to see Albert as well.
The quarterback is always going to be under scrutiny when the game-winning possession ends without points, but it feels a bit like nitpicking when he was just about the only reason Mizzou was still hanging around by the fourth quarter.
ODOM MAKING PROGRESS?
QUESTION: Where have you seen growth in Barry Odom, and do you believe that he is capable of improving in important areas: defense, starting the season well, hiring coordinators, etc.?
MATTER: He's improved recruiting, especially locally, and a lot of that is earning trust, being yourself and developing relationships. 
He's better at delegating and not stretching himself too thin.
We saw progress from this team and this defense last year. He no doubt deserves credit for taking that team from rock bottom after the Kentucky game and getting the best out of them a week later at Florida. 
But it's certainly fair to wonder about the 0-7 question — Mizzou is 0-7 against FBS teams when Odom has more than a week to prepare — and why do his teams struggle to refocus when momentum starts to slip away during games. Both are trends, though neither suggests it will be this way forever on his watch. Like players, coaches develop and evolve, too. But for now, these are obvious concerns with his teams.