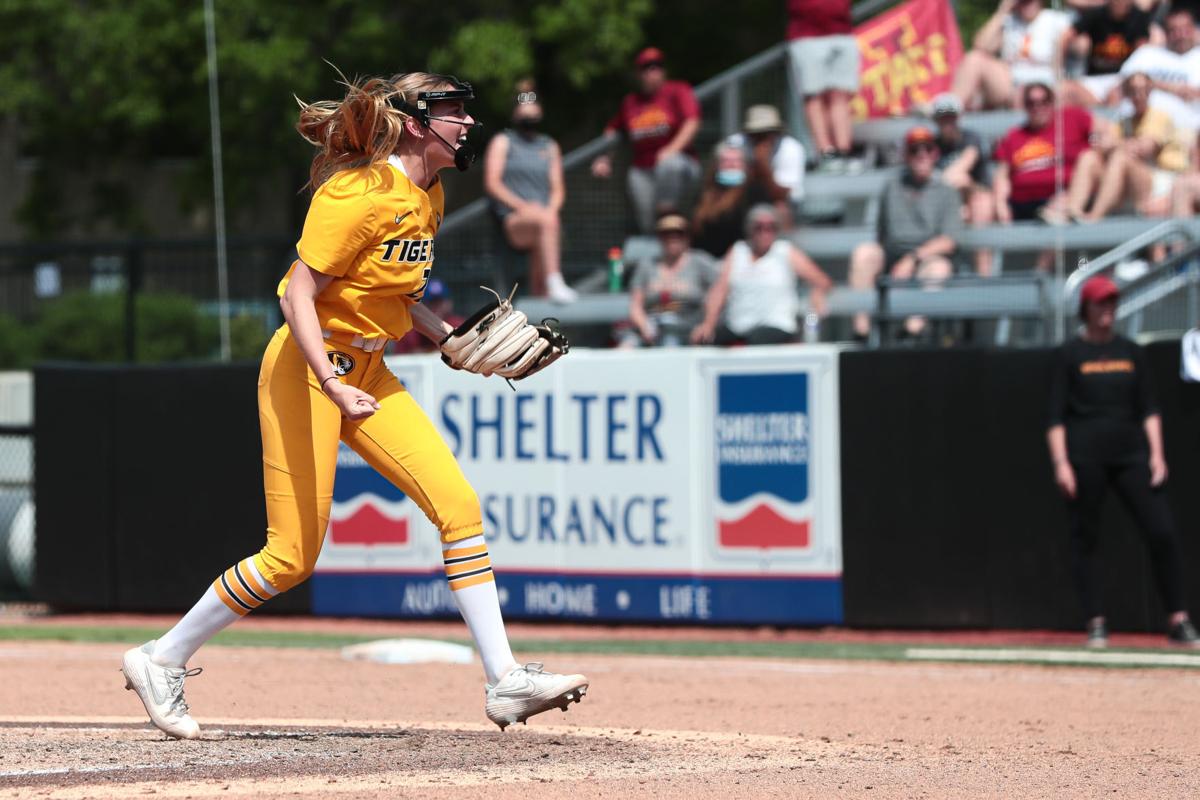 COLUMBIA, Mo. — Hitting and defense took Missouri to the brink of college softball's biggest stage but not far enough to reach Oklahoma City.
Before things completely unraveled for Mizzou in the seventh inning Sunday, the Tigers committed three errors and stranded six runners in a 7-2 loss to James Madison in the third and deciding game of the NCAA super regional at Mizzou Stadium. The Dukes (39-2) from Harrisonburg, Virginia, will march ahead to the Women's College World Series where they'll be the lone mid-major conference team in Oklahoma City among a field of superpowers.
"To say we're going to OKC," James Madison coach Loren LaPorte said, "it's a dream."
The Tigers (42-17) will instead wonder how it wasn't their trip.
"It's tough. It's real tough," said Mizzou coach Larissa Anderson, choking back tears. "It's it's tough saying good-bye to seniors. We just didn't play perfect today and we had to play perfect. JMU played amazing."
With two outs in the seventh, Mizzou senior catcher Hatti Moore made the super regional's final out on a scorcher to third base and barely left the batter's box before doubling over in tears. In the on-deck circle a few feet away, as James Madison players spilled onto the field to celebrate, fellow Tigers senior Cayla Kessinger collapsed in a heap of emotion.
Next year's Tigers will return key pieces from their best team in years, but for program stalwarts Moore and Kessinger, their college careers expired right there in the glove of third baseman Lynsey Meeks.
In front of another record crowd at Mizzou Stadium (2,686) on a gorgeous Memorial Day weekend, the Tigers rarely looked like the team that played sterling defense and stacked hits on top of hits throughout the regular season. The offense came in two quick bursts Sunday — solo home runs from the top of the order — but the Tigers couldn't capitalize with timely hits when needed most. Facing JMU starter Odicci Alexander (16-1) for the third straight day, MU was mostly bust with a couple booms, going 0 for 7 with runners on base and 0 for 3 with runners in scoring position.
"They made the adjustments," Anderson said, "and we didn't counterattack soon enough."
James Madison nursed a 3-2 lead heading into the seventh inning then erupted for four runs on six hits as its first seven batters reached base. By then, the Dukes had gained complete control of the series against the Tigers' third pitcher of the day. Perhaps most surprising, Mizzou, one of the nation's best defensive teams all season, made two errors in the outfield and another at third base.
MU's pitchers "gave us a chance," Anderson said. "That's the biggest thing. They competed their butts off. Today just caught up to us. We made some mistakes behind our pitchers today, and you cant do that at this level. But absolutely no regrets whatsoever."
Brooke Wilmes, the Tigers' instigator at the top of the lineup, got things started with another home run, her fifth in six NCAA games and second off Alexander in as many days.
In the fourth, Mizzou third baseman Kim Wert saved an extra-base hit down the line with a stab off the bat of Madison Naujokas, but her throw was wide, giving the Dukes runners at the corners with one out. Meeks brought home Logan Newton with a sacrifice fly to even the score. With MU's Laurin Krings getting warm in the bullpen, Mizzou starter Jordan Weber (12-7) survived the inning with a pop-up.
The Tigers stranded a pair of runners in the first and third, both threats ending with Casidy Chaumont strikeouts.
The Dukes made their move in the fifth. Bernett's leadoff single sent Anderson to the bullpen for Krings, the Tigers' Game 2 starter, and after a sacrifice bunt and strikeout, JMU's Jubas drove home Bernett with a single up the middle, then raced to third on Wilmes' throwing error from centerfield. Shortstop Jenna Laird couldn't handle a troublesome hop on Alexander's grounder, allowing another run for the Dukes.
Laird turned it into a one-run game with an opposite-field homer to left in the fifth, but it's all Mizzou could manage against Alexander.
With Emma Nichols out of the bullpen to pitch the seventh for Mizzou, JMU's first seven batters reached base as the Dukes built an insurmountable lead in part thanks to a questionable call at the plate. Alexander was called safe at home for a 5-2 lead, though replays showed Moore clearly tagged her on the tip before she tagged the plate. College softball does not use replay reviews to challenge officiating calls.
Not that it would have mattered. In the bottom of the seventh, Laird managed a two-out walk, but the rally fizzled with Moore's season-ending liner to third, leaving the Tigers to reflect on a breakthrough season that broke too soon.
"It's going to sting for a while," Anderson said. "They put two championship banners on the outfield wall and they got this program back to hosting a super regional. That's a legacy that's going to live on for years and years, that they set a different standard."