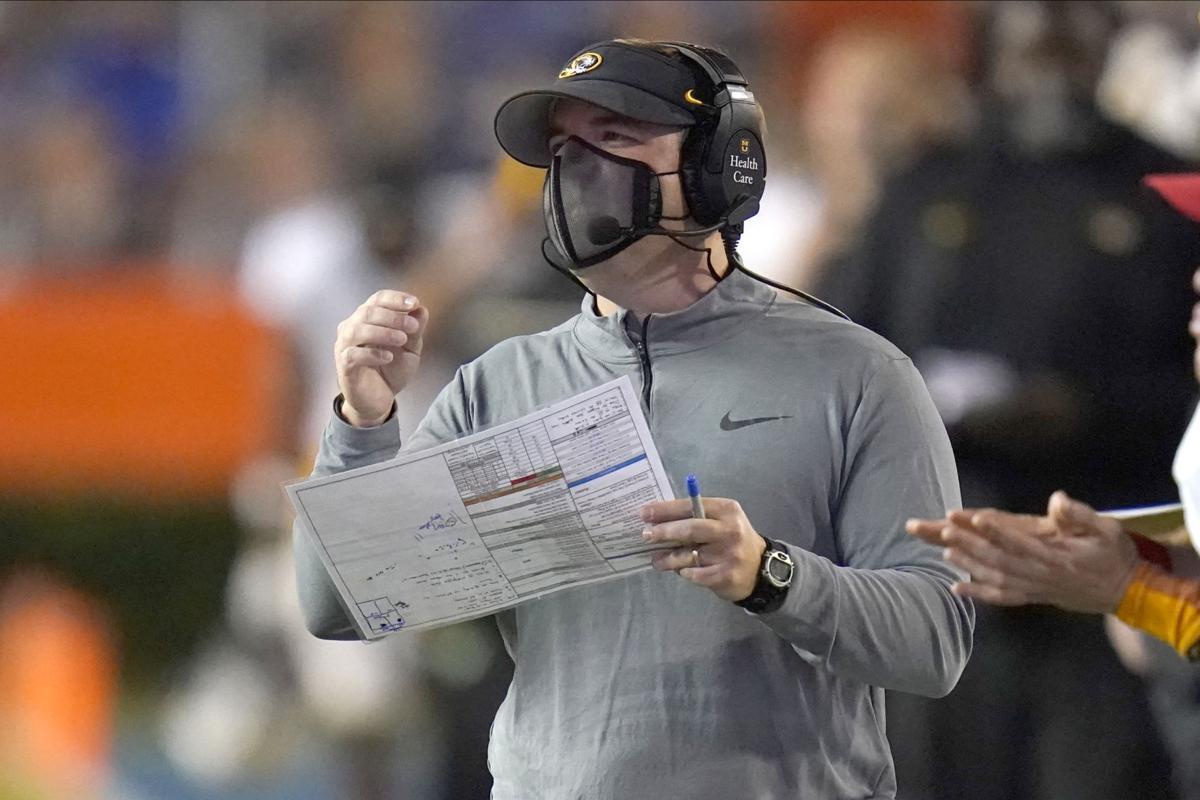 COLUMBIA, Mo. — Eli Drinkwitz would be coaching football somewhere in 2020 but maybe not Missouri if Nov. 9, 2019, unfolded differently.
That day, Drinkwitz's Appalachian State Mountaineers came into South Carolina's Williams-Brice Stadium as 6-point underdogs against the resident Gamecocks of the Southeastern Conference. They walked out winners.
It was the kind of victory that grabs the attention of Power Five athletics directors when they're looking for their next head coach.
For Drinkwitz, then a rookie head coach at the college level, it was already his second takedown of a Power Five team — App State won at North Carolina two months earlier — and vaulted him to a more prominent shelf in the head-coaching market.
A year later, Drinkwitz returns to South Carolina, where his Missouri Tigers (2-3) resume a season interrupted, once again, by the coronavirus pandemic that rages through the country and the college football calendar. Mizzou, it roster still drained by injuries, opt-outs and COVID-19 cases, kicks off against the Gamecocks (2-5) at 6:30 p.m. (St. Louis time) Saturday, back at Williams-Brice, the scene of last year's App State uprising, a 20-15 victory over South Carolina.
"I actually sent a picture to one of my offensive linemen from last year of him getting after one of their defensive lineman and it just brought a bunch of good memories back," Drinkwitz said this week. "It was a tremendous job by our defensive players. We had to hold on at the end. It was fun to go into an away game, (with) App State an underdog to an SEC school, and get a win. Everybody loves an underdog story. That was one of those where it's you against everybody and you found a way to get it done.
"It was something I'll always remember. Those bus rides back from UNC and South Carolina were the shortest four- ... five-hour bus rides in my life."
This time around, the Tigers took a charter flight to USC and it's the Gamecocks who are underdogs and shopping the market for their next head coach. The school fired Will Muschamp on Sunday, soon followed by several Gamecock players choosing to sit out the rest of the season.
It's a mystery if South Carolina will rally behind interim coach Mike Bobo or finish their slog into the offseason.
For the Tigers, the unknowns start with the layoff. Mizzou last played Oct. 31 at Florida, the program's longest pause between regular-season games in 19 years. The sample size is limited, but COVID-19 cases have created similar two-week breaks at seven other Power Five teams this season. Those teams went 5-2 coming off their extended layoff with victories by North Carolina (over Boston College), Notre Dame (Florida State), Oklahoma State (Iowa State), Wisconsin (Michigan) and Florida (Missouri). Baylor and Vanderbilt stumbled coming out of their extra bye week, losing to Texas and Mississippi, respectively.
Three weeks ago, Florida was sluggish early but seized control with four straight touchdowns in the 41-17 victory over Mizzou.
How did the Gators' offense overcome the uncommon break? Depth and experience.
"I thought we were a little rusty coming out the gates," Florida coach Dan Mullen said this week. "Part of it gets to experience at some key positions. You look at the fact that we rotate a bunch of running backs in the game, so those guys all have experience being on the field. We have a veteran quarterback and a veteran offensive line, a tight end that's been a returning starter. Even at the receiver position, even though we have four receivers from last year's team on NFL teams. … we rotate a lot of guys."
"One of the things we've always tried to do is create great depth, and by rolling guys through (the game), it keeps them healthy and fresh and it gets a lot of guys experience. This group of guys that are that are playing for us actually have played in games and have experience. When you have a veteran group like that I think it's easier to handle different adversities, like taking three weeks off."
Unlike Florida and other teams hit with high COVID cases, Missouri was able to practice during its unexpected bye week. Depth, though, isn't a luxury the Tigers have at most positions. As of Thursday, Drinkwitz said he had 53 scholarship players available for Saturday's game. That's right at the SEC COVID-19 roster threshold, though teams can elect to play games if their numbers slip below that number.
After shortages along the defensive line forced Mizzou to postpone last week's game against Georgia, the Tigers held a scrimmage last Saturday and simulated game-day situations but with limited contact. By design, the Tigers haven't fully tackled or blocked at game speed since the Florida game.
"With this year being so crazy, with people leaving, dropping left and right, we try to take care of our players," defensive lineman Akial Byers said. "Everybody has to stay off the ground."
"Receivers blocking, running backs taking hits, me taking hits, we just haven't had it in a while," quarterback Connor Bazelak said. "But we didn't have it for a whole nine months before (playing) Alabama (in the season opener), so it's nothing new."
Then again, the Tigers didn't tackle all that much at Florida or catch the ball cleanly, leaving Drinkwitz plenty to address during the extended break between games. Back where he launched his career into new opportunities, will the extra practice pay off?
"It takes what it takes and it costs what it costs to be a great football player and to be an elite player — and you really can't afford to waste any opportunity or waste your practice reps," Drinkwitz said. "That was our challenge to our team. I think they've responded well, but obviously Saturday is the test."