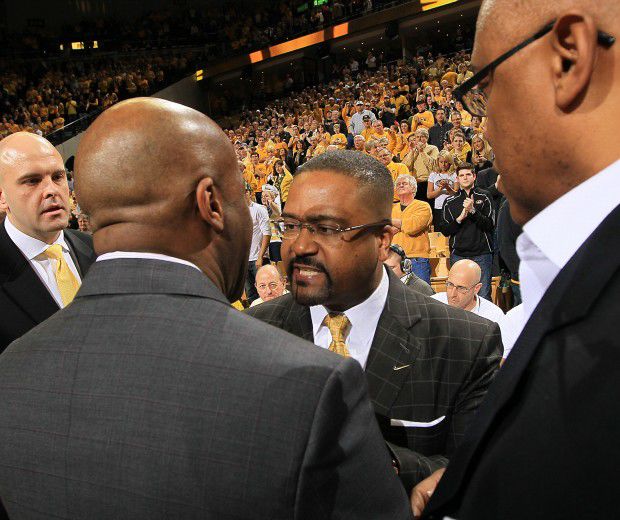 BIRMINGHAM, Ala. • For years, Florida coach Billy Donovan has believed officials allow coaches to dictate the way games are officiated. The more physical teams want to play, the more they have been allowed.
"Inevitably," Donovan said at Southeastern Conference media days, "I think the officials were put in these boxes where as the season went along and you got into January and February, there were more physical confrontations, more contact, more falls not getting called."
Those days are likely to change. In June, the NCAA Playing Rules Oversight Panel approved a revision to the block/charge call, which now prohibits a defensive player moving into the path of an offensive player once he's started his upward motion with the ball to shoot or pass. If the defender doesn't establish a legal guarding situation, it's a blocking foul.
"Perfect," Kentucky's John Calipari said. "Scoring's going to go up because that's the way it should be."
Scoring was down in Division I last year, and there's hope the rule change, plus other points of emphasis, will produce a more free-flowing game. The average Division I team's score plummeted to 67.5 points last season, the game's lowest scoring average since the 1981-82 season.
The Men's Basketball Rules Committee has also advised officials to more consistently enforce the following fouls:
• Putting a hand or forearm on the offensive player.
• Putting two hands on the offensive player.
• Jabbing the offensive player or putting a hand on his forearm.
• Using an arm bar to slow down the dribbler's progress.
Initially, the changes could lead to more foul shooting — until teams adjust.
"The biggest thing is going to be can the officials stay consistent?" Donovan said. "There's going to be games where people say, 'This is no longer fun to watch because it's just free-throw shooting.' But there will be a time, if there's a commitment by the officials and by the conferences to say, 'We're changing this. We're giving more freedom of movement, more freedom of play and we're going to force programs, teams and coaches to adjust.' If not, their whole team's going to be sitting on the bench in foul trouble."
Vanderbilt's Kevin Stallings doesn't mind the rule changes — as long as officials call games the same way throughout the season.
"We'll adjust," he said. "Yeah, there'll be some games that look like train wrecks in November and December for sure, but don't call it one way in November and December … and then when league play comes allow us to knock the crap out of each other. Just make sure it's the same."
Asked about Kentucky's vaunted freshman class that includes six McDonald's All-Americans, several of whom are already considered 2015 NBA draft prospects, Florida senior center Patric Young didn't hold back.
"I hope they think they can just walk on the court and beat everybody," Young said. "I hope that's what they think, because as soon as they step on the floor and play a real top team, they're going to see it's not just a walk in the park."
Donovan's Gators are widely considered the SEC's best team outside of Kentucky, but Florida is short-handed this fall with only seven available players. Among those practicing is senior point guard Scottie Wilbekin. He rejoined the team last week after serving a suspension for an undisclosed violation of team rules but will sit mutiple games to start the season.
Young and some Gator teammates visited Wilbekin in the summer after Donovan suspended him for the second time in seven months.
"I was a little disappointed at first because … going into your senior year, how could you do what you did and not think there's going to be consequences?'" Young said of Wilbekin's second suspension in seven months. "You can't play with fire and not get burned."
The Gators are also missing forwards Will Yeguete, Damontre Harris and Eli Carter, all nursing injuries, and guard Michael Frazier, who's been sick and could be suffering from mono, Donovan said.
Florida's most anticipated newcomer, freshman Chris Walker, was not eligible to enroll at UF this fall but could join the team at the semester break. Donovan declined comment on the 6-11 player.
Dave Matter brings you the latest updates from the Mizzou sports scene.