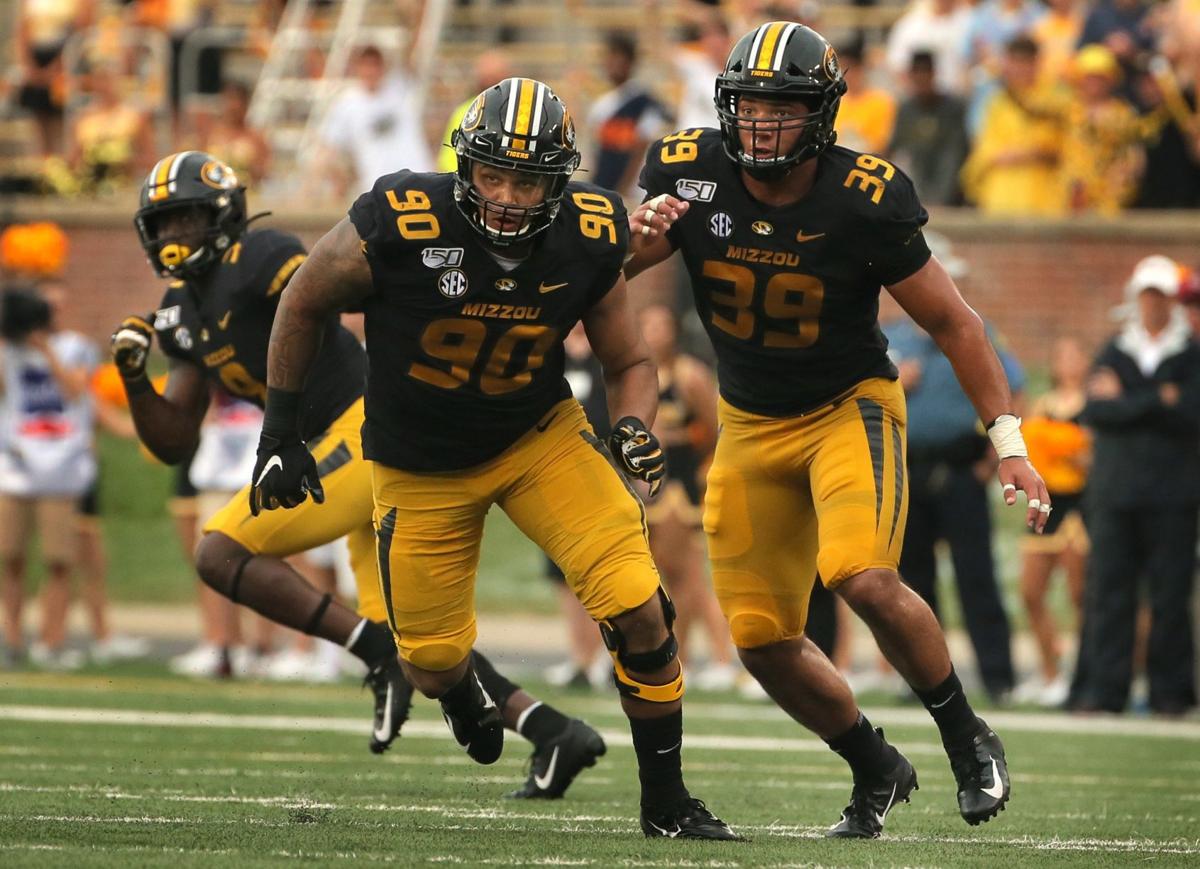 Missouri football players will be tested for COVID-19 twice a week during the upcoming season as part of the Southeastern Conference's newly announced series of coronavirus protocols.
The SEC will coordinate centralized testing through a third-party provider to ensure consistency, the league announced Friday as part of its evolving management plan as recommended by the SEC's Return to Activity and Medical Guidance Task Force, a panel of medical experts from each of the league's 14 schools.
Players will be given the PCR test (polymerase chain reaction), typically six days and three days prior to competition on Sundays and Wednesdays. Coaches, support staff and medical staff will be tested at the same rate as athletes. Game officials, replay officials and medical observers will be PCR tested once per week in their local area prior to their assigned game. Their results must be received before they travel to the competition city. Essential personnel for each team who will be within 6 feet of athletes, coaches/support staff and/or officials for more than 15 minutes must be PCR tested once per week three days prior to the competition.
"Our Medical Task Force is producing an effective strategy for testing and monitoring, which complements the vigilant day-to-day efforts of our campuses to establish and maintain healthy environments in which our student-athletes can train and compete," SEC Commissioner Greg Sankey said. "Our health experts have guided us though each stage of preparation for the safe return of activity and, together with the medical staffs embedded within our athletics programs, we will continue to monitor developments around the virus and evolve our plan to meet the health needs of our student-athletes." 
The SEC Task Force also recommends schools explore alternative testing methods for a third weekly test to provide a reliable and rapid response closer to competition.
Mizzou has used PCR tests for its athletes this summer, administered by employees through MU Health Care. The wait time for results has been between 36 and 72 hours, Rex Sharp said this week. In high-risk sports football, basketball, soccer and volleyball, athletes will be required to test once a week when there's not a competition that week.
The SEC announced similar protocols for the other fall sports, including women's soccer, women's volleyball and cross country. 
For football, all coaches, staff and non-competing players are required to wear a face mask/neck gaiter on the sideline.  Competing athletes shall wear a neck gaiter that can be used for timeouts and talking to coaches on the sideline. All officials shall wear a face mask/neck gaiter that will be used when physical distancing cannot be achieved. Anyone  working the sideline within the team box and directly adjacent to the team box will be required to wear a face mask/neck gaiter on the sidelines at all times. All other individuals provided with field and sideline access who are not allowed in the team box, whether PCR tested or not must remain at least six feet away from the team box and must wear a face mask/neck gaiter at all times
The SEC also announced protocols for athletes who test positive for the virus. If asymptomatic, the infected athlete must isolate for at least 10 days from the date of the positive test. When returning to activity following isolation, athletes will need a cardiac evaluation, clearance from a team physician and must adhere to an appropriate period of acclimatization following the inactivity.
Symptomatic infected athletes should be isolated for at least 10 days from onset of symptoms and at least 24 hours must have passed since their last fever without the use of fever-reducing medications and symptom improvement (cough, shortness of breath) has occurred. When returning from isolation, athletes will need a cardiac evaluation, clearance from a team physician and must adhere to an appropriate period of acclimatization.
For athletes who are presumed to be infected, they'll be required to isolate in the team facility with a mask and referred to a medical professional for evaluation. For cases that arise after pre-competition testing but before competition begins, the athlete will be promptly isolated and tested, followed by contact tracing. For potential cases that arise during or after competition, the athlete will be promptly evaluated, followed by contact tracing to identify and quarantine close contacts.
A close contact is defined as any individual who was within 6 feet of an infected person for at least 15 minutes starting from two days before illness onset, or for asymptomatic patients, two days prior to positive specimen collection, until the time the patient is isolated. 
Athletes who have prolonged close contact or more than 15 minutes and within 6 feet of an infected person during the period of infectivity will be considered a high-risk contact. They must quarantine for 14 days and can return to play if no symptoms develop while quarantined for the full 14-day period.
As far as isolation, anyone who tests positive prior to traveling for a road competition will not travel with the team and will be isolated. If an individual tests positive while traveling, they will not participate in any elements of the competition and will be isolated. The local health authorities that govern the home team, visiting team and the individual's physical location when the test was administered will be notified. The team with the individual who tested positive will return the individual to their campus community as soon as possible using appropriate infection control and physical distancing processes. If an individual tests positive after traveling, the positive individual will be isolated according to the policies established by their school.
Also, each team's travel party will be limited to only players, coaches and essential personnel "who undergo similar surveillance as the student-athletes and coaching staff." Families, radio crew, boosters and administrators must travel separately.
Dave Matter brings you the latest updates from the Mizzou sports scene.