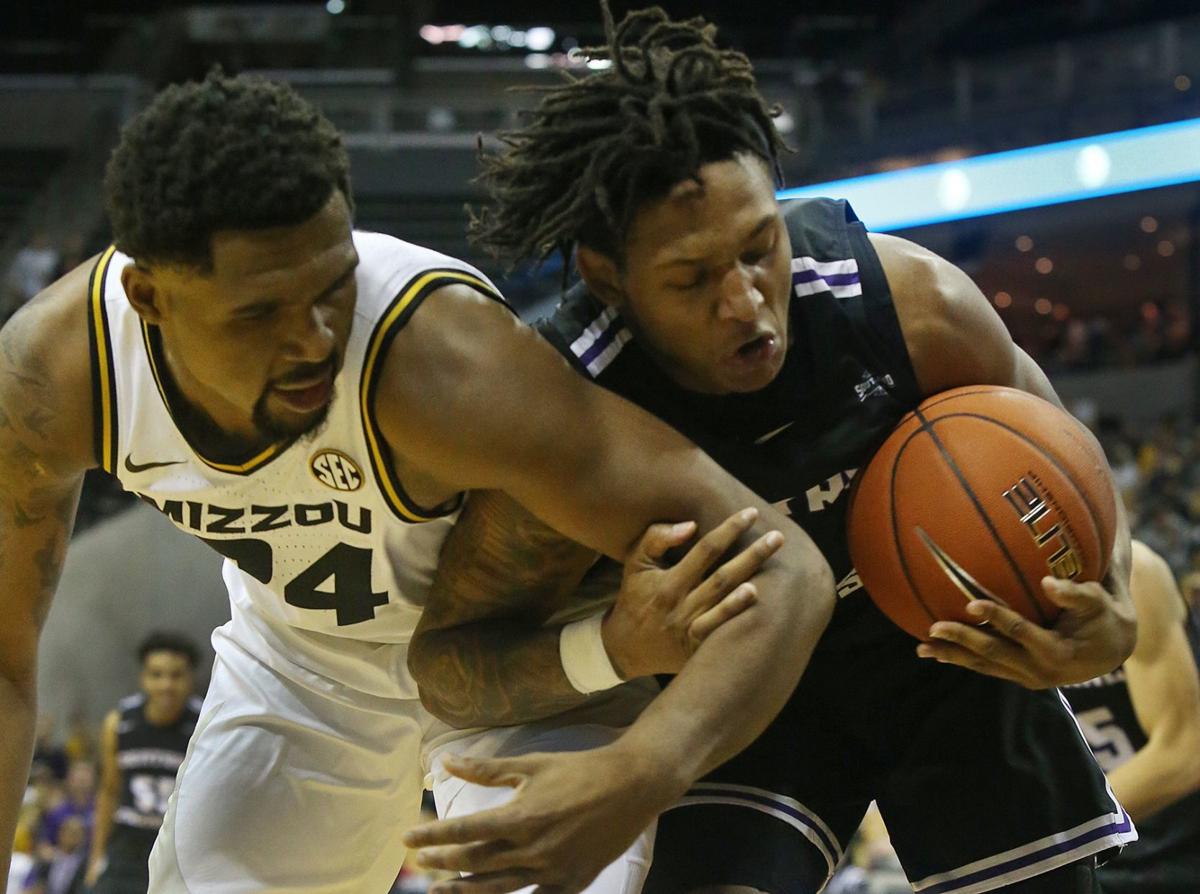 COLUMBIA, MO. • Mark Smith knows how to make a first impression.
In his debut for Missouri since transferring from Illinois in the offseason, the sophomore guard scorched the Mizzou Arena nets Tuesday with five 3-pointers — in the season's first 22 minutes.
Smith finished Tuesday's season-opening 68-55 victory over Central Arkansas with 19 points and, maybe more of a surprise, a career-high 10 rebounds. Smith, the former Mr. Illinois Basketball from Edwardsville, just became eligible to play this season 11 days earlier when the NCAA granted his waiver request. A starter for the first two months of his freshman year at Illinois, Smith finished came two points shy of his career high in 26 minutes of action.
"Man, he's an awful good player," Central Arkansas coach Russ Pennell said. "He's so efficient. He's not overlay athletic, but he's solid and his stroke is pure. He shoots the ball as well as someone I've seen in a long time. He can really have a nice year for Mizzou."
That's the hope for the Tigers (1-0), who need consistent scorers to surface in the wake of Jontay Porter's season-ending knee injury. While Smith did his damage on only nine shots—he was 5 of 8 from 3-point range — Missouri's more seasoned players struggled to catch fire. Seniors Kevin Puryear and Jordan Geist shot a combined 3 of 17 and missed all nine of their 3-point attempts. 
On the bright side, the Tigers were rarely in danger against the Bears from the Southland Conference. Mizzou led by double digits for all but 1:24 of the second half.
On the brighter side, Missouri center Jeremiah Tilmon avoided foul trouble until midway through the second half and finished with 16 points in 26 minutes. Cuonzo Martin's only complaint with Tilmon was his teammates didn't feed him enough.
"Obviously when you get him the ball he can make things happen because he's so physical, so strong," Martin said. "He's progressing his game. He slows down. He did a really good job versus the double team … finding open guys. I was impressed with him."
Martin's Tigers face a stiffer test Friday night at Iowa State. The Cyclones (1-0) opened Tuesday with a 79-53 win over Alabama State.
With an overmatched opponent opening the schedule Tuesday, the most intrigue came before tip-off, when Martin's first starting lineup of the season was revealed. Three of Martin's starters had something in common: They once signed national letters of intent to play for Illinois. Tilmon and Pickett bailed on their commitments after coaching changes at Illinois and Missouri, while Smith spent his freshman season in the Illini backcourt. Puryear and Geist were the other two starters.
Smith had the hottest start for the Tigers, sinking his first thee 3-pointers in the game's opening five minutes. The Tigers climbed to a 13-point lead before going into an offensive funk, missing eight consecutive shots during one stretch. UCA was even worse, misfiring on 10 straight shots early in the half.
Once the Bears got within four points on two straight 3s, Martin called a quick timeout with 4:48 left. Out of the break the Tigers promptly went inside to Tilmon for a jump-hook. On MU's next possession, freshman guard Torrence Watson scored his first college basket, a corner 3, and followed with a fist pump.
Tilmon opened the second half with another basket inside, followed by two more Smith 3s. Smith shot just 23.2 percent from 3-point range last year at Illinois, but after moving to Columbia this summer, he committed himself to mastering his shot from deep.
"I've always been a good shooter," Smith said. "At Illinois, I don't know how to explain it. I just couldn't make shots. I just worked my tail off this summer."
At Illinois, he never pulled down more than three rebounds in a game, but he consistently crashed the defensive boards Tuesday, doubling Tilmon's output on the glass.
"I thought I was going to get 10 rebounds, but he ended up getting them," Tilmon said. "But he's my guy. There ain't no jealousy."
"I've always told our guards, 'I don't know where you get the idea the big guys are supposed to do all the rebounding,'" Martin said. "Everybody has the right to rebound the basketball. The way the game is played now you don't have big guys around the rim as much as you used to. Guys are playing around the perimeter. So your guards should do a good job rebounding. Mark's not afraid to get his nose dirty."
After leading the SEC in fouls last year, Tilmon played 18 minutes before he heard his first whistle, giving the Tigers a physical presence inside without bullying through the paint — for a while. By the six-minute mark of the second half, with UCA still hanging around, Tilmon was on the bench with his fourth foul.
As the Tigers went through another offensive lull, Pickett's 3-pointer gave them some breathing room. Mitchell Smith and Puryear helped the Tigers pull away with back-to-back putback baskets.
In the game's final minutes, Mark Smith passed on perimeter shots in favor of drives to the basket. He earned two foul shots on a baseline drive, then kissed a runner off the backboard for his final points.
"It's one of those deals with him, shoot the ball when you're open but don't neglect your ability to drive to the basket," Martin said. "Because he's strong around the rim. He can make plays."
The Tigers hope a lot more follow.