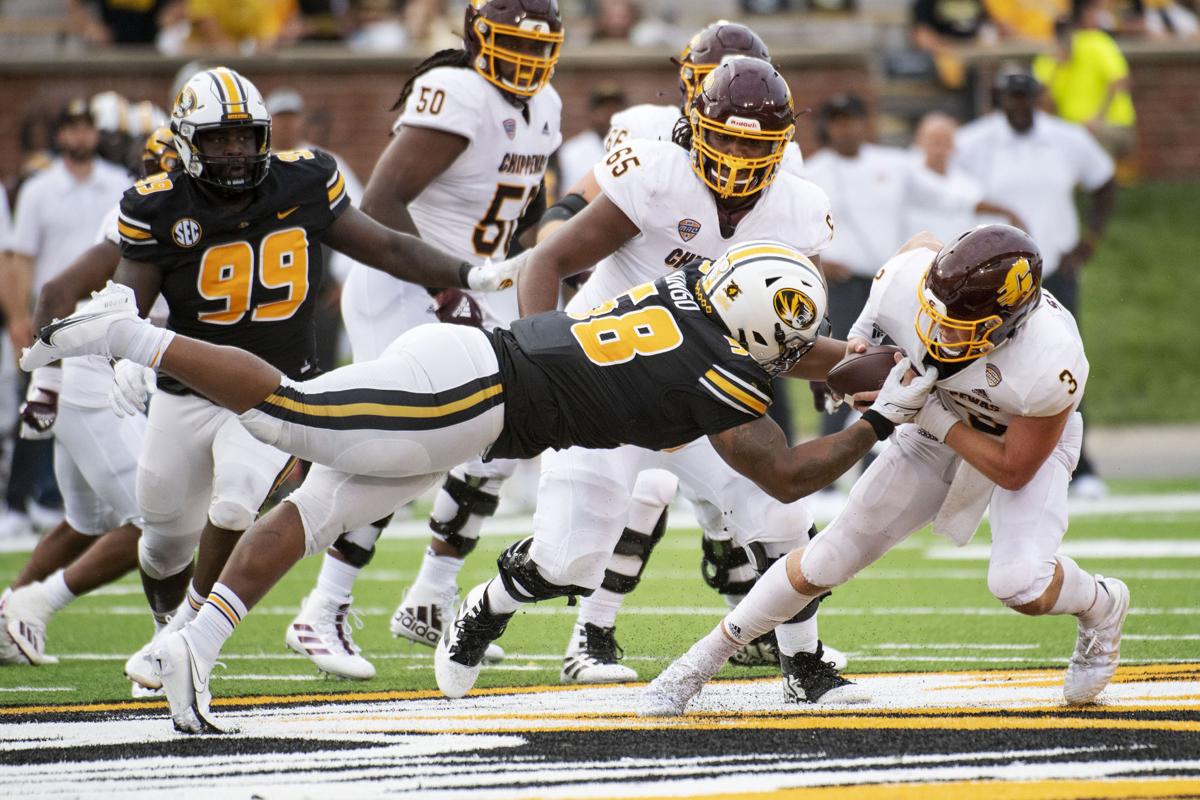 Every Tuesday of his junior year at De Smet High School, Mekhi Wingo spent his afternoon helping kids with special needs.
As part of the De Smet curriculum, students spend half days within the community and Wingo chose to work at the Parkway Early Childhood Center. He loves working with kids, and his high school coach, Robert Steeples, called him a "big kid" at heart.
The preschoolers always waited to see Wingo, not because he was the Gatorade Missouri Football Player of the Year or the amount of stars on his recruiting profile. They just saw him as Mekhi.
While the kids may have learned lessons in school from Wingo, they also taught him a lesson.
"I would say patience because when you work with a child with special needs, you can't just rush everything," Wingo said. "They're not going to do everything you want them to do."
That patience was key when he arrived at Missouri for his freshman season this year, he said. He found himself fighting for a spot on the depth chart amid an experienced defensive line group that returned multiple starters. But it didn't take long for Missouri coaches to take notice of Wingo's explosiveness on the field. And in the team's first three games, Wingo has impressed, and not just for a true freshman.
He ranks No. 8 among Southeastern Conference interior defensive lineman in pass rush grades according to Pro Football Focus and his seven quarterback hurries are second on the team.
He's still adjusting and working on his pre-snap reads, but he's captured the attention and trust of Missouri's defensive staff, who have kept him on the field for more snaps than any other defensive tackle.
"Quick off the ball, very explosive, he's strong, can hold the double team, can split the double team," defensive coordinator Steve Wilks said. "Given the opportunity to be 1-on-1 with a guard, he's been very effective for us winning his 1-on-1's."
As the first player to commit in Eli Drinkwitz's first full class, Wingo said he felt an added responsibility to continue as a leader among the players in his class.
"When I first got here, Darius Robinson… he had me in the indoor (facility) with him at like 10 p.m putting in extra work, learning the technique that the coaches had put in during the spring, (and) had me in the film room learning the playbook," Wingo said. "He really got me a head start before it was even time to hit the field when I got here."
Oftentimes, defensive linemen think that the transition from high school to college relies solely on strength, Steeples, a former Missouri player himself, said.
So, Steeples ran De Smet football practices with a purpose. One of the main reasons he first got into coaching was to share his experiences, including the significant adjustment that college freshmen had to make from high school ball. In practice, he emphasized intentionality with every rep and he also challenged his players to develop their IQ as much as their muscle.
Wingo's intelligence is what most stood out to Steeples.
In a practice during Wingo's sophomore year, Steeples remembers that they were doing a game situation drill and Wingo did a swim move on first down. Steeples told Wingo that he has to be careful doing a swim move, because if it was a run play, he would come out of his gap and allow the offensive lineman to release to the second level.
"And his response to that was, 'well coach the O-lineman went backwards into his pass set so therefore I went to my pass rush,' Steeples, now a Minnesota Vikings assistant special teams coach, said. "I was kind of blown away for a sophomore to have that level of IQ in that moment and to be able to answer the question so honestly. That right there let me know what type of player, but also what type of IQ Mekhi had."
The offseason between his sophomore and junior year, Wingo made significant strides, embracing the grind of being in the weight room every day. That was when Steeples knew that Wingo had what it took to play at a high level. That season, he recorded 97 tackles and 15 sacks, a school record, on the way to a 2019 state championship.
"It was ridiculous numbers for an interior lineman that was seeing double teams a lot," Steeples said.
Taneka Wingo, a Missouri graduate, said that she didn't originally want her son to go to Missouri so that he could explore other areas of the country. But Wingo decided to stay close to home, committing before his final high school season.