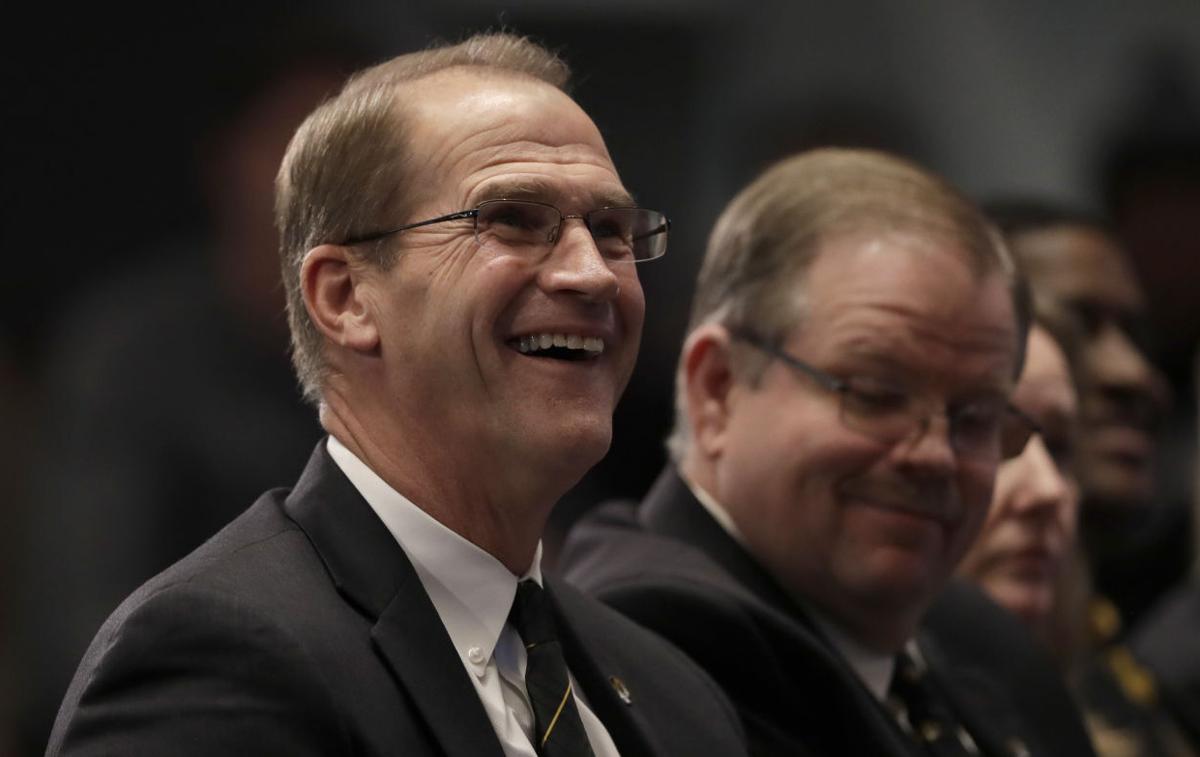 COLUMBIA, Mo. — With two years left on his original seven-year contract, Missouri athletics director Jim Sterk is leaving the position, the school announced Monday.
Sterk informed athletics department employees of his decision in an email shortly after 5 p.m. Monday, saying he and university president Mun Choi had decided that he would step down "once a new leader is found."
"We are grateful for the dedicated leadership Jim has provided over the last five years to position Mizzou for even greater success," Choi said. "We recognize his many contributions and appreciate his continued role as we search for the next leader of Mizzou Athletics.
"We now begin a national search for a visionary athletics director who will develop a strategic plan for Mizzou to achieve exceptional success in the SEC and to navigate a bold path in the rapidly evolving world of collegiate athletics."
"I would like to thank Jim Sterk for his leadership at Mizzou for the last five years," UM System Board of Curator member Jeff Layman told the Post-Dispatch. "We are looking for our next great leader who will position Mizzou as a force in the SEC."
Reached via text message on Monday, Sterk declined to comment. In an interview with the Post-Dispatch last month, he was especially enthusiastic about ticket sales for the upcoming football season.
Asked about his contract status and any possible extension, he said, "I've got two years. Nothing too much (to report) for now."
Sterk's contract expires June 30, 2023.
In Monday's email to department employees, which was obtained by the Post-Dispatch, Sterk said, "I appreciate my time working with each of you, and will make the transition as seamless as possible. I hope to see many of you over the next few weeks to personally thank you for making Mizzou Athletics a great place over the past five years."
Several athletics department employees described Monday's news as shocking. Sterk recently met with the strategic communications team about the search to replace recently departed deputy AD Nick Joos, who started a job Monday at Iowa State. Sterk gave no indications he was leaving, several sources said.
"I am grateful for the hard work of our amazing staff, coaches and student-athletes, as well as the generous support of our alumni and friends during my tenure as athletics director," Sterk said in a statement released by the university. "I believe that Mizzou Athletics is well positioned for future success, and I wish our coaches and student-athletes well in their continued quest for academic and athletic excellence. MIZ."
Sterk, 65, was hired in August of 2016 and agreed to a seven-year contract paying him $700,000 per year. Under his watch, Mizzou achieved major facility upgrades and saw fundraising hit record highs this past year. Under his watch Mizzou completed the $98 million south end zone facility at Memorial Stadium and recently approved a $32 million football indoor practice facility.
Sterk, who replaced Mack Rhoades after his brief stint at MU, hired seven of MU's current 15 head coaches, including men's basketball's Cuonzo Martin, football's Eli Drinkwitz and softball's Larissa Anderson.
In February, Sterk was connected to the AD hiring search at Central Florida before the Knights hired Arkansas State AD Terry Mohajir. UCF president Alex Cartwright served as chancellor at Mizzou from 2017-2020 and was Sterk's boss for three of his first four years at MU.
Several sources strongly stated that Sterk's announcement was not connected to any controversy or single incident, but there's some thought among university officials, according to multiple high-ranking sources, that Sterk's departure gives MU the chance to hire a more dynamic leader to confront some of the major changes coming to college sports, and especially within the Southeastern Conference — from name/image/likeness rules, NCAA decentralization and expected expansion to the football playoff model and SEC membership.
Sterk's five years were marked by a few clear missteps. In 2018, South Carolina women's basketball coach Dawn Staley sued Sterk for defamation for comments he made in a radio interview. MU later paid Staley a $50,000 settlement. Then, after extending football coach Barry Odom's contract in 2018, Sterk fired him less than a year later, leading to a turbulent coaching search that caused some strained relationships and power struggles within university leadership.
Sterk hired Drinkwitz only after members of the university Board of Curators balked at his initial list of finalists, prompting a search reset that led to Appalachian State, where several Curators and Choi joined Sterk to recruit Drinkwitz.
Sterk's first few years on the job were consumed by the NCAA academic fraud investigation he inherited and ensuing appeals process that failed to overturn the major sanctions, including postseason bans for the football, baseball and softball programs.
Under Sterk's watch the athletics department operated at a budget deficit the last four years, mostly because of sagging ticket sales in the two big revenue sports, football and men's basketball. But MU had started to experience a major uptick in donations and football ticket interest in the wake of the coronavirus pandemic. Earlier this month, Sterk said football ticket sales were up 150% from 2019 levels, while MU's Tiger Scholarship Fund had raised a record $55.5 million over the last year. Sterk oversaw three of MU's five biggest years in terms of athletics fundraising.
There should be no shortage of strong candidates for the position, including several Division I athletics directors with strong Mizzou ties — including Buffalo's Mark Alnutt, Virginia Tech's Whit Babcock, North Texas' Wren Baker, Appalachian State's Doug Gillin and Louisiana's Bryan Maggard and New Mexico State's Mario Moccia, all of whom worked previously in MU's administration.
Gillin hired Drinkwitz at Appalachian Sate and was his AD there during the 2019 season.
Alnutt, a Kansas City native, played football for the Tigers in the 1990s and after several years working in MU's administration left Columbia in 2012 to take over as AD at Southeast Missouri State.