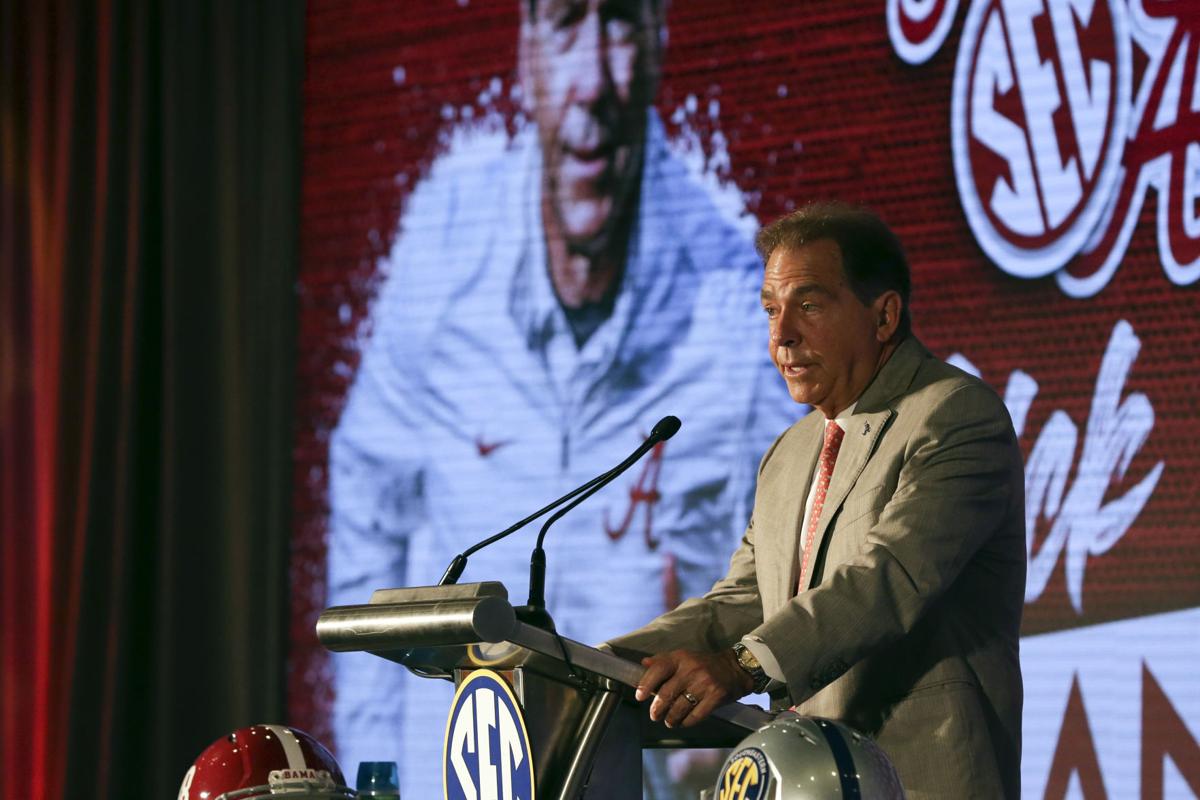 HOOVER, Ala. — Nick Saban cracked a joke.
That wasn't the biggest news to break Wednesday at SEC media days, but in his 19th appearance at the conference's season kickoff event, the Alabama coach showed off his rarely seen sarcasm when a reporter asked him an Xs and Os question about "12 personnel" packages.
"What is 12 personnel?" Saban deadpanned. "Two tight ends and two wide receivers or one?"
"I'm just kidding," he said, flashing a wide smile. "I know what 12 personnel is."
The uncommon moment of levity doesn't mean the 69-year-old coach is getting soft. Hardly. Fresh off his seventh national championship and sixth at Alabama, Saban sounded every bit as driven to capture an eighth ring this fall. The Crimson Tide, 13-0 last season, should open the season on top of the national polls and be favored in every game this year despite returning only three offensive starters.
Alabama has won six of the last 12 national championships and three of the last six — all under Saban's watch. The Tide haven't lost more than two games in a season since 2010. And there's no reason to expect the dynasty will expire any time soon.
In a conference that's welcomed eight new head coaches over the last two offseasons, Saban's longevity continues to distinguish him from his peers. So many of the few coaches who have beaten him in the SEC have moved on, either into retirement or other conferences, from Steve Spurrier to Les Miles to Hugh Freeze to Gus Malzahn. As Saban enters his 15th season at Alabama, only five coaches across the Power Five leagues have been in place longer: Iowa's Kirk Ferentz, TCU's Gary Patterson, Oklahoma State's Mike Gundy, Utah's Kyle Whittingham and Northwestern's Pat Fitzgerald.
What's the secret to Saban's longevity?
"I think that's simple: You've got to win," he said. "So what does it take to win? I think that answers the question better than anything. I think you have to have culture in your organization, which probably comes from the mindset of the people in your organization to have goals and aspirations for what they want to accomplish and what they want to do. And I'm talking about players as well here. They have to have a good understanding of what does it take to accomplish those goals and aspirations to be the best that they can be, and how do they have to edit their behavior to be able to do that and can they have the discipline, self-discipline on a daily basis to execute and do the things they need to do, make the choices and decisions they need to make, so that they can be the best that they can be."
Other factors come into play, too, starting with recruiting. In the last 10 years, Alabama has signed a top-five class nine times, per the Rivals.com rankings. Only three other programs have signed more than four top-five classes: Ohio State (eight), LSU (five) and Georgia (four). The Tide have mastered the transfer portal, too, landing two of the best players on the market this offseason, Tennessee linebacker Henry To'o To'o and Ohio State receiver Jameson Williams, a former four-star recruit from Cardinal Ritter in St. Louis.
"I think he's going to add a lot of speed to our offense," Alabama receiver John Metchie III said, "and I think he's going to help make us more dynamic."
As much as any coach here this week, Saban reflected on the potential upside of the new NCAA rules that allow athletes to profit off their name, image and likeness, which should be a boon for programs that incorporate those opportunities into recruiting. Saban is unsure how the rules will impact the sport long-term, but he's not getting in their way. Earlier this week Saban told the Texas High School Coaches Association at its convention that quarterback Bryce Young had already secured endorsement deals worth "almost seven figures."
"Some positions, some players will have more opportunities than others," he said. "And how that's going to impact your team, our team, the players on the team, I really can't answer because we don't have any precedent for it.
"I know that we're doing the best we can to try to get our players to understand the circumstance they're in, the opportunity they have, and how those opportunities are not going to be equal for everybody, and it will be opportunity for our team's success that people are not looking over their shoulder at what somebody else does or doesn't do."
More than any program in the SEC, Alabama has managed to evolve its habits into ways to create more wins. Several years ago, Alabama modernized its offensive philosophy when Saban gave coordinator Lane Kiffin the OK to build a no-huddle spread attack that's heavy on run-pass option concepts, resulting in one of the sport's most prolific offenses the last few years. Alabama has made similar innovations in the field of athletic training and injury recovery, opening the Alabama Sports Science Center last year. The 14,000-square foot, $20 million facility provides spaces for hydrotherapy, rehabilitation, virtual reality, cryotherapy and mental health. Saban credited the new center and other techniques the staff uses for a 50% reduction in soft tissue injuries last year. The Tide no longer use traditional running drills to test their players and instead rely on GPS monitors to measure health and fitness.
"The players have really bought into it from a flexibility standpoint and a strength and conditioning standpoint," Saban said, "and the technology has been very instrumental in helping the players see their progress and buy in to this process."
That process keeps ticking in Tuscaloosa, with no signs of stopping.