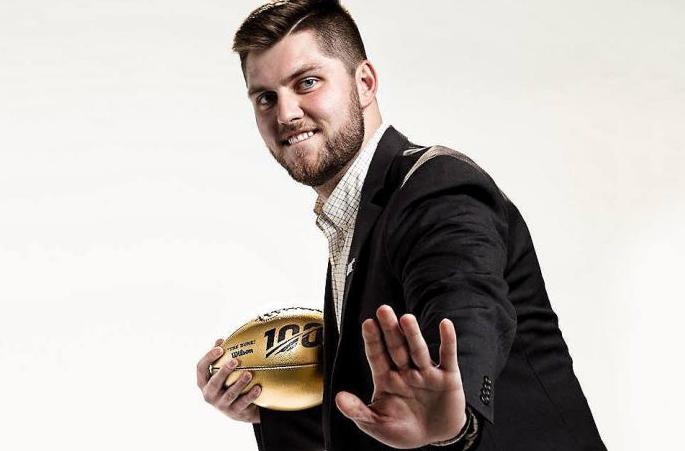 Earlier this month it took 70 seconds and a dozen African American football stars to bend the NFL's will.
One after another, some of the league's most prominent players looked into their smartphones and read from a powerful and carefully written script, challenging the NFL to address issues that have simmered for years.
First posted by Giants running back Saquon Barkley on June 4, the online video has now been viewed more than 3.6 million times in the past two weeks — on Barkley's Twitter feed alone.
Less than 24 hours after the video went viral, its most important target responded when NFL commissioner Roger Goodell posted a video message that featured his first full-throated embrace of the Black Lives Matter movement and, for the first time, an admission of fault for silencing previous peaceful protests by NFL players.
"Without Black players, there would be no National Football League," Goodell said. "And the protests around the country are emblematic of the centuries of silence, inequality and oppression of Black players, coaches, fans and staff. We are listening. I am listening."
Behind the scenes, it took a 27-year-old Mizzou journalism major to put the wheels in motion.
Four days after Minneapolis police officer Derek Chauvin buried his knee into the neck of George Floyd until he died, Goodell released a 150-word statement, offering the NFL's condolences while calling for "urgent need for action." Noticeably missing from the statement were any references to racism, police or protests — issues the league has historically tiptoed around or shunned entirely.
"It didn't really say much," Bryndon Minter said. "That was really frustrating."
Minter, a native of Overland Park, Kan., attended Mizzou with plans to major in broadcasting. Once in Columbia, he pivoted toward the strategic communications sequence in the School of Journalism and focused on producing social media content. After he graduated in 2015, Minter spent a summer living in his parents' basement while working for the Kansas City Royals as a video editor.
A job with Fox Sports would send him to Los Angeles, and then in 2017 a position with the NFL's social media video department. As part of his job he provides NFL players with content for their various social media channels.
While the NFL struggled to address the issues inflaming the country, young employees in Minter's department, both minorities and white employees, like Minter, were troubled by the league's shallow response, he said, especially Goodell's reluctance to utter the words Black Lives Matter. Employees put together an internal memo expressing their frustrations. The league's messaging, they believed, had to be stronger.
"We were letting leadership know this is how we feel and this is the direction we should go," said Jarick Walker, manager of the NFL's influencer and talent marketing department. "Our attempt was to get it as high as possible and as close to the commissioner as possible."
It was two years ago when Goodell and team owners, in response to the anthem-kneeling movement launched by Colin Kaepernick in 2016, approved a policy to require all players to stand during the anthem or stay in the locker room. Players who protested during the anthem were subject to league discipline.
Two years later, with protests resurfacing across the country and surely coming to NFL sidelines this fall, Minter quietly took that internal memo, and along with colleague Nick Toney, drafted a script. They just needed some powerful voices to give the words some clout.
"It grew and grew to the point I was pissed off and I didn't really care if I lost my job in an act of rebellion," Minter said. "Because I knew it was the right thing to be done. I did not want to work for a place that couldn't say those simple words."
That's when he reached out to Saints receiver Michael Thomas. Minter broke protocol and contacted Thomas with an Instagram direct message.
"I told him, 'I can be a tool for you,'" Minter said. "'If you have a message you want to say, if you want to share your voice, that can put pressure on the NFL.'"
Thomas was sold. He said he'd contact other players. That was 11 p.m. Pacific time zone on June 3, a Wednesday night.
By Thursday morning, Minter had told his supervisor about the concept. Minter was asked to join a league Zoom meeting to discuss the project. Thomas called Minter during the meeting, prompting "an Irish goodbye" to his bosses, Minter said. Thomas had good news: Players were jumping on board: Browns receivers Odell Beckham Jr. and Jarvis Landry. Cardinals receiver DeAndre Hopkins and cornerback Patrick Peterson. Texans quarterback Deshaun Watson. Chiefs safety Tyrann Mathieu. Jets safety Jamal Adams. Patriots cornerback Stephen Gilmore. Cowboys running back and St. Louis native Ezekiel Elliott.
Minter rejoined the meeting.
"I said, 'This video is happening. It's being produced. Players are bought in,'" he said.
Soon came the biggest catch. Minter got on the phone with Jacquelyn Dahl, the marketing agent for Chiefs quarterback Patrick Mahomes, the reigning Super Bowl MVP and arguably the NFL's biggest star.
"We're going to have a respectful tone," Minter said he explained. "It's not an attack on the league. It'll be respectful. 'As the players, we want you to listen to us.' That's the main message. And they were completely behind that."
The video's concept was simple. Minter sent the script to Thomas, who passed it along to the other players. They'd each read the script in a selfie video and send it back to Thomas, who relayed each video to Minter through Instagram. Minter edited the footage into a 1 minute, 10-second montage.
The video opens with Thomas saying, "It's been 10 days since George Floyd was brutally murdered."
Then, Mathieu: "How many times do we need to ask you to listen to your players?
Then, Hopkins: "What will it take?"
Players then took turns reciting the names of African Americans killed by police officers in recent years, including Ferguson's Michael Brown Jr.
The video ends with a request to the league:
"This is what we, the players, would like to hear you state:
"We, the National Football League …
Adams: "Condemn racism and a systematic oppression of black people.
"We, the National Football League…
Gilmore: "Admit wrong in silencing our players for peacefully protesting.
"We, the National Football League …
 "Believe Black Lives Matter."
By no coincidence, it was Mahomes, the NFL's biggest star, who was the first to say Black Lives Matter.
"That stuff needed to be said," Mahomes later told reporters during a media conference call. "We needed to come together as players and show that we believe black lives matter. We believe this needs to be informed. We need to be the role models to go out there and take that step."
Thomas initially wanted each player to post the video on social media simultaneously, but Barkley pushed send first. Within 20 minutes, the other players shared it on their accounts.
Barely 24 hours had passed since Minter first contacted Thomas.
"On a regular timeline that takes two to three weeks and we don't get anywhere close to that star power that was involved," Minter said. "To turn around a video like that in 24 hours with essentially a Pro Bowl roster I don't know if that will happen again."
The next morning, the NFL's top leadership called a Zoom meeting and invited all employees to participate. Goodell wanted to hear more. Walker read a five-paragraph letter expressing his feelings about the league's missteps. But he was inspired by the players' words.
"As a Black man in America," Walker said, "hearing and understanding the sentiments of the Black community and with the players being 70-percent Black, we understood each other without having that conversation."
"It was so powerful," he added, "I watched it five times in a row. It was special. I still get chills thinking about it."
"He was in a vulnerable place," Minter said. "To use the players' script and read it verbatim was jaw-dropping. I couldn't believe that happened. I know the players thought the same."
In the 24-hour blur before the video went viral, there was a moment when Minter thought the NFL might fire him.
By Friday, he was starting to think about future projects.
"The players speaking that message had all the power," he said. "As an employee who made that happen and able to use my privilege as a white man to go against the league and try to organize this, once it was posted I very much felt there was no way they could try to fire me.
"I even told Mike, 'There's a chance I could lose my job.' Throughout the day he was like, 'If that happens, we got you.'"
Dave Matter brings you the latest updates from the Mizzou sports scene.