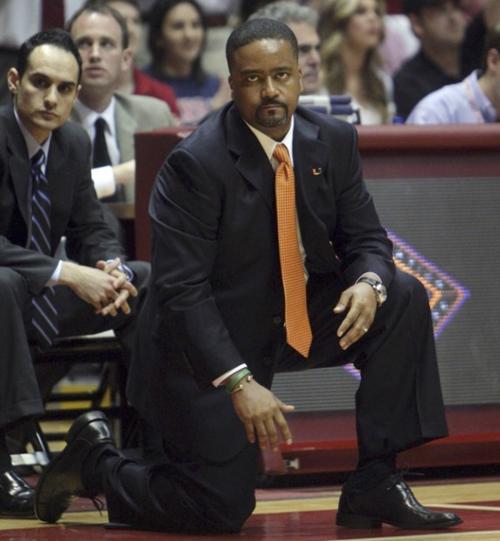 Mizzou's search to replace men's basketball coach Mike Anderson began with Purdue coach Matt Painter, who teased, then turned down MU last week.
Failed attempt or not, it suggested a reach for star power and made the college basketball world sit up and take notice.
The search took a zig and a zag over the weekend, when MU reached out to Tubby Smith, according to a source close to Smith, as it appeared to be waiting for a chance to take a swat at a name in the national spotlight: Shaka Smart of Virginia Commonwealth.
But by the time all was said and done late Sunday night, MU had set its aim so off the radar that the college basketball world could only say... huh?
MU hired Miami coach Frank Haith, 129-101 with one NCAA Tournament appearance in seven seasons and a 43-69 record in Atlantic Coast Conference play - including 10-22 the last two seasons.
At a time when nearly every conceivable name had been bandied about in one publication or Internet posting or another, MU managed to find one who had seldom if ever been associated with the job and at least on the surface seemed anonymous for a reason.
Haith's numbers pale in comparison to Painter, who has taken six of his seven teams to the tournament and was stopped a game short of a third straight Sweet 16 this season ... by Smart's VCU team, which along with Butler captured the imagination of the nation's basketball fans with its run to the Final Four.
Many believed Mizzou would at least consider going after Smart, who despite his current high profile might have been a questionable candidate because he was only in his second year as a head coach.
Still, VCU's five NCAA wins this season were four more than Haith, 45, has had in his career at Miami, leading to an outburst of media and fan criticism of the hire on the Internet late Sunday.
"Wow. Awfully Disappointed in the response that some Mizzou fans are giving," Mizzou guard Kim English posted on Twitter late Sunday. 
Haith's key selling point is his past as a recruiter, much of it in the Big 12. In his Miami bio, he is credited with recruiting six McDonald's All-Americans during his days as an assistant coach at Wake Forest, Texas A&M and Texas, though none since becoming a head coach.
At Miami, a source close to the committee noted, Haith graduated 21 of 22 seniors.
MU's board of curators scheduled a special meeting at 7:45 p.m. Monday  by telephone for an unspecified matter that now appears likely to be related to Haith's hiring. The curators must approve a contract for Haith before the deal can be finalized.
According to the Associated Press in Miami, Haith is expected to return to the school Monday to tell the Miami players of his decision personally, then be introduced in Missouri as early as Tuesday. Haith had been in Houston at the Final Four.
Anderson left Mizzou after five seasons on March 16 for Arkansas, where he had been an assistant for 17 years. Alden said at a news conference that night that it was more important that MU get the new coach right than get him hastily.
Mizzou, though, seemed to zoom in rapidly on Painter, with whom Mizzou met before he ultimately rejected Missouri and sent the search from an open secret into a mystery that ended late Sunday.