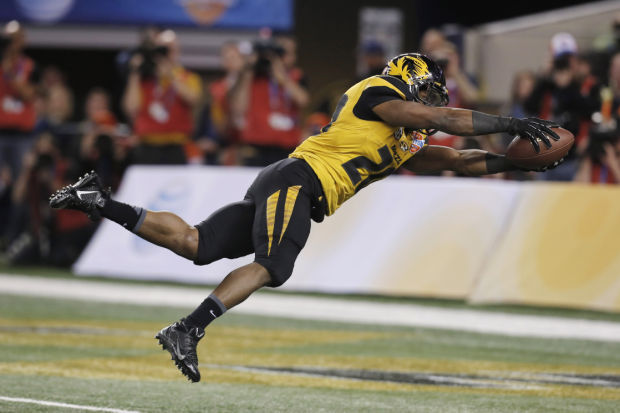 COLUMBIA, Mo. • The clock had struck midnight on Missouri's latest football season — in more ways than one after the longest Cotton Bowl in history — when Evan Boehm entered the interview room at AT&T Stadium sporting a new look. His Tigers had just fashioned a 41-31 season-ending win over Oklahoma State and Boehm sported a clean face for the first time in months, the shaggy beard he wore all season shorn in a postgame shave.
For the Tigers, who after a 12-2 season should finish no lower than No. 4 or 5 in the national polls, enough players return this fall to expect another championship run. While bidding farewell to a storied senior class, thoughts of the 2014 season were impossible to ignore after Friday's dramatic bowl win.
Nine players who started in the Cotton Bowl return next season, unless junior tailback Henry Josey opts for the NFL draft. That's a decision he's yet to make he said after winning offensive MVP honors Friday. If Josey returns, the Tigers will be stocked with proven firepower: Five of the team's top six rushers will be back, three of the top five receivers and redshirt freshman quarterback Maty Mauk, who was 3-1 in Southeastern Conference games replacing injured senior James Franklin midway through the Tigers' run to the SEC Eastern Division title.
Mizzou also returns center Boehm, right guard Connor McGovern, right tackle Mitch Morse, its top three defensive tackles, defensive ends Shane Ray and Markus Golden, outside linebacker Kentrell Brothers, free safety Braylon Webb and both kicking game specialists.
"There's going to be a couple question marks here and there," Boehm said. "But at the same time I don't think the University of Missouri is rebuilding. We're reloading. We have the players to reload with."
That process will start at quarterback, where Mauk will enter spring practice as the team's most seasoned option. But as Pinkel suggested after the Cotton Bowl, he'll face some competition from other backups, led by freshman Eddie Printz, who came off the scout team to serve as Mauk's backup in practice while Franklin recovered from a sprained shoulder.
With his 24-yard touchdown pass to Marcus Lucas on Friday on his first of two series, Mauk finished with 11 passing TDs — more than 12 FBS teams managed this season. He also posted a better season passer rating (143.1) than Franklin (141.9) and figures to be among the top returning quarterbacks in the SEC next season after several high-profile passers move on to the NFL. The last Mizzou quarterback to throw at least 100 passes in a season and post a better QB rating? Chase Daniel in 2008.
Should Mauk become the starter this fall, he'll work with a group of receivers led by junior-to-be Dorial Green-Beckham, a second-team All-SEC pick this year and a virtual lock for first-team preseason honors. Green-Beckham shook off a slow start Friday to make the game's biggest catch, a 27-yard snare along the sideline on third-and-9, setting up Josey's go-ahead touchdown run on the next play.
"Big players got to make big catches like that," said Green-Beckham, whose sophomore season ended with a team-best 59 catches for 883 yards and 12 touchdowns. "Obviously James made a big throw and I made a big catch to put us in field position for Henry to run in that touchdown to put us up."
Pieces of Missouri's future were on display in the Cotton Bowl, but the Tigers also bid farewell to a cast of seniors who will long be remembered for reviving the program after 2012's 5-7 setback. Franklin's college finale rarely resembled the steady play he delivered earlier in the season, though his supporting cast played a role in each of his three turnovers. His first-quarter interception glanced off Green-Beckham's hands. A botched handoff with Josey led to a fumble. A receiver failed to block a defender on a bungled option pitch that led to another fumble. Franklin's receivers struggled to catch the ball through the first three quarters.
"A quarterback can't get in rhythm if receivers are out there dropping passes," senior wideout L'Damian Washington said. "Our receiver corps struggled early in the game and we didn't help James out at all. James did a great job trying to find us but we weren't making the tough catch."
But Franklin ultimately led the Tigers on what became the game-winning drive, capped by the third-down strike to Green-Beckham along the sideline. Franklin didn't talk to reporters after the game but Saturday morning addressed his Mizzou finale on Twitter: "Not nearly the performance I wanted to have for my last game as a Tiger, but I've been very fortunate to be on such a great team!"
The Tigers also got pivotal plays from their star defensive ends in their final college games. Kony Ealy, who announced after the game he will enter the NFL draft and skip his senior season, notched two sacks in the second quarter to stifle OSU's momentum. Michael Sam, the unanimous All-American, clinched the game when he sacked Clint Chelf and forced a fumble that Ray returned for a touchdown in the game's final minute.
Neither defensive playmaker will be back this fall, but that didn't dampen the mood when they looked toward the future.
"A lot of people are going to show up next year and they're going to pass the torch down to younger players," Ealy said. "We have a great recruiting class from last year and we're going to have a good recruiting class this year. It's all about dedication and work and I know the guys I played with are going to pass that down to the next ones."