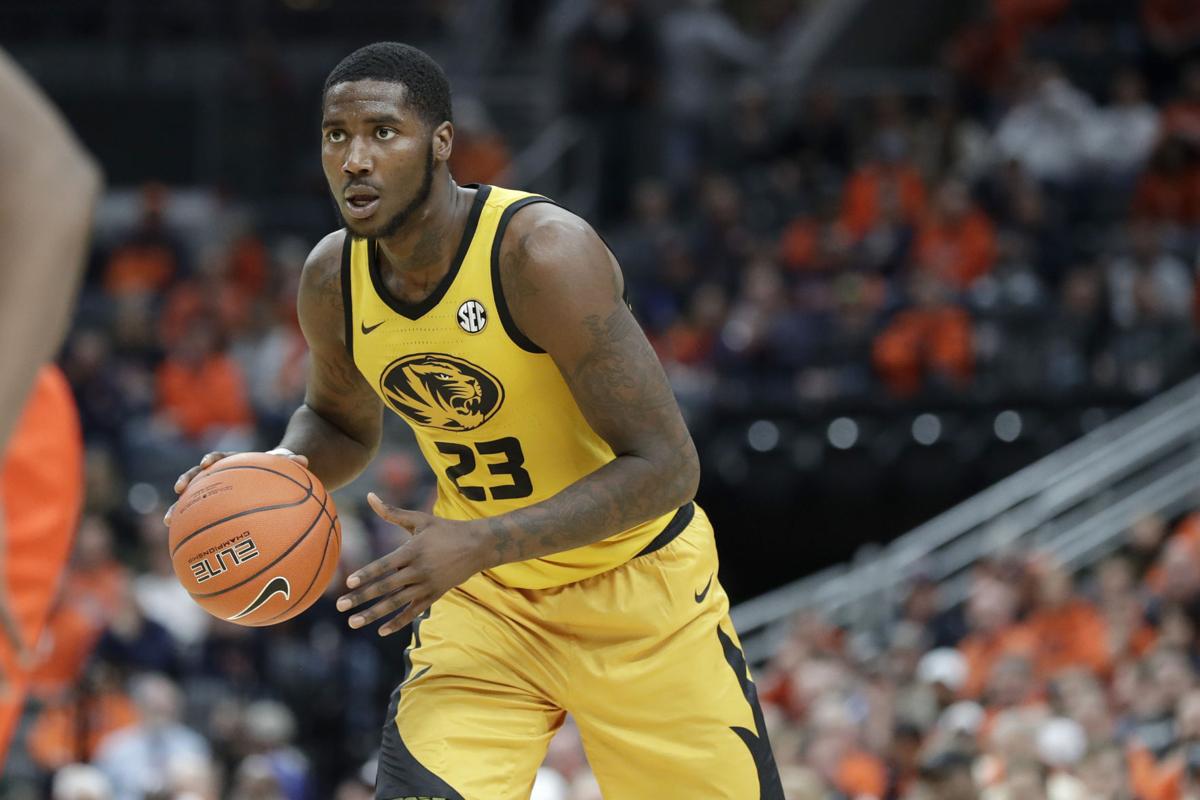 COLUMBIA, Mo. — There was never a great chance Missouri's Jeremiah Tilmon would become a serious NBA prospect this summer, especially once the NBA's evaluation process was crippled by the the coronavirus. But Cuonzo Martin knows just how Tilmon can position himself for a place in the league: Play his way into the 2021 draft.
"We spent a lot of time talking this summer," Martin said Friday on Zoom. "Jeremiah is as talented as any at that (center) position. But I think for him, growth and composure is the key, maintaining composure, consistency. And then playing the game filled with joy. Because Jeremiah is a guy that loves to play the game, but he's not a guy consumed with stats. So it's not as if he needs to have 20 points to be successful. He's a very selfless young man. He values team and all that, but I think for him (it's) composure first and foremost."
Tilmon is one of three Mizzou players who explored their NBA draft stock this summer but elected to return for the 2020-21 season, along with fellow senior big man Mitchell Smith and junior guard Xavier Pinson. Tilmon's junior season was sideswiped by a foot injury that cost him 14 games before he returned for a promising finish. His minutes were down for the season (19.9 per game), along with his averages for points (8.2) and rebounds (4.4), but he shot a career-best 58.9 percent and showed signs of being a more reliable defender: He cut down on his fouls (5.3 per 40 minutes) and blocked a career-best 1.2 shots per game.
Martin is convinced he hasn't seen the fulfillment of Tilmon's potential. The 6-10 East St. Louis native was among the few players who spent most of the summer in Columbia while others returned home during the facility shutdown enforced by the Southeastern Conference.
"I talked to him about understanding what will make him successful, because for me the most important things are team success, of course," Martin said. "But in order for our team to be successful, Jeremiah needs to be an elite rebounder, whether it's five rebounds a game or 10 rebounds. So it really is his approach to rebounding, improv(ing) his ability to make plays at the rim in the face-up (game) or at the basket but also being strong with the basketball, not losing the ball, minimize turnovers and consistently get to the free throw line, because he's improved his free throw shooting every year."
"I think he was better defensively this past season," Martin said. "But now the next step, which is subtle, because he didn't foul as much, is just playing defense, and not playing like, 'I don't want to foul.' Just play defense. I thought he gave up opportunities to be aggressive and assertive because he didn't want to foul.
"I think with him playing 20, 20-plus minutes a game very hard, I think he'll be an NBA prospect when that happens."
While other Mizzou teams returned their players for summer workouts in June and July, Martin encouraged his players to stay home with their families. A few have since reported for offseason workouts, including junior guard Torrence Watson and newcomer Ed Chang. The rest are due to arrive by Aug. 13, Martin said. Once the 2020-21 squad is together for the first time, Martin will have one of the most experienced teams in the major conferences with nine juniors and seniors among his 12 scholarship players. The only other roster Martin has coached with as much experience reached the Sweet 16 of the NCAA Tournament, his 2014 Tennessee team.
Coming off two straight 15-win seasons, the Tigers will bank on a more seasoned core being the difference.
"I think what we have to grow more than anything is the total commitment to sacrifice," Martin said. "And I think sacrifice nowadays is harder than it was then because when you're talking one-and-done (in college) and being an NBA player, all those things are fine. It has to increase your work ethic, your desire and all those things, but more than anything, it has to increase the sacrifice levels and your commitment to a team. Credit to Kentucky. I think what Kentucky has shown over the past maybe six, seven, eight years with a lot of guys that are one-and-done guys, you don't have to play 30 minutes to be successful. You don't have to play 30 minutes to get drafted. I think that's a great blueprint for guys to understand as long as you're effective with your production per minute — and those are the things that we've talked to our guys about being productive per minute.
"I think with our all personnel, I'm not sure we'll have guys play 30 minutes a night. You guys probably heard me say this before I thought I played a lot of minutes in my senior year in college and thought I never came out of game. But I only played 28 minutes a game. But I'd like to think I played hard on both ends of the floor. We have to get our guys to consistently play hard on both ends of the floor, every possession down."
Dave Matter brings you the latest updates from the Mizzou sports scene.