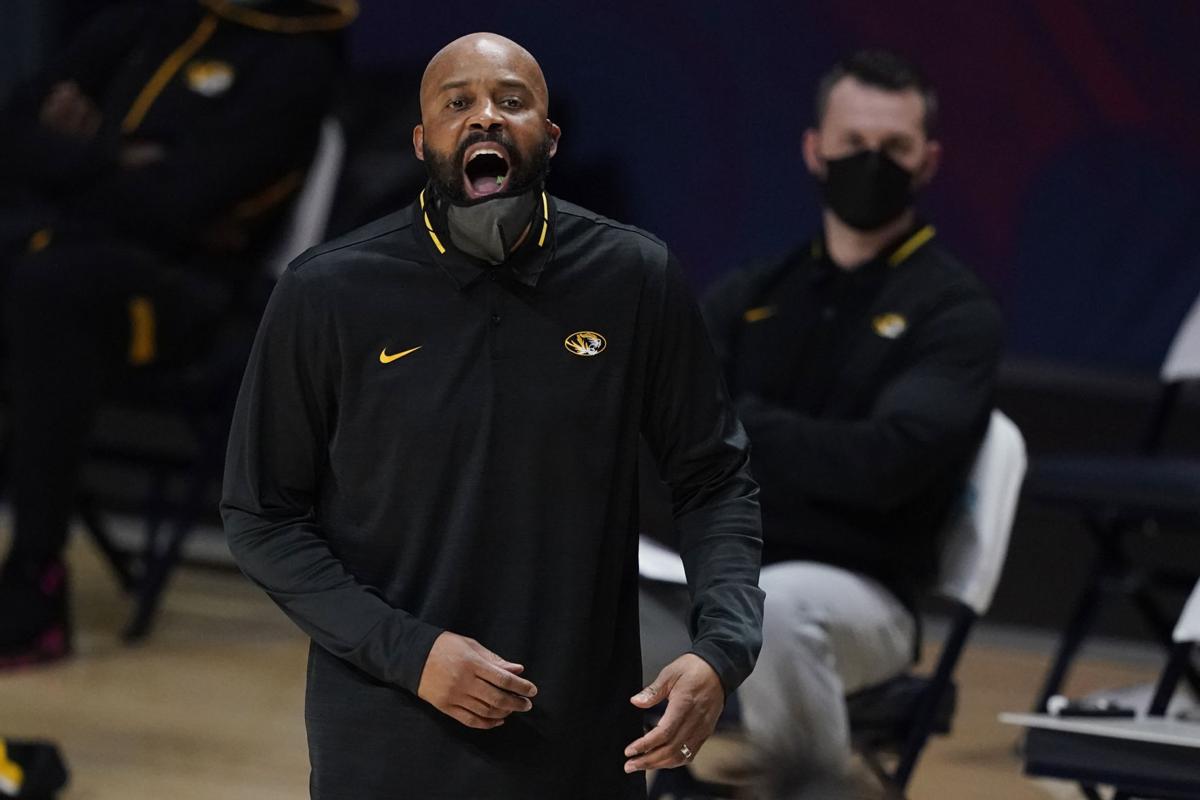 The impact of Jeremiah Tilmon's return to the Missouri basketball team was impossible to miss Saturday at South Carolina: The senior center didn't miss a single shot from the field or the foul line, led the Tigers in scoring, supplied the inside presence few teams in the country can match and didn't commit any fouls in the much-needed 93-78 victory.
The impact of Tilmon's return to a locker room full of coaches and teammates who care deeply about the program's longest tenured player was impossible to miss, too.
Tilmon had been away from the team for a week after the death of his grandmother — the second grandmother he's lost in the last eight months — and it's no coincidence his return brought out the best of the No. 20 Tigers.
"He's one of our guys. We feel what he feels," Mizzou coach Cuonzo Martin said minutes after his team snapped a three-game losing streak. "Though it's not our blood relationship, we feel that because that's our guy. To have him back in the fold, (you say), 'You good? You OK? Good, now let's roll.'"
The Tigers (14-6, 7-6 Southeastern Conference) rolled along indeed behind Tilmon's lead. He came off the bench for the first time this year but powered Mizzou's balanced attack with 17 points, shooting five for five from the field and seven of seven from the foul line.
Dru Smith matched Tilmon's 17 points and added seven assists, while Xavier Pinson scored 16 points without committing a turnover. Mark Smith added 13 points and Kobe Brown finished with 12 as the Tigers scored their most points in an SEC game in Martin's four seasons. The win also marked MU's first SEC regular-season series sweep since 2014.
More important, Mizzou broke out of its skid and avoided the troubling trend that defined the recent struggles. 
The Tigers set themselves up for another second-half collapse when they surged to a 19-point lead before halftime. But this time, when South Carolina appeared poised to pounce, Martin called a quick timeout and MU soon restored order.
The last seven SEC opponents had outscored Mizzou in the second half — the last three by 39 points — but when the Gamecocks (5-11, 3-9) got within seven points nine minutes into the second half, Mizzou responded with a 19-6 run to regain control for good. With leading scorer A.J. Lawson warming up — he'd finish with 22 points — Martin's timeout, coming 2:09 into the half, kept the Tigers from unraveling.
"We just all came together, and we said we've got to nip this in the bud right now," Mark Smith said.
Unlike Tuesday's loss at Georgia, the Tigers avoided the live-ball turnovers that led to transition baskets. They took efficient shots within the flow of the offense and built on their lead, no matter which players were on the floor. Javon Pickett added two much-needed baskets before leaving the game clutching his left ankle. Just before the 12-minute timeout, Tilmon salvaged a lost possession with a shot-clock beating jumper for a 59-48 lead.
Then, with South Carolina down just 59-52, Tilmon sank two more free throws and Dru Smith followed with a steal, layup and free throw. The Tigers maintained a double-digit margin the rest of the way and stayed on the attack. Mark Smith answered with a personal 7-0 run, scoring on a transition layup, a runner in the lane, then a 3-pointer.
Where did this newfound resolve come from? The Smiths pointed to what they described as a cathartic players-only meeting in the aftermath of Tuesday's loss at Georgia.
"You just hope that you get everything out there, you get everything off your chest, anything that's been bugging anyone, anything that anyone has to say that they think is going to help us," Dru Smith said. "We want to get it out, get it out in the air . . . and then figure out ways that we as a team, without the coaches, think that we can fix that."
Getting their big man back might have been the most important fix. The losing streak started with a flat performance at Mississippi, during which Tilmon was playing with a heavy heart and clearly was not fully engaged in the game. Without Tilmon, the Tigers took Arkansas to overtime last Saturday but fell short, then couldn't preserve a 13-point second-half lead at Georgia.
On Saturday, Tilmon's return made the Tigers better on both ends of the floor — especially in the paint, where MU outscored South Carolina by 14 points. The Tigers shot 16 of 19 on dunks and layups at the rim; South Carolina was 11 of 18.
Tilmon's poise at the free throw line was perhaps the day's most surprising development. He'd fallen under 50% from the stripe before Saturday's game — then coolly sank all seven of his attempts.
"Sometimes those fresh legs are a good thing," Martin said. "He had a chance to be with his family, to gather his thoughts, and of course his teammates welcomed him back. . . . There were no expectations for us as a staff, just, 'Play as hard as you can. We'll get you in and get you out.'"
After the game, Tilmon wasn't ready to take questions from reporters on the postgame Zoom, but, naturally, his coach and teammates had his back.
"Just having his presence out there on the floor is something that you can't really replace," Dru Smith said. "So it was definitely nice to have him back. Obviously we're all happy, and the energy is lifted just to get him back in the locker room and just have him around."
Saturday's win was No. 250 for Martin in his 13 seasons as a head coach. He took the milestone in stride.
"I'm grateful," he said. "There are more important things in life than me winning some ball games. I truly appreciate all of them because they're so hard to come by. We'll just keep plugging along."
Martin improved to 64-52 at Mizzou to go along with 61 wins at Missouri State, 63 at Tennessee and 62 at California.
PINSON SHINES ON BOTH ENDS
Pinson played his cleanest game in weeks. The junior guard took smarter shots, attacked the paint more often and rarely settled for the untimely pull-up 3-pointers that had taken the Tigers out of their comfort zone in recent games. He added a couple steals and caught his coach's eye on the defensive end — for all the right reasons.
"I thought that was one of his best efforts in a long time on the defensive side of the ball," Martin said. "I really did. I could see that. It's not like someone on the staff told me. I saw that.
"When he takes pride in playing defense he's a different player and we're a different team. And that's what we need from him. He can't compromise that part. He has to take pride on the defensive side. Because he can score the ball. And I think sometimes he has careless turnovers. That's just simply focus and concentration."
Mark Smith seems to be past his midseason scoring funk. The senior from Edwardsville has now reached double figures in four of his past six games. He connected on three of his five 3-pointers, didn't turn the ball over and matched Dru Smith's team-high plus-minus rating of plus-17.
"It's huge to have Mark contributing and just having him playing good basketball," Dru Smith said. "I think there for a second he was kind of questioning himself when he was out there, and he looks like he's back to being confident and being the Mark Smith that we all know and that we love to play with. He's always gonna give you energy. He's always gonna give you effort. And when he's knocking down shots, it makes us even that much harder to guard."