We're staying on defense as we count down the most important players for the 2019 Missouri Tigers ...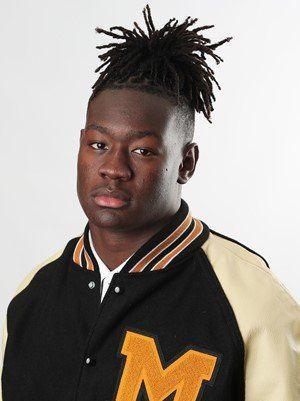 Shane Ray isn't walking through that door. Nor is Kony Ealy or Markus Golden. The Tigers haven't had a consistent pass-rushing threat off the edge since Charles Harris — Marcell Frazier had his moments but didn't strike the same kind of fear in offensive tackles — but the wait might be over. Mizzou signed a couple high school defensive end prospects in 2018, hoping they'd reconnect the program to its proud past along the edge. Trajan Jeffcoat, No. 7 on on the countdown, now gets his shot. The sophomore from Columbia, S.C., had one tackle behind the line of scrimmage last season as a reserve, a sack against Arkansas. Whatever he did this offseason was enough to earn first-team snaps in the spring. He'll open preseason camp as a starter with a chance to provide some much-needed juice off the corner. 
Up until 2017, Mizzou could make a case for Defensive End U. Since All-American Justin Smith was the No. 4 overall pick in the 2001 NFL draft, the Tigers had produced another 11 first- or second-team all-conference defensive ends: Brian Smith, Stryker Sulak, Aldon Smith, Brad Madison, Jacquies Smith, Michael Sam, Ealy, Ray, Golden, Harris and Frazier. But then came 2018 and the Tigers could barely generate a whiff of pressure off the edge. Tre Williams led the defensive ends with 2.5 sacks. Chris Turner had two. Nobody else had more than one, putting more stress on the interior, the linebackers and defensive backs to generate any heat on the quarterback. Williams could make his way back to the roster, but he's not on the depth chart heading into camp. Turner is back on one side with Jeffcoat listed as the other starter. With Williams suspended during the spring, Jeffcoat vaulted to the first team after seeing his role expand on the third-down package late last season.
"It's big for a guy to get quality time early and get in there and see what the fire looks like," defensive line coach Brick Haley said in the spring. "Now he knows. He's got his feet wet. He understands that. Now we've got to put him down in the deep water and see if he can swim."
If not Jeffcoat, then sophomore Jatorian Hansford could be the answer. Or maybe junior college transfer Sci Martin, the New Orleans native from East Mississippi Community College, the original "Last Chance U" of Netflix fame. Martin is the team's only newcomer who didn't take part in spring practices who still cracked the preseason depth chart. Akiel Byers, who replaced Williams in the starting lineup midway through last season, is another option, but at 295 pounds might be better suited to play inside. Either way, he gives the line much-needed flexibility if the sophomores don't produce quickly.