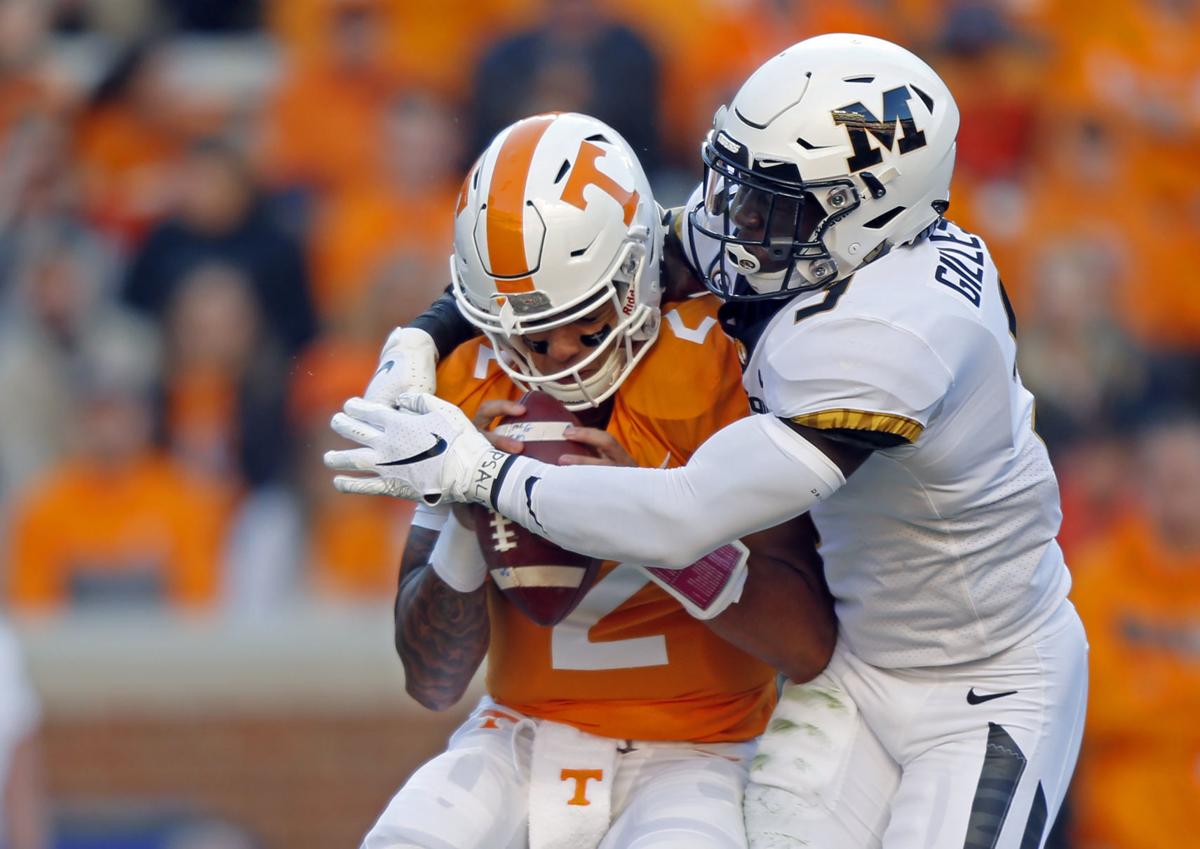 COLUMBIA, MO. — A week from Thursday Missouri football players will report for preseason camp and have their first official preseason team meeting in the new south end zone complex at Memorial Stadium.
Practice No. 1 of the preseason is next Friday, the first of 17 preseason practices, 14 of which will be open to the media. (Kudos to Barry Odom for providing what should be the most media accessible preseason camp in the Southeastern Conference and one of the most open camps in major college football.)
Next Friday will get here fast, which means summertime is closing fast and we're that much closer to another season of Mizzou football, one that's going to be full of intrigue and suspense. And that's not even counting the action on the field. Here on the blog at Eye on The Tigers, we're going to take a break from talk of NCAA infractions and appeals and refocus on the football part of the football season. Over the next 10 days we'll count down the most important players on the 2019 Tigers.
Obviously, a list as such is completely subjective and open to debate and criticism. The methodology that shapes this list comes down to impact and upside: What 10 players have the best chance at determining whether the upcoming season is a success or failure? We'll start at the bottom with No. 10 and conclude with No. 1 on Friday.
10. Tyree Gillespie, junior, safety
Midway through the 2018 season, Odom and defensive coordinator Ryan Walters shook up their starting lineup heading into the Oct. 13 showdown at No. 1 Alabama. Among the changes was the insertion of Gillespie, then a sophomore, into the starting unit. Tua Tagovailoa strengthened his Heisman Trophy campaign that night in a 39-10 romp, but Mizzou's defensive changes stuck — and the Tigers won five of their next six games with the only loss coming on Kentucky's excruciating game-winning touchdown on an untimed down. Gillespie thrived on the back end and despite playing only a limited role in the season's first month finished as the team's No. 3 tackler with 48 stops, more than any other player in the secondary.
This fall, Gillespie returns as an entrenched starter at strong safety in MU's 4-2-5 base defense that will employ three safeties, with Ronnell Perkins and Khalil Oliver competing for one job and Joshuah Bledsoe back at free safety. Initially this spring, MU was calling Gillespie's position boundary safety but has since tweaked the depth chart. He's now called a strong safety but still expected to play a traditional deep safety position with the ability to move closer to the line of scrimmage for support the run or rush the passer.
What hasn't changed is Gillespie's combination of size (6 foot, 210 pounds) and speed in the secondary. For two years, coaches have talked about the Florida native as the team's best overall athlete. They'll expect to see that translated into more production this year. Gillespie was active around the ball last season — he averaged 5.3 tackles once he joined the starting lineup — but only knocked down one pass. The next step is coming up with deflections, interceptions and forced fumbles, the kind of growth cornerbacks DeMarkus Acy and Christian Holmes made last year, when they combined for 22 breakups and five INTs.
"He's about the most athletic kid we've got on the team right now," Walters said last November. "I think he's got a chance to be really special. It's just up to him to how good he wants to be in terms of how much time he wants to put in for film study and taking care of his body."
The Tigers have two All-SEC candidates at cornerback in Acy and Holmes. They'll need another dynamic playmaker in the secondary to match the firepower from their most potent opponents. Gillespie has the chance to be that difference-maker. The SEC coaches have not named one Missouri safety first- or second-team All-SEC since the Tigers joined the league in 2012. (Braylon Webb was a second-team media choice in 2014). Could Gillespie break that streak?