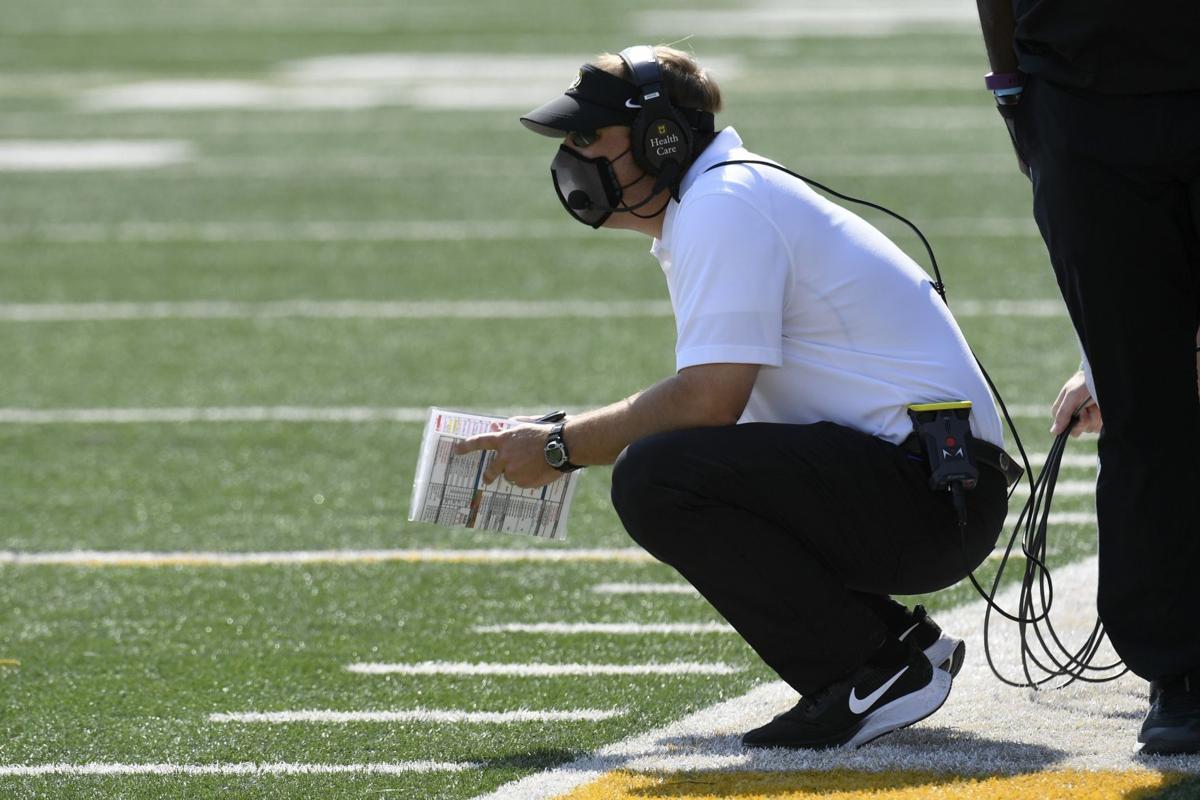 COLUMBIA, Mo. - Another Missouri football game is on the move. Last week, it was a 700-mile adjustment. This time it's eight weeks.
Mizzou's homecoming game scheduled for Saturday against Vanderbilt will be postponed for reasons related to Vandy's depleted roster because of COVID-19 cases, the Southeastern Conference announced Monday.
The came is being tentatively rescheduled for Dec. 12 in Columbia "due to positive tests and subsequent quarantining of individuals within the Vanderbilt football program, consistent with Southeastern Conference COVID-19 management requirements," the league said.
This is the first SEC game postponed for reasons related to COVID-19 but the second straight Mizzou game to be rescheduled. This past Saturday's game against Louisiana State was moved from Baton Rouge, Louisiana, to Columbia to avoid any issues from Hurricane Delta.
Vanderbilt (0-3) played Saturday's game against South Carolina with only 56 scholarship players. The SEC's coronavirus protocols allow teams to postpone games if they have fewer than 53 scholarship players available. Vanderbilt has several injuries and, like Mizzou, had six players opt out for the 2020 season because of COVID-19. 
Missouri coach Eli Drinkwitz was not available to discuss the postponed game with local media but appeared on "The Paul Finebaum" show on SEC Network Monday afternoon. Drinkwitz said Mizzou first learned that Vanderbilt wasn't playing the game when Mizzou's local bus company alerted MU that Vanderbilt had canceled its local bus service for this weekend.
"We got word from the SEC office that Vanderbilt had fallen below the COVID threshold, and we absolutely understand," Drinkwitz said. "We've been dealing with COVID just like everybody else. Our number one priority is for everybody at Vanderbilt to be safe, the players to be safe. These football contests can be made up. We're going to use it as a positive for us here at Mizzou. We'll use the week to get healthy. We'll use the week to improve. We'll use the week to get refocused on our academics. Then we'll use the week to get focused on our next opponent after that which will be Florida."
Missouri athletics director Jim Sterk said Monday that if both Missouri and Vanderbilt aren't in position to win the SEC Eastern Division, the teams could have also met on Dec. 19, when the league will host its championship game in Atlanta. 
"It's not like people were intentionally (contracting the virus)," Sterk said. "The virus is dangerous as far as being contagious. You can't always predict what's going to happen. I appreciate everyone trying to work together. We'll try to get through this football season. Every game means a lot. We want to qualify for a bowl and have our full 10-game season. What's frustrating is I can't take advantage of having Alabama and LSU and Georgia on my home schedule and I can't have sell a bunch of tickets. That's really frustrating."
Mizzou's next home game won't be until Oct. 31 against Kentucky. By then, Sterk said, it's possible MU could increase its capacity at Memorial Stadium depending on local health guidelines. For MU's first two home games the capacity has been 11,738.
Sterk confirmed that Mizzou first learned that Vanderbilt planned to postpone the game through the local bus company.
"Columbia is a small town," he said, "so if the Vandy folks are trying to be preemptive and get things done we hear about it." 
Sterk said he was not surprised by the decision and that the SEC "was worried about Vandy last week" when Derek Mason's team had so few players available for its game against South Carolina.
"The league and universities have been prepared for the likelihood of disruptions within the season while we all navigate the various challenges and complexities of competing during a global pandemic. As always, we are committed to taking whatever steps necessary for the health and safety of our students and community," Vanderbilt  vice chancellor for athletics and university affairs and athletics director Candice Lee said.
"While we share in the disappointment that this Saturday's game will be postponed, our program is deeply appreciative of the tireless efforts put forth by student-athletes, university officials, conference administrators and medical experts who have risen to the challenge of helping us navigate these unprecedented circumstances," Mason said. "The safety and well-being of our student-athletes will remain a top priority as we continue the season, and we look forward to returning to competition." 
Mizzou (1-2) has had its own share of roster challenges with the virus and played without six players in Saturday's win over LSU as a result of one player who contracted the virus during MU's trip to Tennessee the prior week, Drinkwitz confirmed. Five other players were forced to quarantine. The SEC's COVID-19 protocols require close contacts of anyone who tests positive to quarantine for a minimum of 14 days and define close contacts as anyone who's within six feet of the infected person during the period of infectivity for more than 15 minutes.
Saturday's game was originally scheduled for a 6:30 p.m. start at Memorial Stadium on SEC Network. When the SEC revised the schedule earlier this fall, it pushed back the conference championship game to Dec. 19 to leave open a universal bye week on Dec. 12 in case teams need to reschedule a game impacted by the virus.
With Saturday's game postponed, Mizzou gets an extra week to prepare for its next game Oct. 24 at No. 10 Florida (2-1). 
"First and foremost it starts on getting everybody healthy," Drinkwitz said. "The second thing is always going to be about improvement. We've got to practice our fundamentals and techniques. There's some things that are still on film that we got to get corrected. For us, this is an awesome thing for a program that didn't have spring football practice, didn't have the full fall camp. We've still not had everybody at a practice all together, so this week we're going to use every extra practice available to work on us and continue to install our schemes, continue to work on improvements. We turned the ball over three times (against LSU) and they had 17 points off turnovers."
Also announced Monday, the Missouri women's volleyball team's season-opening series at Alabama will be pushed back because of positive COVID-19 tests and subsequent quarantine of players from MU's team. MU was scheduled to play two matches in Tuscaloosa, Alabama, on Saturday and Sunday, but those matches will now be moved to Oct. 21-22.
Dave Matter brings you the latest updates from the Mizzou sports scene.