COLUMBIA, Mo. — "With 4.2 left, East is looking, looking. Gets it into Gholston. Left sideline, comes into the frontcourt. Gholston, a heave just inside of halfcourt. BANG! BANG! At the buzzer! Gholston's second-game winner of the season! First against Central Florida and now against TENNESSEE!"
Short of an NCAA Tournament Final Four, Mike Kelly has seen just about everything else unfold from his front-row seat over three decades as the radio voice of Missouri basketball. From blowouts to buzzer beaters, overtime thrillers to postseason heartache, Kelly's vocal cords have scored the soundtrack to Mizzou hoops for more than a generation. On the night of Feb. 11, as he described that improbable 35-foot last-second game-winner from DeAndre Gholston at Tennessee, invaluable advice from a broadcast legend echoed in Kelly's cries of joy courtside in Knoxville.
"I think the fundamental job description is to describe the play. Call the play," Kelly said last week a couple hours before the Tigers and Mississippi State tipped off at Mizzou Arena. "I go back to Mr. Buck before I ever started, he said, 'You're going to have some good teams. You're gonna have some bad teams. You're gonna have some great games. You're gonna have some bad games. At the end of the day, call the play. Because that's what the listener wants to hear: You describe the play. (The listener) doesn't care what you think about the referees because you're not one. Doesn't care what you think about coaching because you're not one.
That's been Kelly's charge since Mr. Buck — Jack Buck, of course, the late Hall of Fame broadcaster, St. Louis icon and Kelly's former colleague at KMOX — offered those words when Mizzou leadership chose the 29-year-old to take over as MU's full-time basketball play-by-play voice. Kelly has been courtside ever since that first broadcast on Nov. 25, 1991, when he sat alongside another Buck to call the Tigers' season-opening win over Canisius at the Hearnes Center.
That was game No. 1. On Wednesday, when Dennis Gates' Tigers (21-8, 9-7 SEC) play at LSU (13-16, 2-14), Kelly will call No. 1,000 — a milestone for the man whose deep timber has narrated Mizzou basketball through three conferences, seven head coaches, hundreds of players, five color analysts and countless memories.
This is season No. 32 for Kelly, as Mizzou's primary play-by-play voice, and at 61, he still treasures the opportunity former athletics director Joe Castiglione and Learfield general manager Roger Gardner gave him more than 30 years ago. Kelly took on MU football play-by-play duties in 1994.
He's created a few catchphrases along the way — "Bang!" after a big 3-pointer and "Take it to the house!" on a Mizzou touchdown — but in the biggest moments, he's always let his instincts take over.
"It goes back to 'call the play' and give it the energy that it deserves," he said. "I've never scripted anything. I've never spent a lot of time thinking about, 'Well, if this happens, I'm going to say this.' ... Then, literally, the game gets over and you're driving home or you're going back to the hotel and the first thing that always comes to mind is, did I do it justice?"
"He's been at it for such a long time, but what I think stands out is he works really hard at it," said Chris Gervino, Kelly's sidekick on the basketball broadcast the last six seasons. "He prepares well and that makes for a really good broadcast."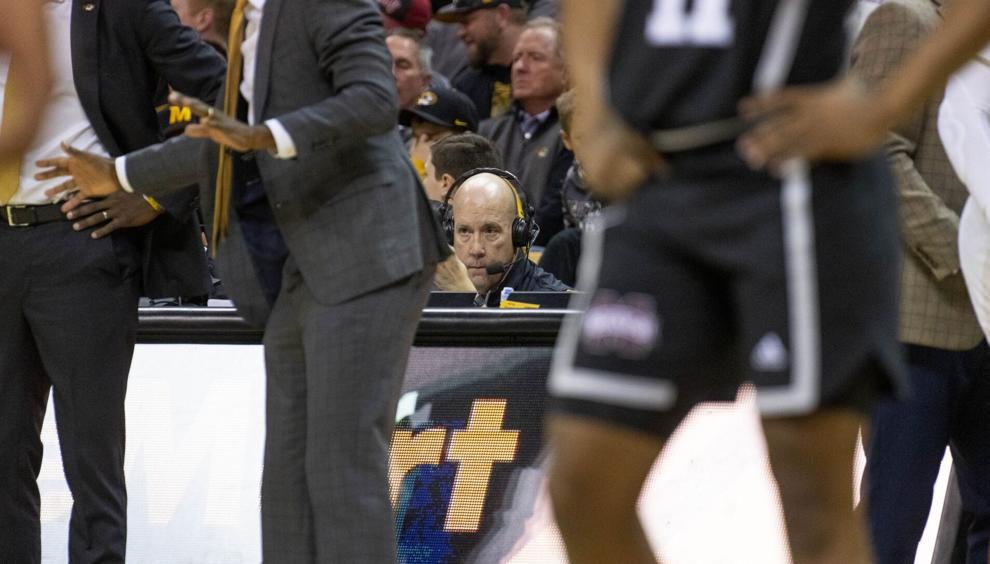 Kelly avoids turning the broadcast into a personal editorial, but in 30-plus years on the air, he's earned some grace to slip in the occasional commentary.
"He is unbiased, but he cares," said Learfield manager Steve Sowers, whose media company employs Kelly and Mizzou's other broadcasters. "He tells it how it is. A lot of times when I worked on the marketing side (at Mizzou), I'd get kind of peeved when he'd say, 'It's an intimate crowd here at Mizzou Arena.' He'd kind of throws things like that out there. But he cares. He genuinely cares and wants to make connections.
"And not just with the head coach. He wants to get to know the ops directors, the equipment managers. Mike knows every single one of the staff members of every basketball team in the SEC. He's not above talking to anybody. Sometimes it gets him late to get back to his headset (during games) … but he's just a good guy."
Kelly, a Dupo, Illinois, native, was working at KMOX in 1989 when GM Robert Hyland had an idea. Mizzou football broadcaster Bill Wilkerson was tired of making the drive to Columbia every week to record the head coach's radio call-in show and suggested Kelly slide into that role. Kelly soon became the host of "Tiger Talk," working with Mizzou coach Bob Stull each week while Castiglione, then a staffer in the athletics department, screened the calls from fans. Over time, Kelly found himself on the air as a fill-in basketball analyst alongside former player-turned-broadcaster Tom Dore. When Dore left for a broadcast job with the Chicago Bulls, Kelly's time arrived.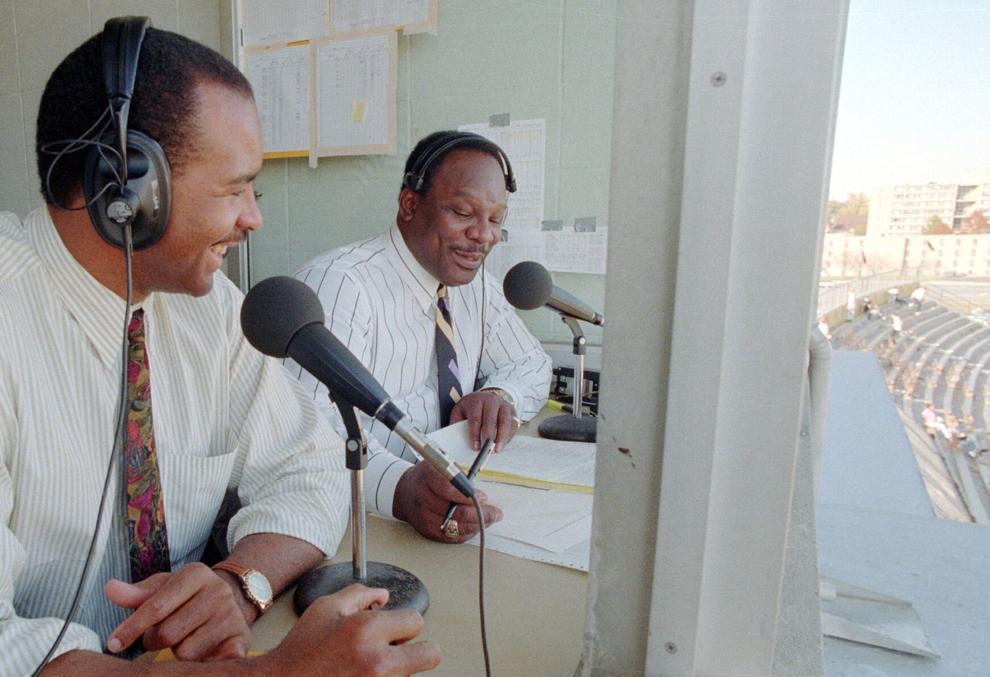 "It felt like a natural progression because I had done play-by-play of Illinois women's basketball and play-by-play for Illinois women's volleyball," he said. "So I felt I was equipped. It was just a matter of them feeling that I was prepared, because, let's face it, play-by-play for the University of Missouri's basketball team at that point in time was a big deal."
And not just because Tigers coach Norm Stewart had built a nationally recognized program, but the broadcasters who had sat in Kelly's seat were some of the industry's finest. In the 1970s and '80s, Mizzou basketball broadcasters included Bob Starr, John Rooney, Bob Costas and Kevin Harlan, not to mention longtime Columbia radio voice Rod Kelly, no relation.
"It was an honor," Mike Kelly said, "to have that opportunity."
When the 1991-92 season tipped off, Kelly's partner was Indiana University undergraduate Joe Buck, Jack's 22-year-old son, who would become one of sports broadcasting's biggest stars.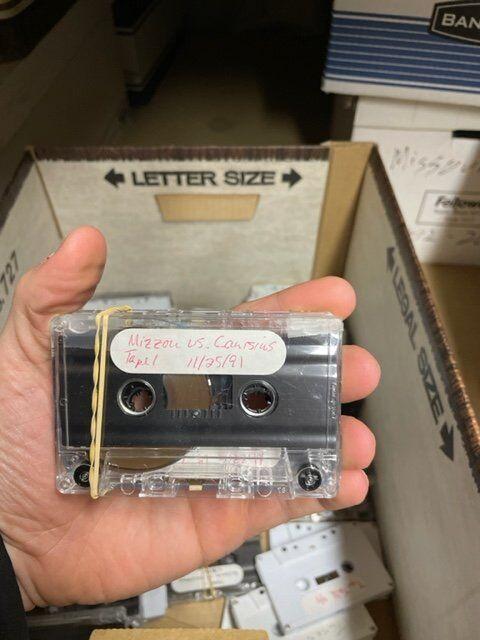 "We used to have some fun. We'd take turns driving back and forth (from St. Louis) and we just had great conversations," Kelly said. "Jack used to refer to us as 'The Two Fledglings.' He'd say, 'When are you fledglings going to start your careers?' ... I've always said, 'One of us is still a fledgling. One of us has had quite a career."
The next season, former Mizzou All-American guard Jon Sundvold replaced Buck as Kelly's analyst and would soon become one of the country's top college basketball TV analysts. Former MU player Jim Kennedy was next in line — he was on air with Kelly during the infamous Tyus Edney game, Mizzou's last-second loss to UCLA in the 1995 NCAA Tournament — followed by a 21-year run alongside former MU player Gary Link. In the fall of 2017, Mizzou replaced Link with Gervino, a longtime Columbia sportscaster. Unlike the three previous analysts, Gervino didn't play college basketball, but he's developed chemistry and unspoken cues with Kelly — and knows when to let "The Voice" take over.
"It's funny, he'll say some things occasionally and we'll look at each other and for once in my life, I might be the silent one," Gervino joked. "That's the great thing about radio, humorous in some ways. We might say something but people can't see our facial expressions."
Kelly's most memorable moment on the air? Too many to count.
"Oh, man. 14-0 (in the Big Eight in 1994) obviously jumps out," he said. "Triple-overtime win against Illinois (in 1993). Fifty-two point loss to Arkansas (in 1993) because what that would turn into for that basketball team. The Tyus Edney play. Marcus Denmon's game against Kansas. You think back to Cory Tate's game-winner against Kansas. Zaire Taylor's game-winner. Marcus Denmon's halfcourt shot in Phoenix against Memphis in the NCAA Tournament. Beating Bob Knight in the '95 NCAA Tournament. Watching Quin (Snyder's) team make it to the Elite Eight only to lose to Oklahoma. The moments that I think most Missouri fans would cling to or are the same ones that I do."
In 2019, Kelly and his wife Laurie moved from St. Louis to Columbia, though he still works in the insurance business for an Atlanta-based company, OneDigital, that three years ago merged with Clayton's HM Risk. The year before they moved back to Columbia, Kelly made 63 trips from St. Louis from August to March, logging more than 30 stays at downtown's Broadway Hotel. Now, back entrenched in Columbia — he lives a few doors down from retired football coach Gary Pinkel — Kelly isn't thinking about retiring.
"I would love to do it for as long as they'd allow me to do it," he said, "because I just still really, really enjoy what I do. At some point in time, somebody is going to come up and they'll say, 'You did a good job.' You hope they say you did a good job, but I've always said I just keep the seat warm."