COLUMBIA, Mo. — It's been more than a year since the NCAA allowed college athletes to profit off their name, image and likeness, and in that time, Missouri's athletics department has undergone major changes and tried new approaches to adapt with the times. Mizzou made a pivotal move official on Thursday, hiring former football player Brandon Lee to serve as the department's first assistant athletics director for name, image and likeness.
Per the school's news release, Lee will lead the school's NIL program "through visionary and impactful relationships, and education and programming" and "work collaboratively with both internal and external constituents to best support student-athletes in the NIL space."
Lee, who played linebacker at Mizzou from 2014-18, starts his new job Aug. 19. The Indianapolis native has spent most of the past year at Notre Dame as the school's director of student-athlete professionalism.
"Brandon's fundraising background and passion for Mizzou from his time as a student-athlete makes him the ideal candidate to lead our evolving NIL program," Missouri AD Desiree Reed-Francois said. "Maximizing every NIL opportunity for our student-athletes is critically important, and we are positioning Mizzou to be one of the nation's innovators in NIL in the months and years ahead."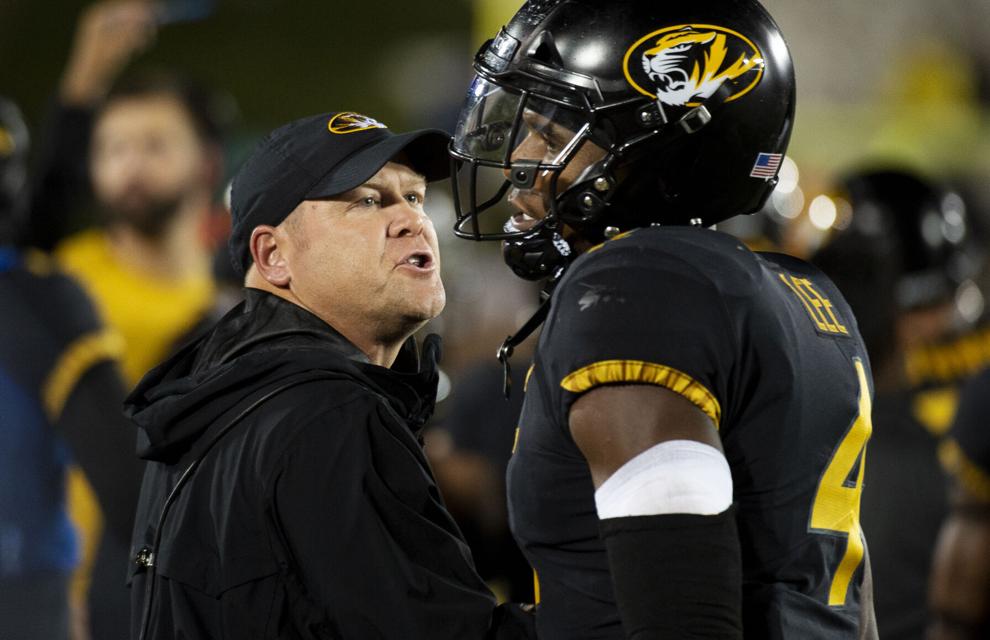 On Thursday, Lee spoke with the Post-Dispatch in a phone interview about his new role at his alma mater, where he earned both an undergraduate degree in personal finance and a Master of Business Administration.
Q: What was appealing to you about this job when Mizzou created this position?
A: For me, it was it was a fantastic opportunity to give back. I love stories when people return home. It's funny saying returning home because I'm currently in South Bend and this is like home for me being in Indiana. But Mizzou is my second home. And I just saw it is a great opportunity to go back and give back and have a true impact and continuing to write that story. It's a different chapter but also back at home and in that same book. I'm just very thankful for Desiree Reed-Francois and the rest of the administration, Rachel Blunt and others for this opportunity.
Q: How do you define what this role is? It's a new position. Obviously, everything's new with NIL, but what will you be doing?
A: The (release) explained it really well. I see it as an opportunity to be really innovative and strategic with opportunities to generate opportunities and revenue for student-athletes in the name, image and likeness space. Let's not beat around the bush. A lot of student-athletes, deservedly so, want to get paid. They want to get paid for their NIL. We've seen it. It's the headline of every single article that we read in college sports today. That's my main objective: being innovative, being strategic and creating new opportunities for our student-athletes at Mizzou, while also facilitating them with resources from a financial literacy standpoint ad educating them on all the different life skills that comes with the name, image and likeness space.
I feel it's a great opportunity for student-athletes to begin working on their life skills. I call them life skills because a lot of those financial literacy components that go into NIL and that education; student-athletes don't generally get that until they step into the real world when they get their first job and they hear about taxes and investing. They start thinking about budgeting and saving a lot more. Or that might be the first time they get their first credit card if they haven't already. So I see this position being a tremendous opportunity from an educational standpoint to develop our student-athletes from a life-skills standpoint that truly matters.
Q: As someone who was playing college football not that long ago, how much would you have loved to play during this NIL era?
A: I think about it every day, Dave. I think about it every day when I'm reading the articles. I'm like, "Man, I would want to try to do this. I want to try to do that." I wish that me and my former teammates had the opportunity. I'm just thinking back to when we played, I'm thinking of autograph sessions that we could have done. The headline would have been Drew Lock from Kansas City and then Terry Beckner from St. Louis. Say we did something like that at the Columbia Mall and then bring in both parties and other teammates involved as well. Small things like that. That's low-hanging fruit, but there would have been opportunities for us. Just thinking of those big names that I played with, there would have been tremendous opportunities for all of us in the state of Missouri.
I keep saying a lot of opportunity, but to be the state school and having two major cities close by and having so much rich tradition and folks who truly care about Mizzou — I'm saying it over and over again, but I think there's a lot of opportunity there.
Q: You haven't been gone that long, but there are a lot of new people working at Mizzou since you left. What are your early impressions of the vibe and the culture that they're building between football and basketball and the administration?
A: Honestly there's a really, really good vibe that I felt when I visited. I felt it when I've spoken with different members of the administration and coaches on staff throughout the interview process. Even speaking to former teammates of mine. I would say this is something great that I heard actually while I was interviewing and it's the best way to describe Mizzou at this point: Somebody compared it to stocks and investments. If universities were a stock or an athletic department were a stock, this would be the perfect time to buy Mizzou stock. That correlates directly with what Desiree said via Twitter today with the hashtag #Momentum, using the MO from Missouri. I think there's great things to come. I honestly feel it. And I've seen it.
I saw it my first couple of years (at Mizzou) and when I was being recruited, and then my redshirt freshman year when we went to back-to-back SEC championship games. And then I've seen the darker days at Mizzou when we didn't do so well throughout the back end of my career. Then we picked it up my last year and left it in a better place than it had been. I truly can feel it right now. The new hires that have been happening within the administration and bringing in folks like Coach Gates and what Coach Drinkwitz is doing within the program, I think there's momentum.
Q: What has the experience been like at Notre Dame? What can you take away from being at a major football program that helps you in this next role?
A: First off, I'd like to really thank them for the opportunity. I'd like to thank Jack Swarbrick and the administration here for a great experience. When you come here, you hear on the outside looking in, "Oh, it's a magical place. It's really special." They kind of blow it up. But you don't realize how special this place is until you get here. And I've had a great experience here. I've learned a ton. And it's been really good for my professional development and seeing how Notre Dame is attacking NIL from using their global brand to dealing with high-caliber student-athletes with an emphasis on the student side and how to really navigate it from an educational purpose. It's sharpened me for the Mizzou gig, and I think that was intriguing to Mizzou as far as their outreach to me and seeing if I'll be interested in applying for the position. I've had a great experience here. But I'm excited to get back to Columbia.