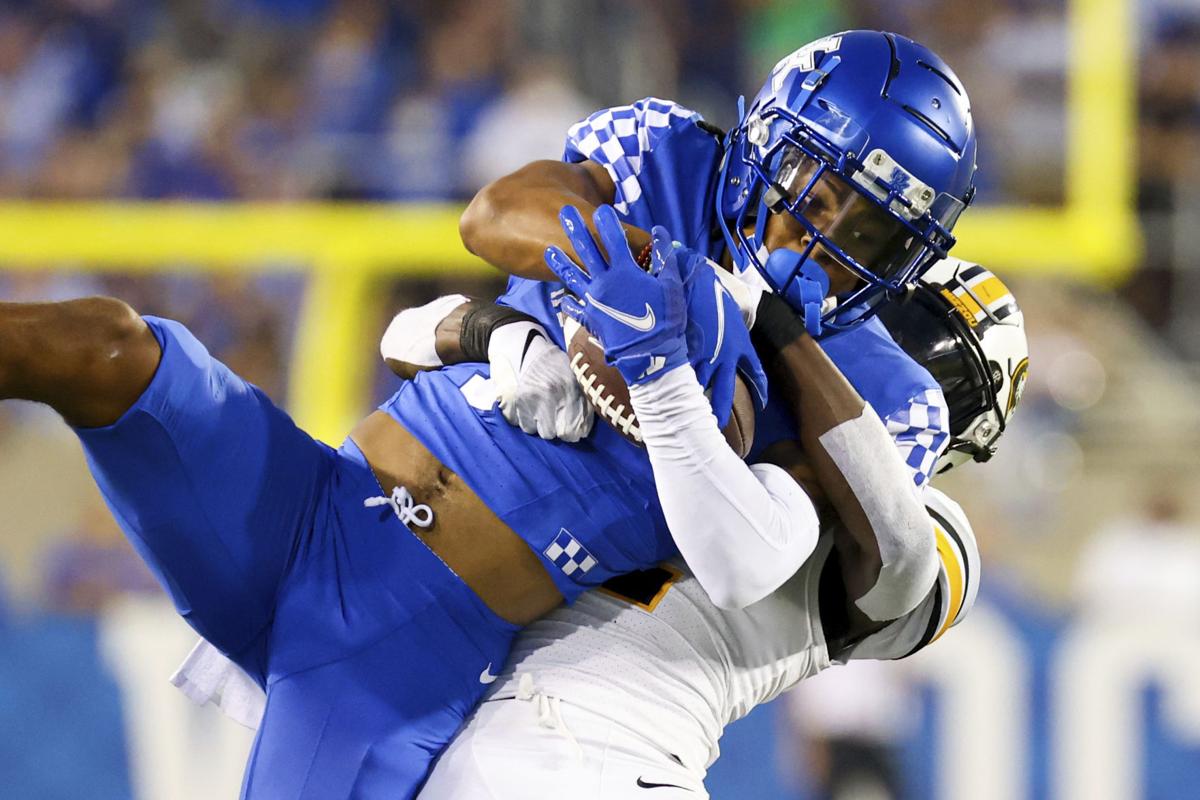 COLUMBIA, Mo. — Two games make for a small sample size, but there's no denying that troubling trends have developed for Missouri's defense. The Tigers (1-1) enter Saturday's 11 a.m. game against Southeast Missouri (0-2) ranked last among all Power Five conference teams in yards allowed per game (497.5) and rushing yards allowed per game (257.5).
First-year defensive coordinator Steve Wilks opened his weekly news conference Tuesday with a harsh assessment of his first two games, notably Saturday's 35-28 loss at Kentucky.
"I want to start out by saying that I take full responsibility for the performance last week," he said. "It wasn't to our standard. Not even close. I've got to do a much better job of putting these guys in position to be successful. We got off to a slow start again. My fault. We got confused with the personnel from communication from the box."
The Tigers opened Saturday's game with an unconventional five-man defensive line that wasn't exactly by design. A coach in the booth high above the field mistakenly signaled that Kentucky was opening the game in a jumbo package, prompting Wilks to put a five-man line on the field. UK ran for a 3-yard gain on the first play, then broke off a 64-yard jet sweep by wideout Wan'Dale Robinson. The Tigers shouldn't have been in that package, Wilks said.
"Totally on me," he said. "When you start talking about how can you make corrections one of the things right now is looking at yourself."
Wilks will move from the sideline to the coaches' booth this week, he said. He coached from the booth during the 2017 season, his last year as the Carolina Panthers defensive coordinator.
"Hopefully it'll give me better eyes to be up top," he said, "to be able to see things and have a better jump on calling the plays."
"I think it somewhat takes the noise out of the game, to where now you can really focus on the next play," he added.
After coaching in the NFL from 2006-19, Wilks has had to adjust to a college schedule without preseason games "to get the kinks out," he said. He said his staff might have to scale back some parts of the scheme so players can "process things and play fast."
"But I'm not going to sit here and make any excuses," he said. "I've got to coach better. We've got to play better. We've got to execute. Our offense and special teams did enough for us the other night to to win that game and we just didn't get it done on the defensive side of the ball.
"There's a lot of pride in that room. There's a lot of pride starting with me. Now we're going to find a way to get this thing corrected and get on the right track."
Linebackers on notice
Through two games only three linebackers have appeared on defense for the Tigers, starters Blaze Alldredge (146 total snaps) and Devin Nicholson (140), plus a few cameos from Chad Bailey (25) off the bench. Those numbers suggest, along with coach Eli Drinkwitz's comments Tuesday, that linebacker is the thinnest position on the team. Three other linebackers were part of the travel roster to Kentucky — freshman Dameon Wilson and sophomores Will Norris and Jamie Pettway — but they were limited to special teams. The depth concerns were underscored by the team's recent addition of Wyoming's Chuck Hicks, who had lost his starting job with the Mountain West Conference team before the season. He's not eligible to play this year.
"We really wish we were playing five guys at linebacker, but the reality of it is nobody has stepped up in practice to prove that they deserve the opportunity to play," Drinkwitz said. "This isn't open tryouts. Tryouts are on Sunday, on Tuesday and Wednesday. Whoever has been playing has shown us on Sunday, Tuesday and Wednesday that they deserve the opportunity to play or they showed it during fall camp. This isn't (a case of) well, we'll just try somebody else. Like I told them, if you don't like your role, practice better. It's not like we're trying to hold anybody back. It's not like we're trying not to play the best players."
SEMO game on SEC Network-Plus
Saturday's game will be available on SEC Network-Plus, the conference's online streaming option. Viewers can access SEC Network-Plus with their TV provider credentials and through the ESPN app on smartphones, tablets, connected streaming devices or espn.com/watch. Former Mizzou defensive coordinator Dave Steckel will serve as TV analyst along with play-by-play announcer Roy Philpott.
Mizzou's next game, Sept. 25 at Boston College, will kick off at 11 a.m. St. Louis time on ESPN2.